So the hubs had a "guy's weekend" this past weekend and left me at the house alone for 4 DAYS! Would it surprise you to know that I filled up every single moment of those 4 days with lots of creative stuff? It's not quite what it sounds, he was working his tail off with one of his friend's property building a deck, a new shed and a balcony off of his friend's upstairs bedroom. He said not one muscle in his body isn't sore, LOL. But it gave me a chance to play with my Easter tablescape.
I first wanted to find a striped runner and actually went to several places looking for one. I ended up getting a striped tablecloth at Target for $5.00 and when I saw ALL of the fabulous pastels in it, I just had to go for it. Pinks, purples, yellows and greens, all of those yummy Easter colors were just the ticket for a fun Easter table setting. I guess it's actually a little "busy" but I went with it and jumped off the cliff and let the Easter bunny completely out of the cage.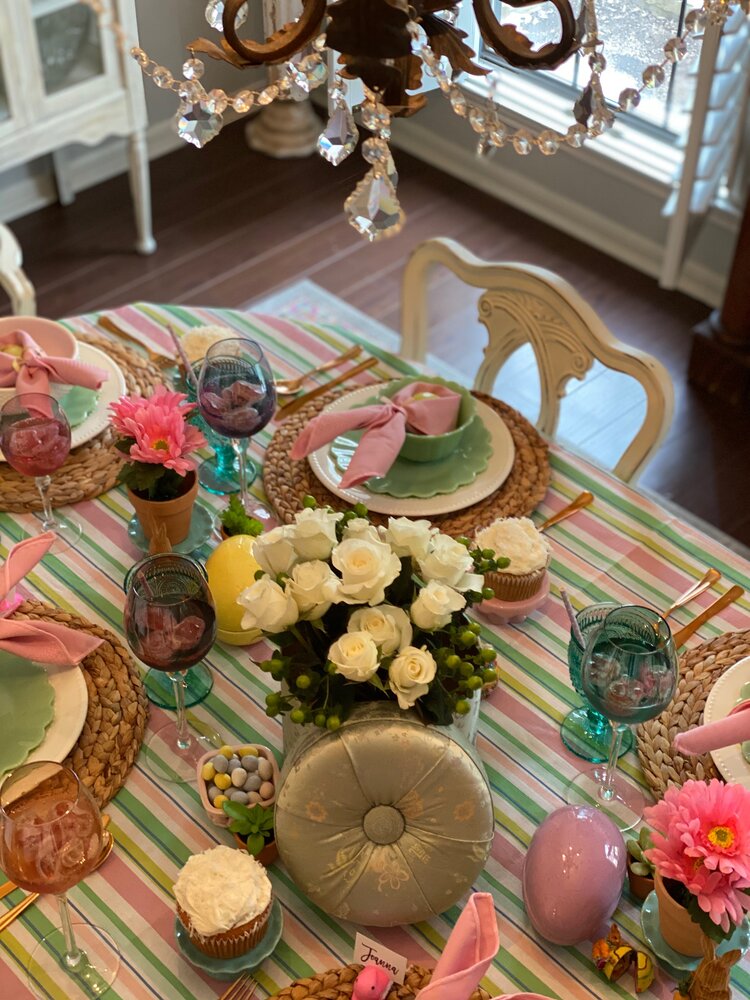 Several years ago, in the heat of Oprah's Favorite Things, there was a company called Nonnie's that Oprah chose one year and of course they went viral. They delivered flowers and a pound cake in a hat box. I sent two of them to my mom years ago and of course, I have them now. I thought the pastel (now kind of faded) green one filled with white roses would be perfect to serve as a centerpiece.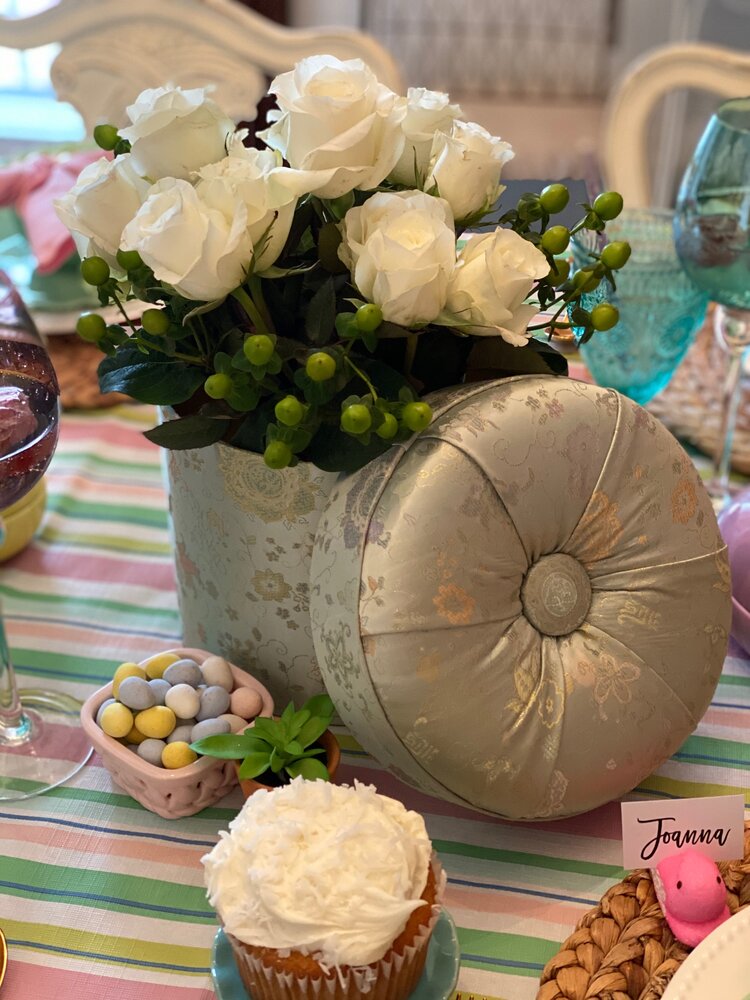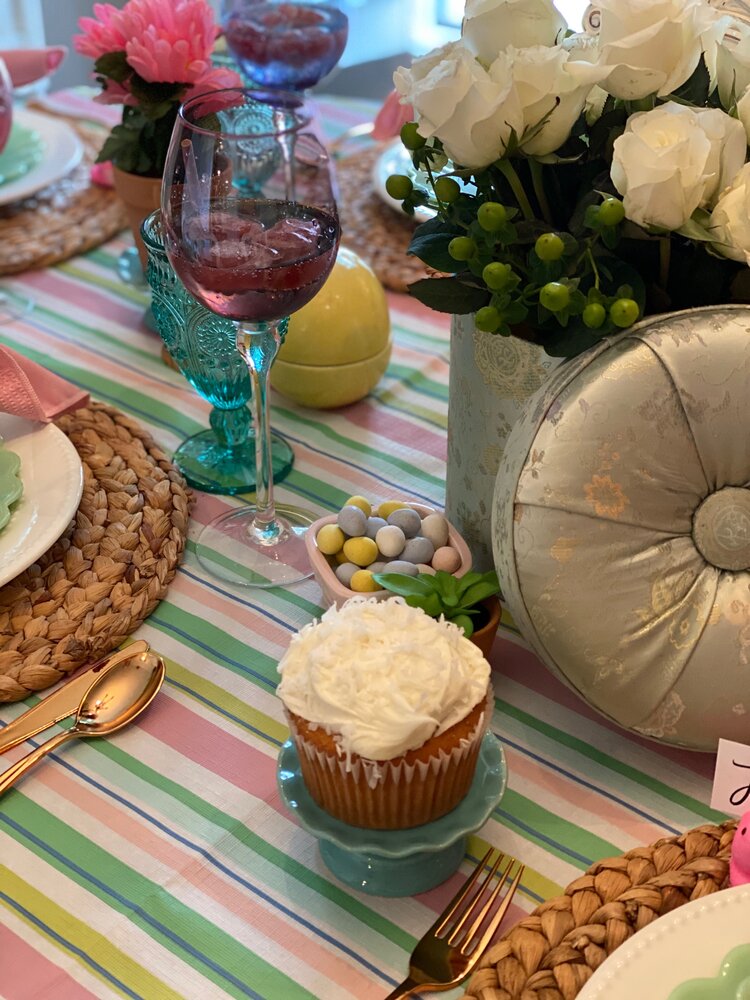 I love playing with tablescapes and with 3 china cabinets and garage storage, I am a little embarrassed to say that I have a bunch of different tools to work with. I usually stick to classics, but I was feeling EXTRA spunky this past weekend so I overdosed on pastels and fun Easter decorations. I dragged out the Easter tubs that I had stashed not only of my own Easter decorations, but the ones I kept from my mom's house. She had 3 Easter trees, lots of small Easter trinkets, bunnies, ducks, rabbits and the like which I scattered around the house and added a few to the table, out of respect for my mom, Vintage Joyce Marie.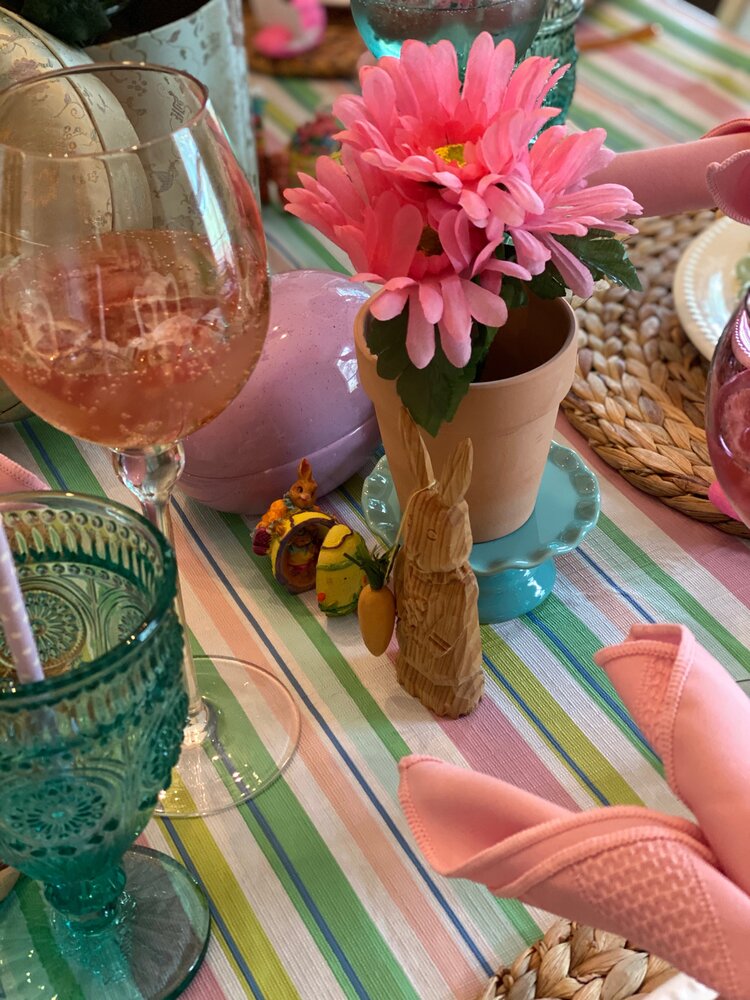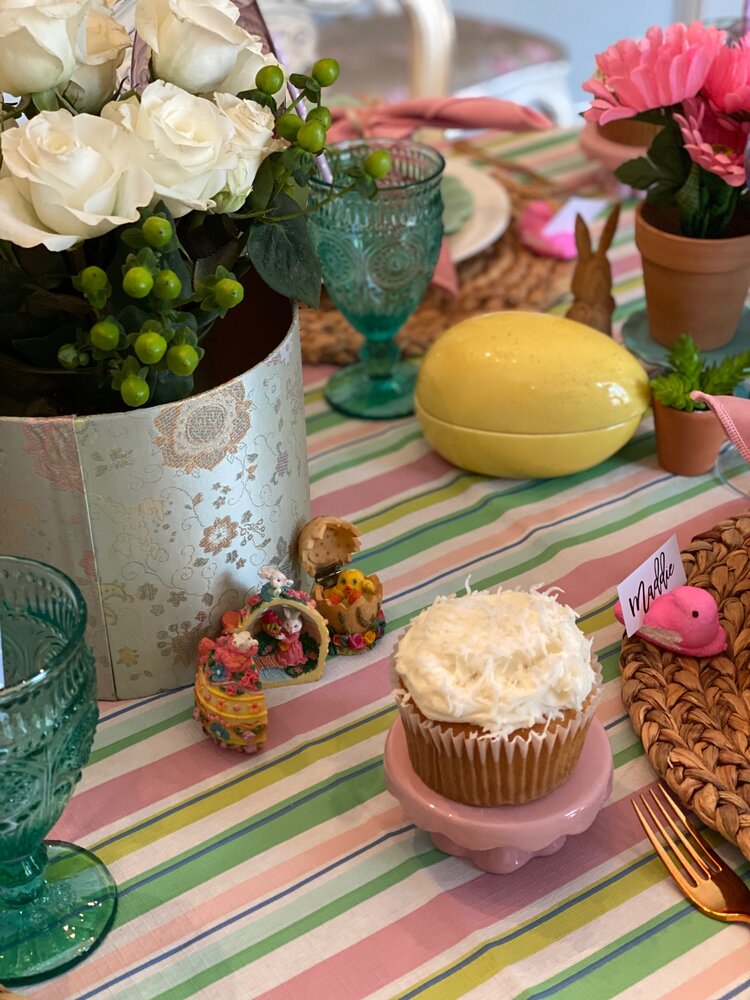 I am a sucker for a good napkin fold and several years ago I remembered doing a bunny ear napkin fold. It is a simple fold and when you wrap that around an Easter egg, and you have instant cuteness.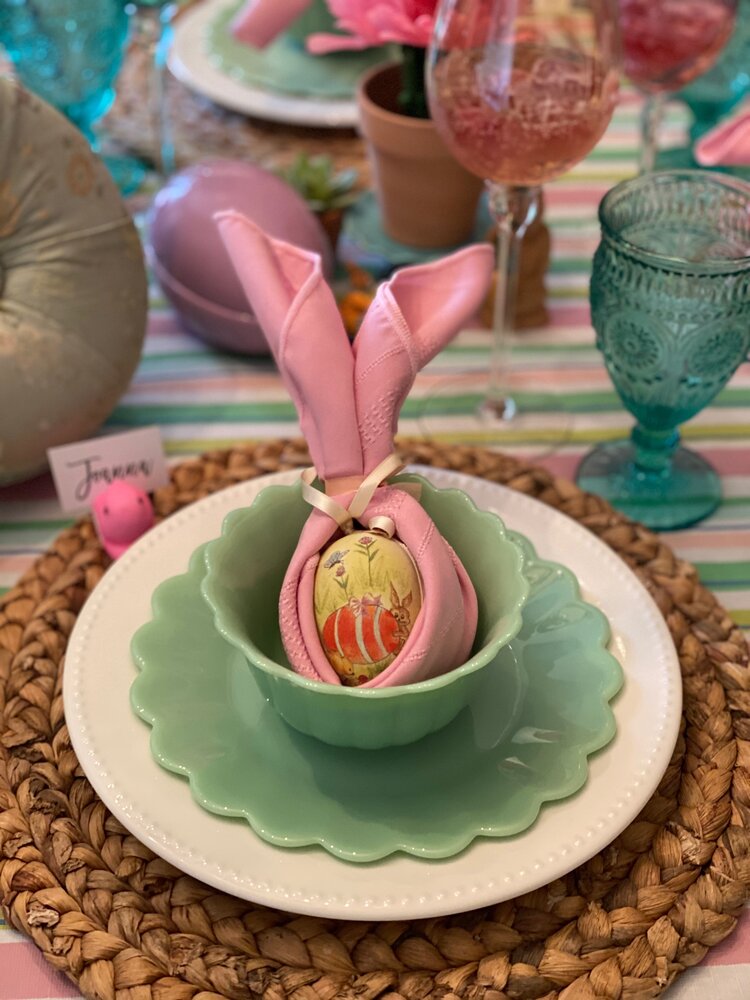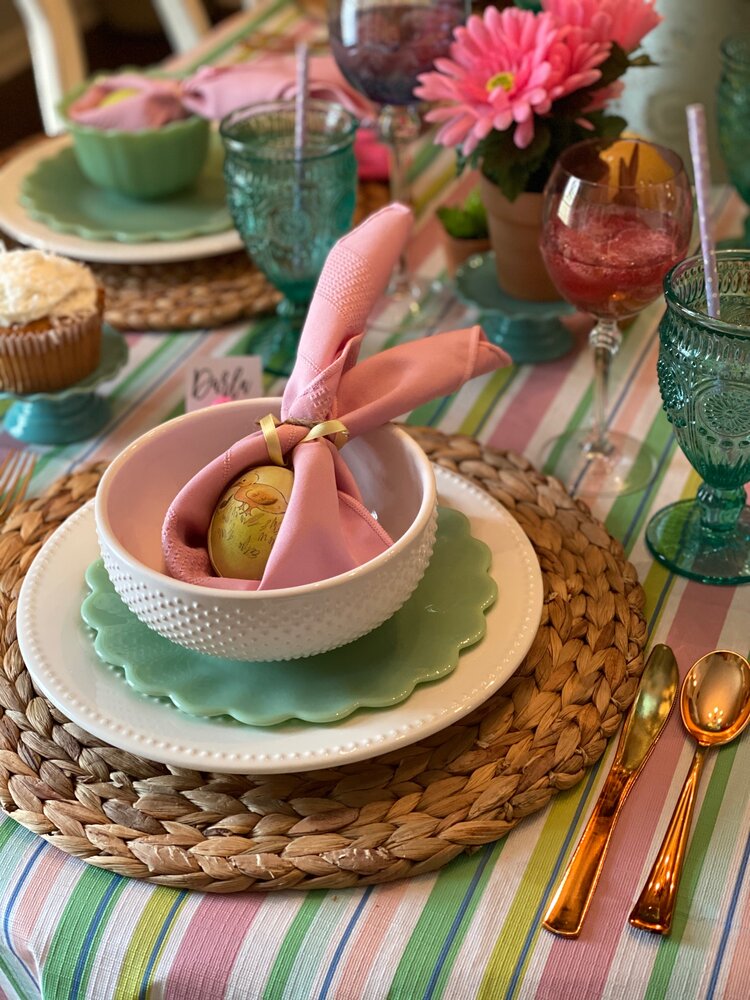 While at Dollar Tree, I nabbed a couple of bunny ice trays. I froze some cranberry juice and used the little pink bunnies in the wine glasses with some sparkling water. Instant sparkly fun!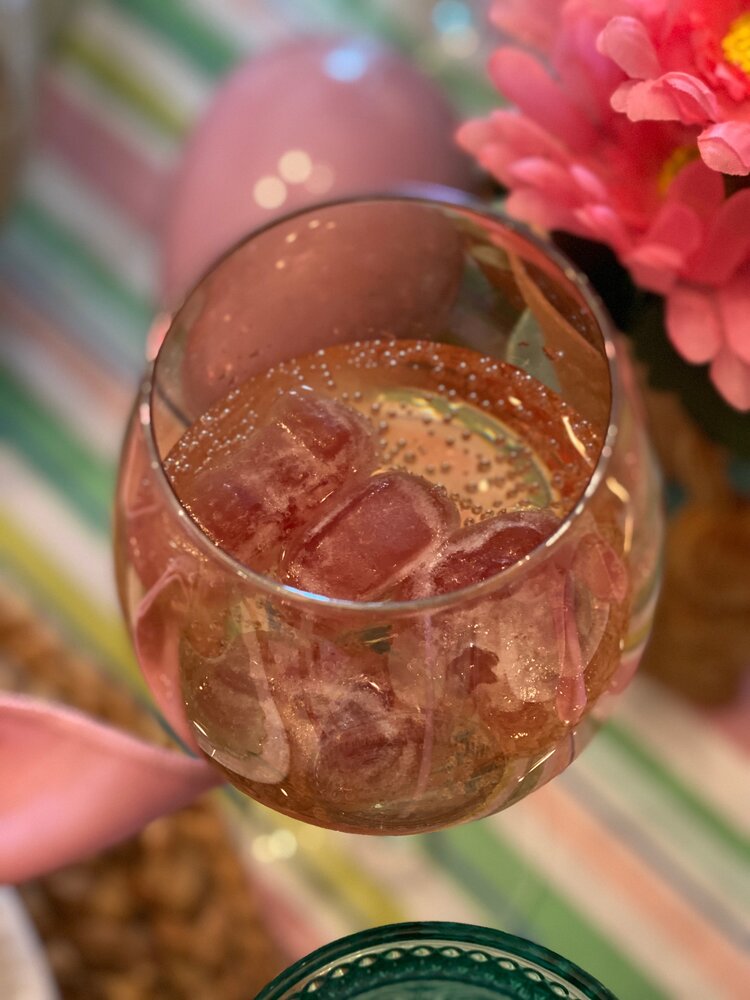 Having an Instagram account is so fun but sometimes overwhelming indeed. Watching countless stories from creatives and influencers about all the "goodies" they picked up on their respective hauls, it can be pretty intimidating for sure. I saw someone had gone to Dollar Tree and found these precious white hob nail dishes. Now, did I need another set of dishes? The answer to that would be NO, but man, they were just a $1.00, right? So, off I went to Dollar Tree and found so much cute stuff, my friend had to drag me out of there! I did pick up a set of the white hobnail dinner and salad plates. Pair those with the Timeless Beauty jade set from Walmart's Pioneer Woman and you have instant Spring.
It NEVER hurts any table to throw in a succulent or two, especially next to a sweet little pink basket full of Easter eggs.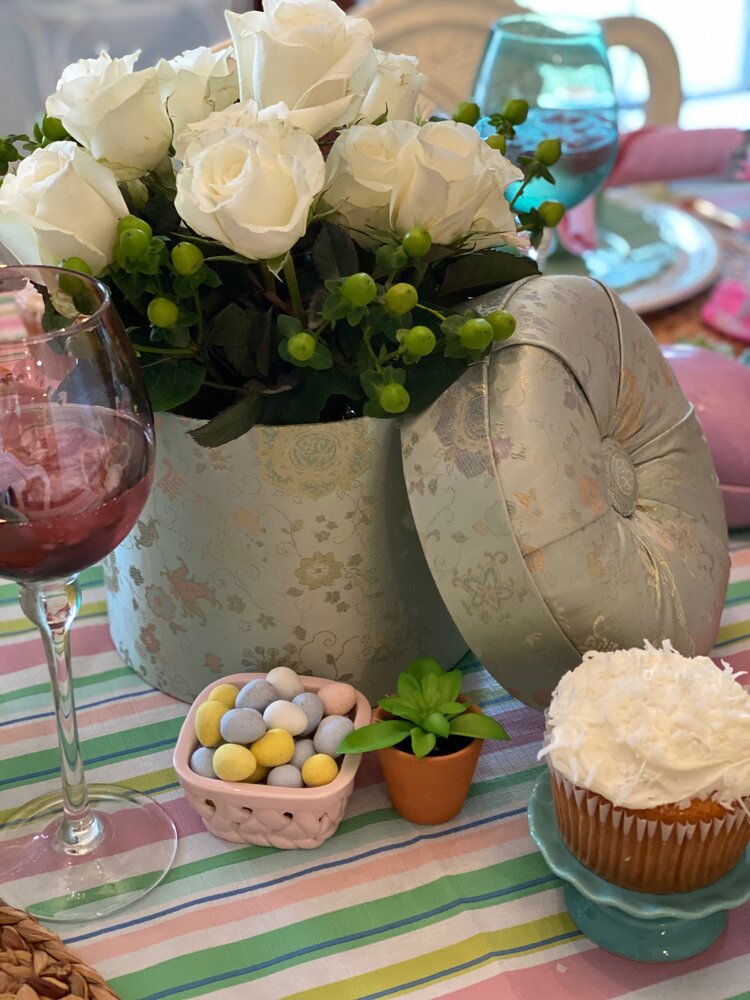 I love place cards. I personally think it is a lost art. I have a Power Point slide saved on my computer in the Madina Script front of our names and I zip those off on whatever color cardstock matches the table I'm setting. This year, since I was going for the fun, whimsical, playful mode, I thought, what could I put the place cards on? Then, while walking through Dollar Tree, those pink Peeps caught me eye, and I decided to give that a whirl. I used a sharp knife to put a little slice in the Peep and stuck the place card in it and it worked perfectly and I think is so so cute for this fun Easter table.. I also had these too cute small pedestals that I had picked up last year at our local grocery store, HEB. I mix and matched the pink and blue ones and thought they needed something festive to rest on them. How about a coconut cupcake? Just a sweet little soft, white touch to push it right over the edge!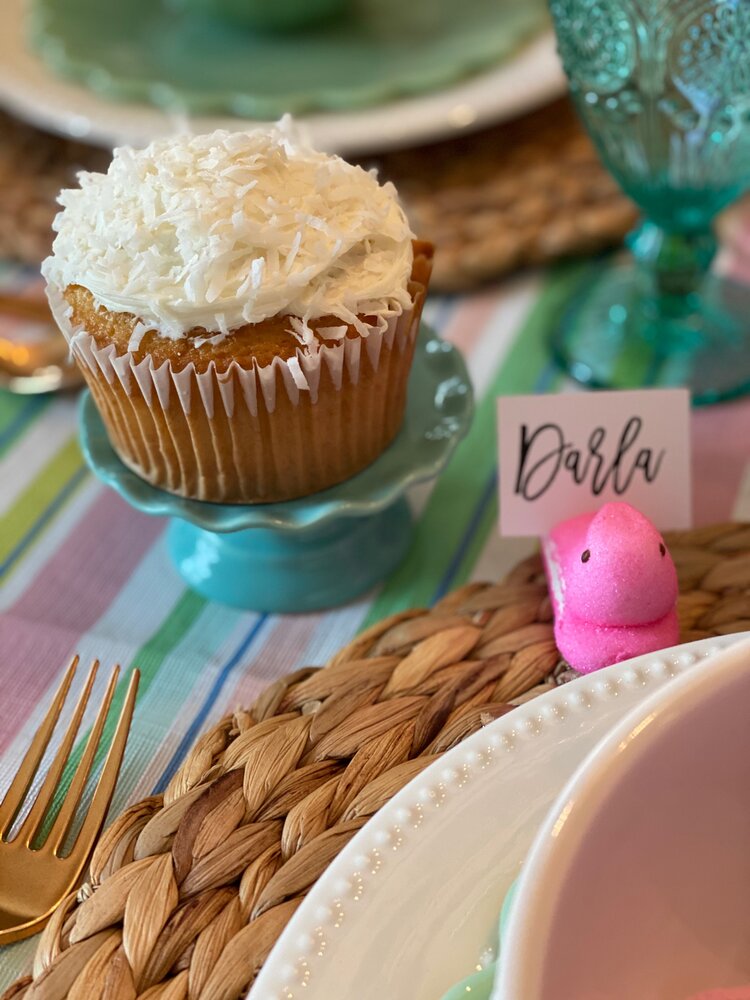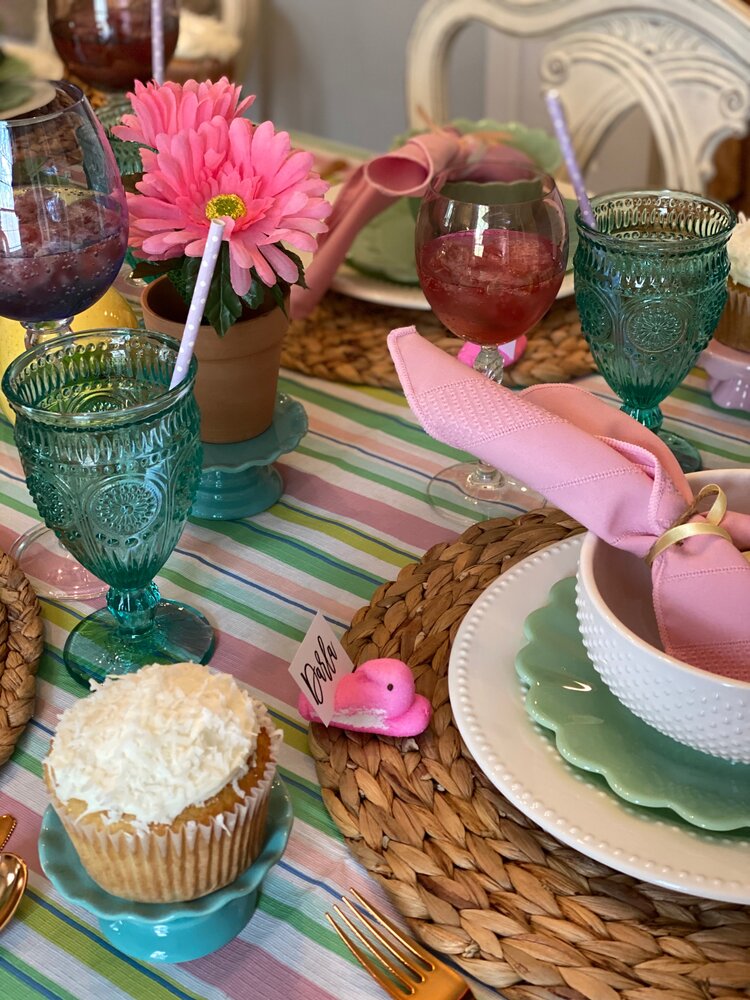 Easter, like Christmas I suppose, has been commercialized upon commercialized with all of the Easter egg and Easter bunny goodness, but when you have kiddos, I personally think it's all about the fun in the holiday. I'm one of those who believes the commercialization of religious holidays is not necessarily a bad thing, per se. If it brings one person to a church to hear the message of Christ, that one or two times that they may show up, well, that's a good thing. I know the reason for the season and it is, as Christmas is, of course, a blessing to us all. Hope this helps give you some ideas to get silly with your Easter table and have FUN with it! Happy Easter!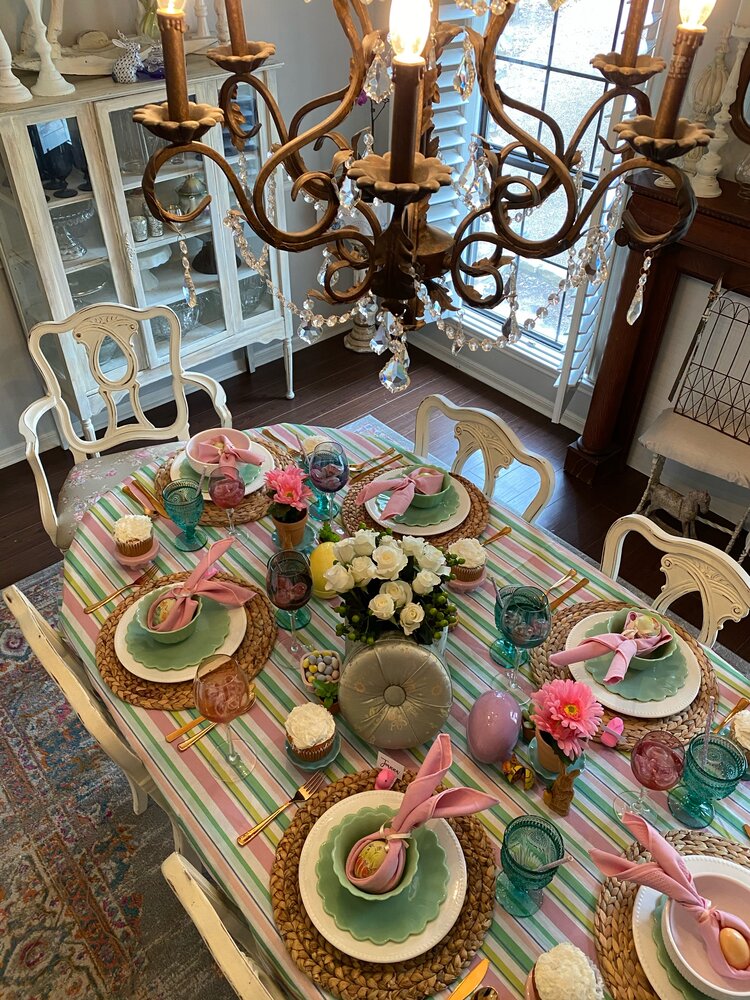 Matthew 28:5-6: "The angel said to the women, 'Do not be afraid, for I know that you are looking for Jesus, who was crucified. He is not here; he has risen, just as he said. Come and see the place where he lay.'"