Well, it wasn't even March and I was thinking about Easter. I planned my fun, perky, pastel covered Easter table, set it up, staged it, took a bunch of pictures and even did a blog post. All of this of course, before COVID-19 and boom, BAM, turnaround and not only will we NOT have a perky, pastel family Easter dinner, it will be the hubs and I alone, together, as we have been the past 3 weeks.  Don't get me wrong, I would not want to be alone and quarantined with anyone else than him, just hoped that my girls would be able to join us for church and Easter dinner.
I was sitting outside this morning after my morning run and the shades of greens in my backyard just overtook me. I glanced down to a small table we have under the trees and thought, hey, that's the ticket, that is where we can have Easter dinner, just the 2 of us. I then went shopping in my fun place of dishes, chargers, napkins and the like and came up with a casual theme, yet filled with Spring, Easter, maybe a dash of romance, and most of all, blessings.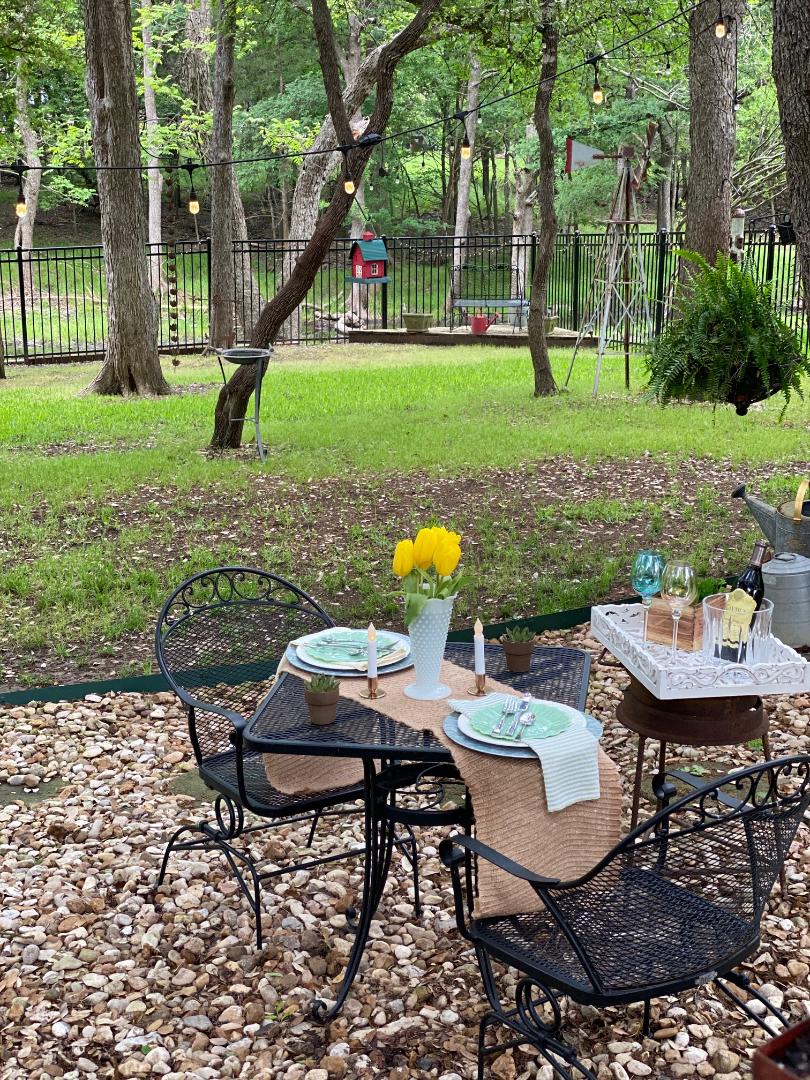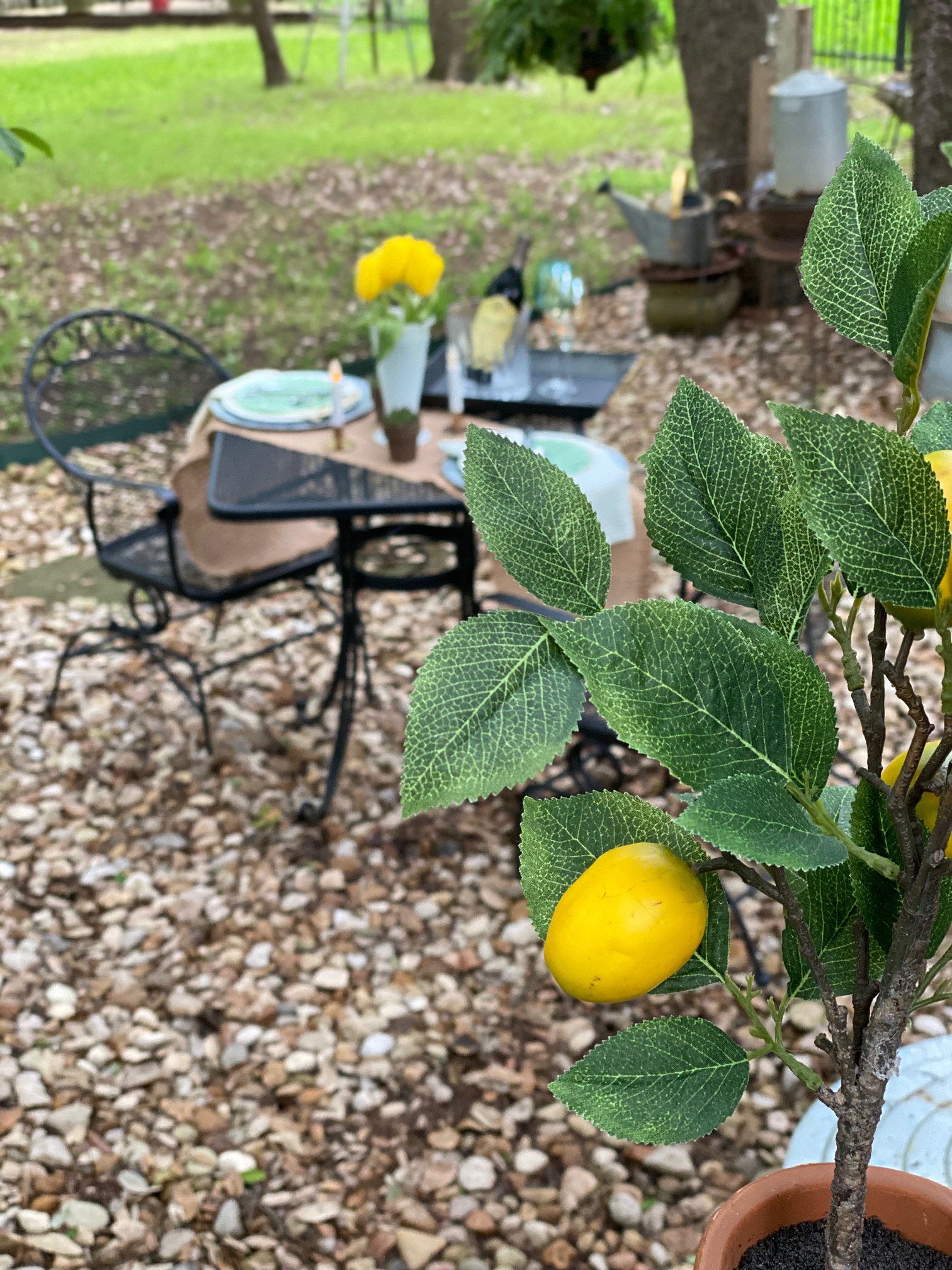 Keeping it casual I started with a burlap runner. I love burlap, I have crates of burlap accessories. I love mixing it with fancy crystal, pops of just about any color, and in this case Mr. Burlap paired up nicely with greens, whites and yellows.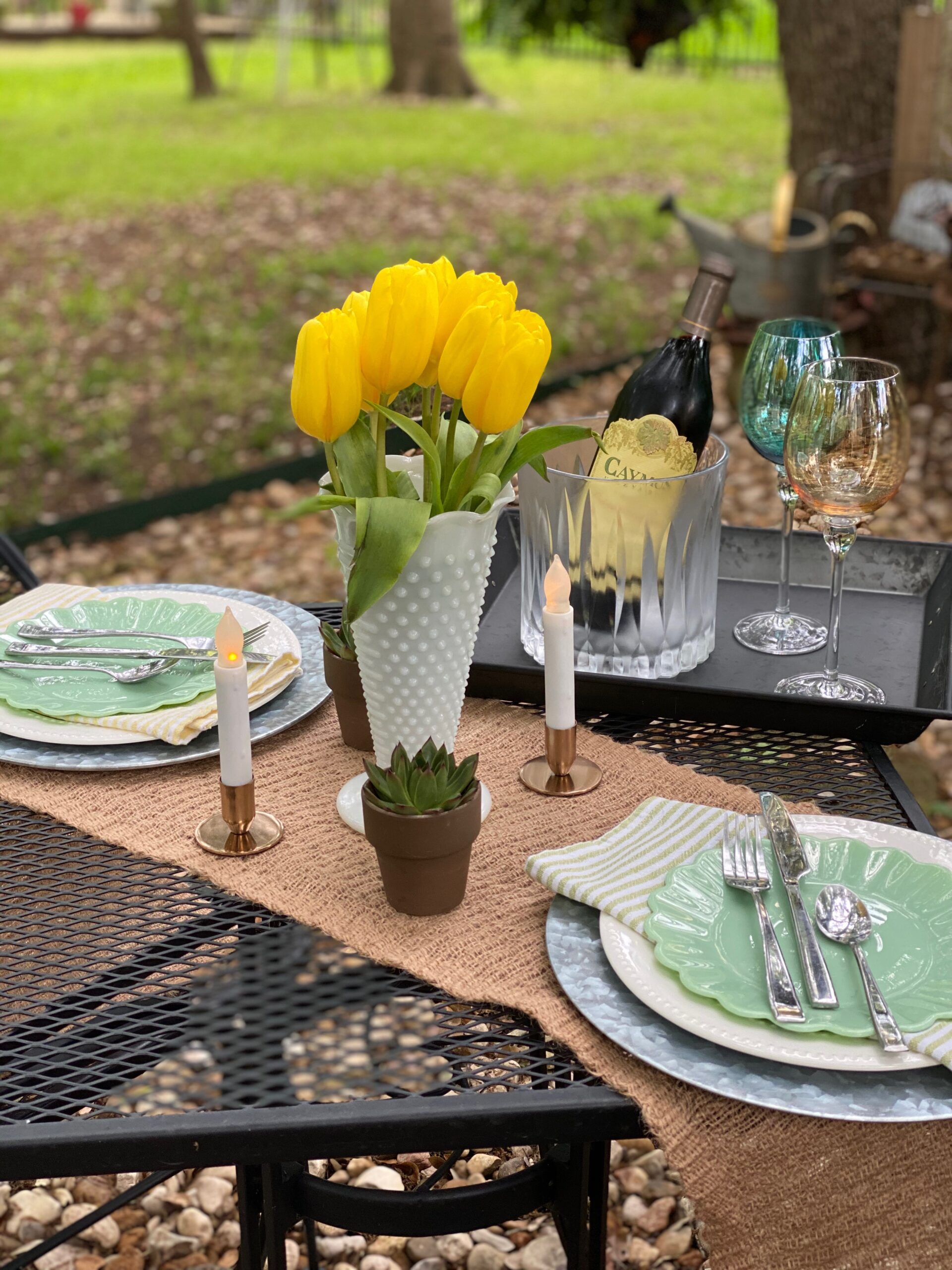 I braved going out yesterday to pick up a few groceries at Walmart and scored a small bunch of yellow tulips for $4.97. Love me a good Walmart find! These are just about the prettiest tulips I've seen this season. I've photographed them in about 6 different vases so far, I just can't get enough of them. They found a home in this vintage white hobnail vase that was my Mom's and with a snap of my iPhone, Spring was sprung.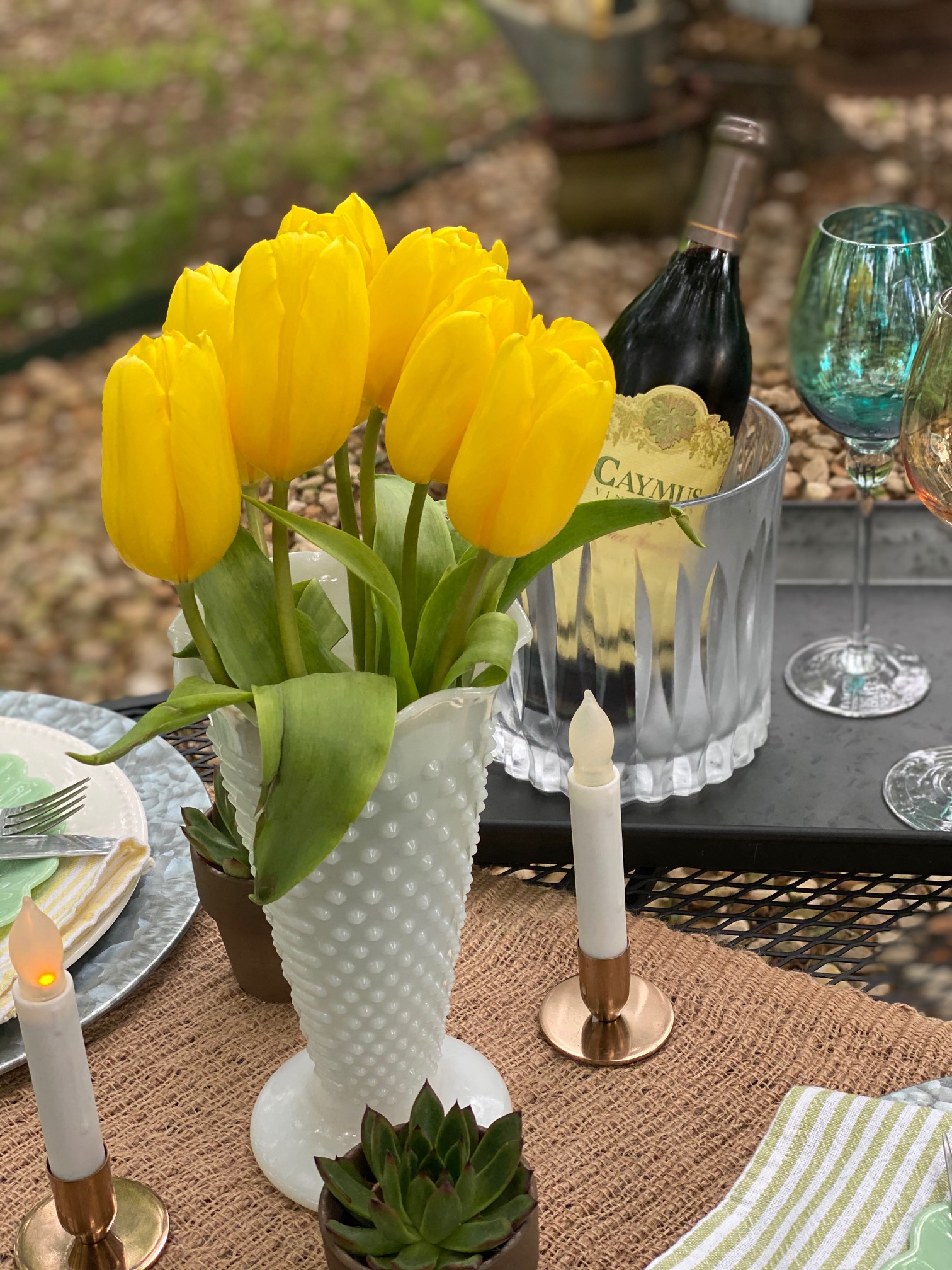 I found some galvanized chargers at my neighborhood ROSS a couple of months ago. I also have a "galvanized anything" hoarding problem, but at least I admit it, right? I think I own just about every galvanized accessory EXCEPT chargers so I was so tickled when I found them at ROSS for less than $10 a bunch. My white (vintage-inspired) hobnail dishes from Dollar Tree mixed with the luscious mint green Pioneer Woman's Timeless Beauty makes our Easter table for two perfect.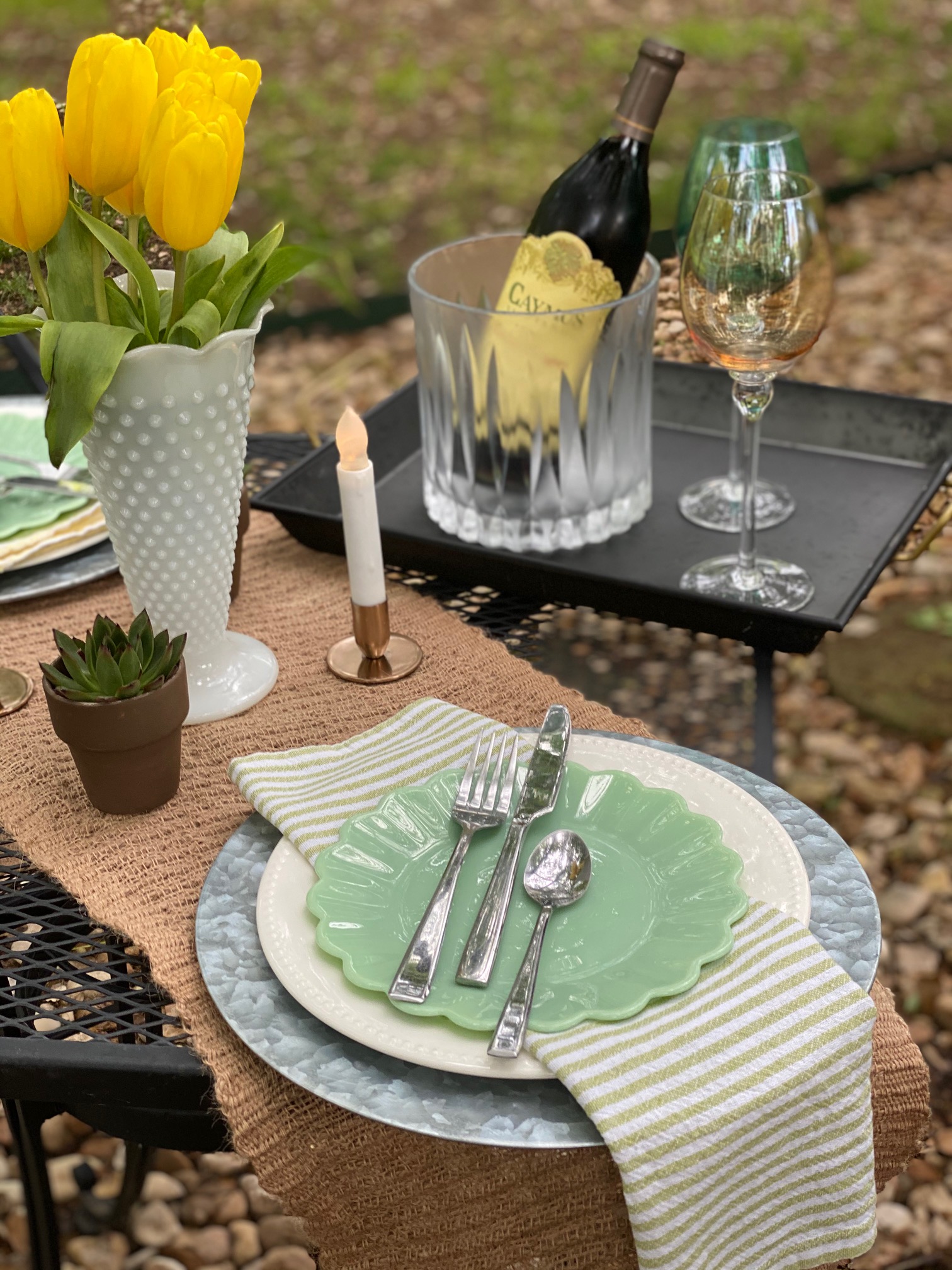 This will be a rough Easter for many, I know that. I want to send everyone reading this my best wishes to have a blessed quarantined Easter this year. Despite the state of the world, there is always ALWAYS, always something to be thankful for.  Celebrate the day, tune into your church online or a multitude of church services on TV and whip up or order up a wonderful Easter dinner.
Celebrate – He is risen! Happy Easter!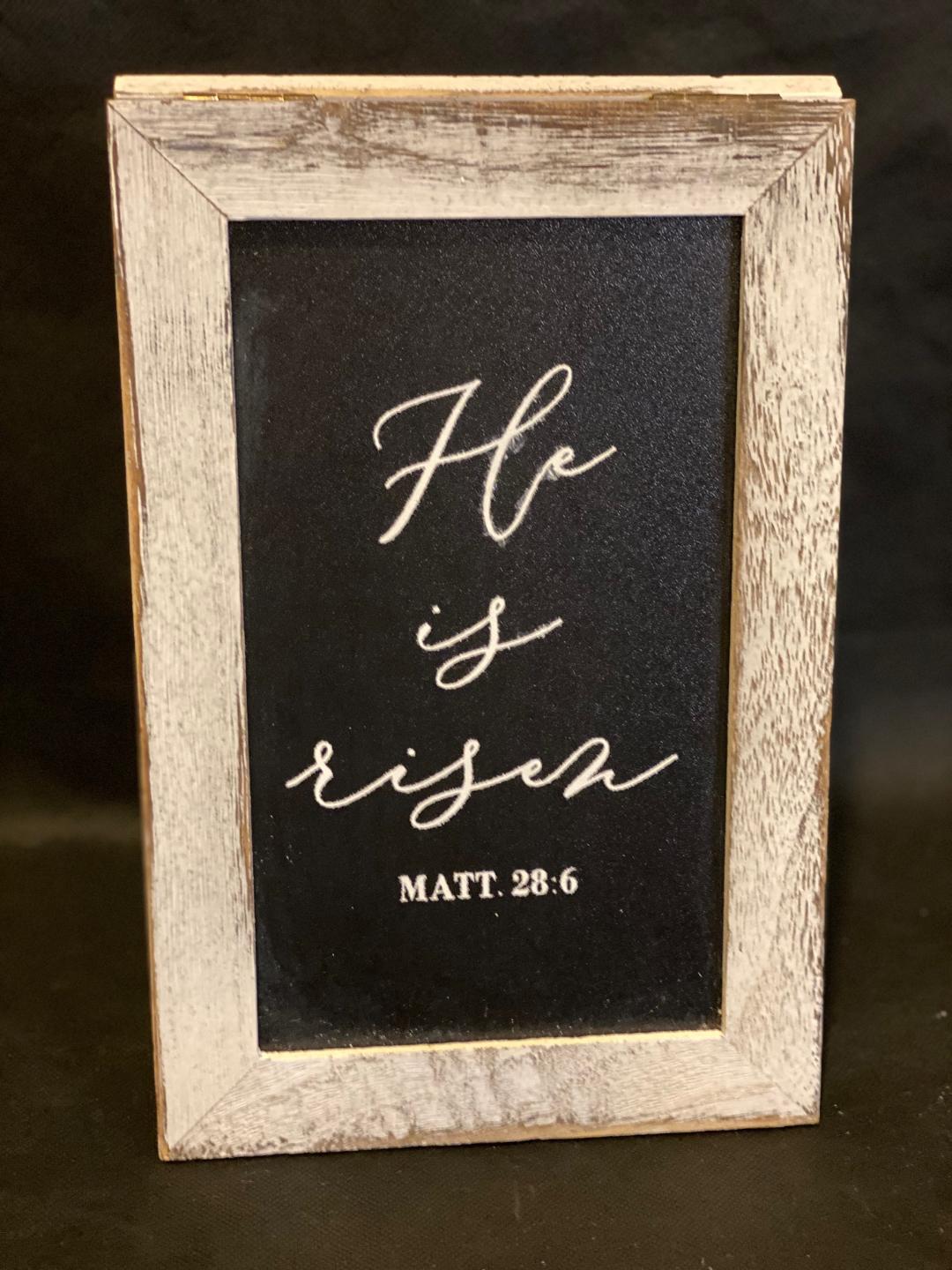 Luke 24:6-7
6 He is not here; he has risen! Remember how he told you, while he was still with you in Galilee:
7 'The Son of Man must be delivered over to the hands of sinners, be crucified and on the third day be raised again.