Hello and welcome to the Skinny Table Runner Blog Hop hosted by Diane from South House Designs. If you're visiting from Diane, or if you just happened to stop by, I'm so glad you're here!
Back in June of this crazy year of 2020, I was fortunate to attend The Social Gathering Retreat in Waco, Texas. At this retreat I had the privilege of meeting a wonderful group of amazing women. It was such a wonderful experience and one of the delayed perks is the continued communication we have had with our entire group.
One of these fabulous women, Diane Sudhoff, has a company called South House Designs. Diane is a dazzling woman who is SO talented and makes the most beautiful hand-sewn creations. I encourage you to visit her site and take a look at some of her beautiful creations. Her Instagram handle is @southhousedesigns so hop on over and give her a follow.
Diane offered all of us at the retreat the opportunity to try out her newest product, her Linen Skinny Table Runners.  I love a good runner so I JUMPED at that chance and was SO excited when her happy mail arrived and I opened these two beautiful linen runners. Coming up with an avenue to style these beauties was a challenge well-accepted by this Texas lady.
I used them in several different capacities around the house including on my two vintage side tables on my front porch on both sides of our day bed swing.
I was, however, DRAWN to create something outside. With fall coming and autumnal colors on my brain, these rustic linen runners were just calling for a fall tablescape. So off to the backyard I went a styling.
A couple of weeks ago when I started thinking about fall decorations, color themes and I whole-heartedly jumped on the "copper" wagon. With the help of Rustoleum Metallic Copper spray paint and this handy device, a multitude of items in my back yard have turned copper. I'm working on another post to showcase some of my copper transformations with these 2 magic products, but for this post, I transformed an antique tea cart from black to copper for a pretty backdrop to this fall tablescape.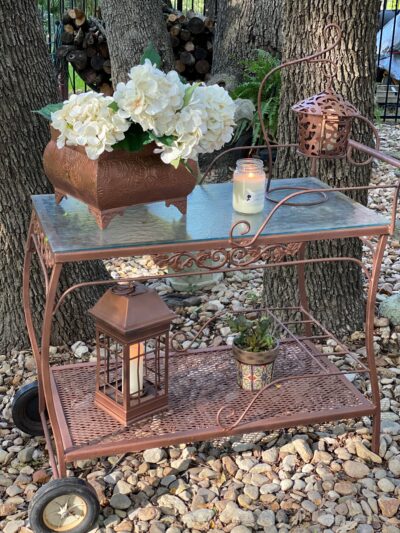 My husband and I are empty-nesters so I am getting pretty good at setting up tables for 2 these days. I started with an over-sized white tablecloth that puddled on the rock floor area. The idea then came to me that I should use these beautiful runners in a runner-turn-placemat-turn-decoration capacity, so that is exactly what I did.
I had been thrifting that week (which I try to do every Thursday) and had purchased some fall colored square plates I wanted to try out. I paired them with some copper chargers (yes, I spray painted some plastic chargers copper), antique salad plates, gold flatware (truth be told, it's plastic, and you can get them here, but they look dang good, don't they?) and of course, 2 beautiful wine glasses. I love eucalyptus, I call it the "chameleon greenery" because it works literally with every single season. I used a eucalyptus runner which camouflages itself perfectly to fall. The eucalyptus against the white tablecloth was the perfect divider for these GORGEOUS skinny linen runners.
Another wonderful detail about these runners is that they are machine washable (on delicate cycle) and the more they are washed and used, the yummier they get. I've washed them once and they are still just as lovely and Diane furnished us with this picture of them after several washes. Linen is a wonderful, delicious fabric that gets better and better, and again, goes well with ANY season.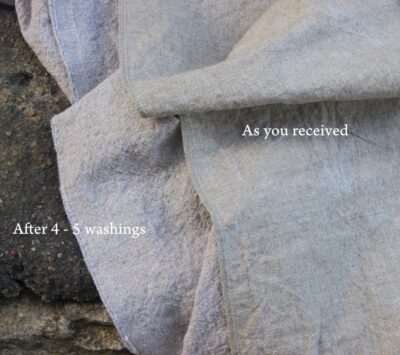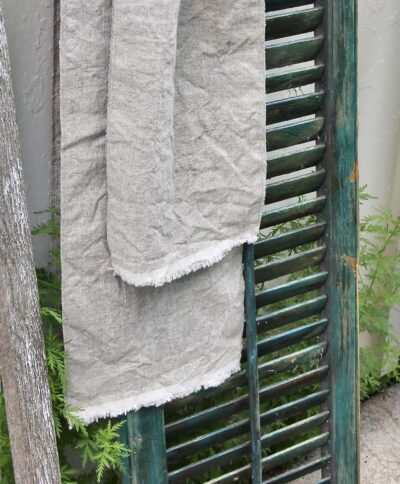 I encourage you to visit www.southhousedesigns.com and check out Diane's beautiful work. 
The Skinny Table Runner Blog Hop continues with Barbara at Mantel and Table. You can find links to all the inspiring skinny table runner styling below!
A few of the other fabulous bloggers who were at The Social Gathering Retreat (listed below) also posted their stylings and pictures in their blog posts, which you should definitely check out.
Are you getting ready for fall yet? It isn't easy here in Texas with our 100+ degree days, but I'm pulling it all out and getting ready for pumpkins and sweaters!

Disclosure: I received samples from South House Designs linen table runners in order to share my own opinion about this product, but this is not a sponsored post. This post does contain affiliate links. To learn more, you can read my disclaimers here.

​
"The grass withers, the flower fades, but the word of our God will stand forever."
Isaiah 40:8