Last week I had the PLEASURE of "virtually thrifting" with Ashley of @athomewithashley on Instagram. I met Ashley this summer when she was a speaker at Haven. I attended/viewed her class (Haven was virtual this year) and fell in love with this sweet soul. Our decor styles could not be more different but her house, her decorating, her projects and DIYs are as SO impressive and beautiful!  She is a darling young woman and her spunk, energy and sweetened-vitality is contagious!  I found a boat load of wonderful vintage treasures that I used to set up a fall vintage "thrifted" tablescape.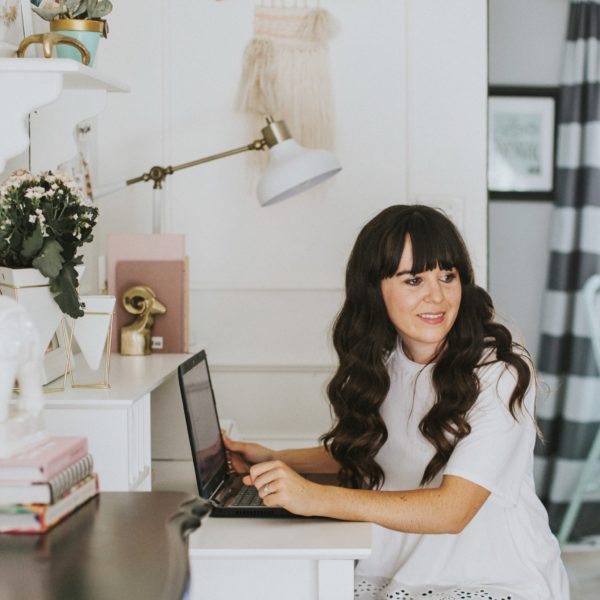 The last few weeks I have truly hit pay dirt with my thrifting, I felt these wonderful thrifted items surely deserved a blog post. How about a thrifted vintage fall tablescape for the score?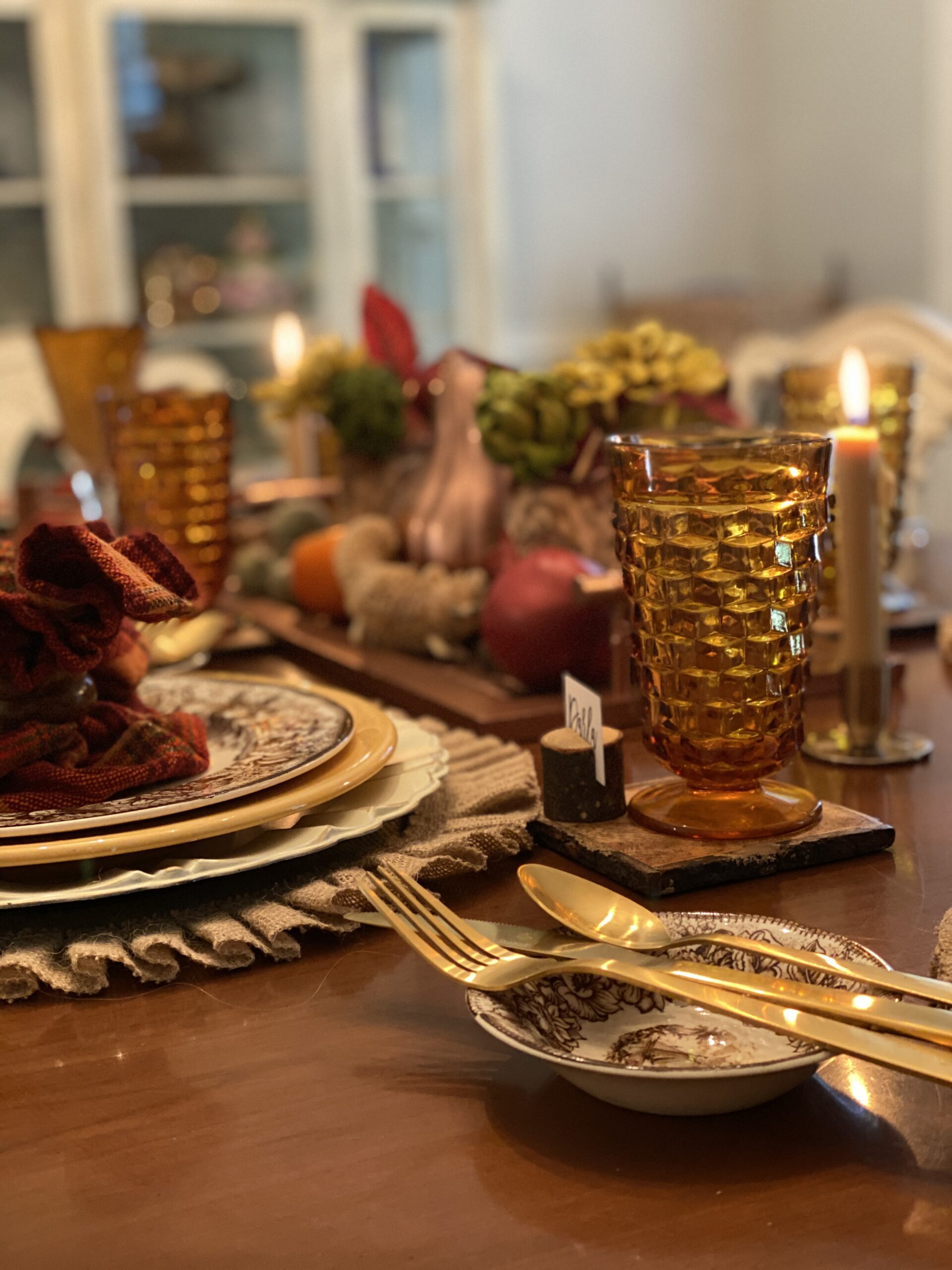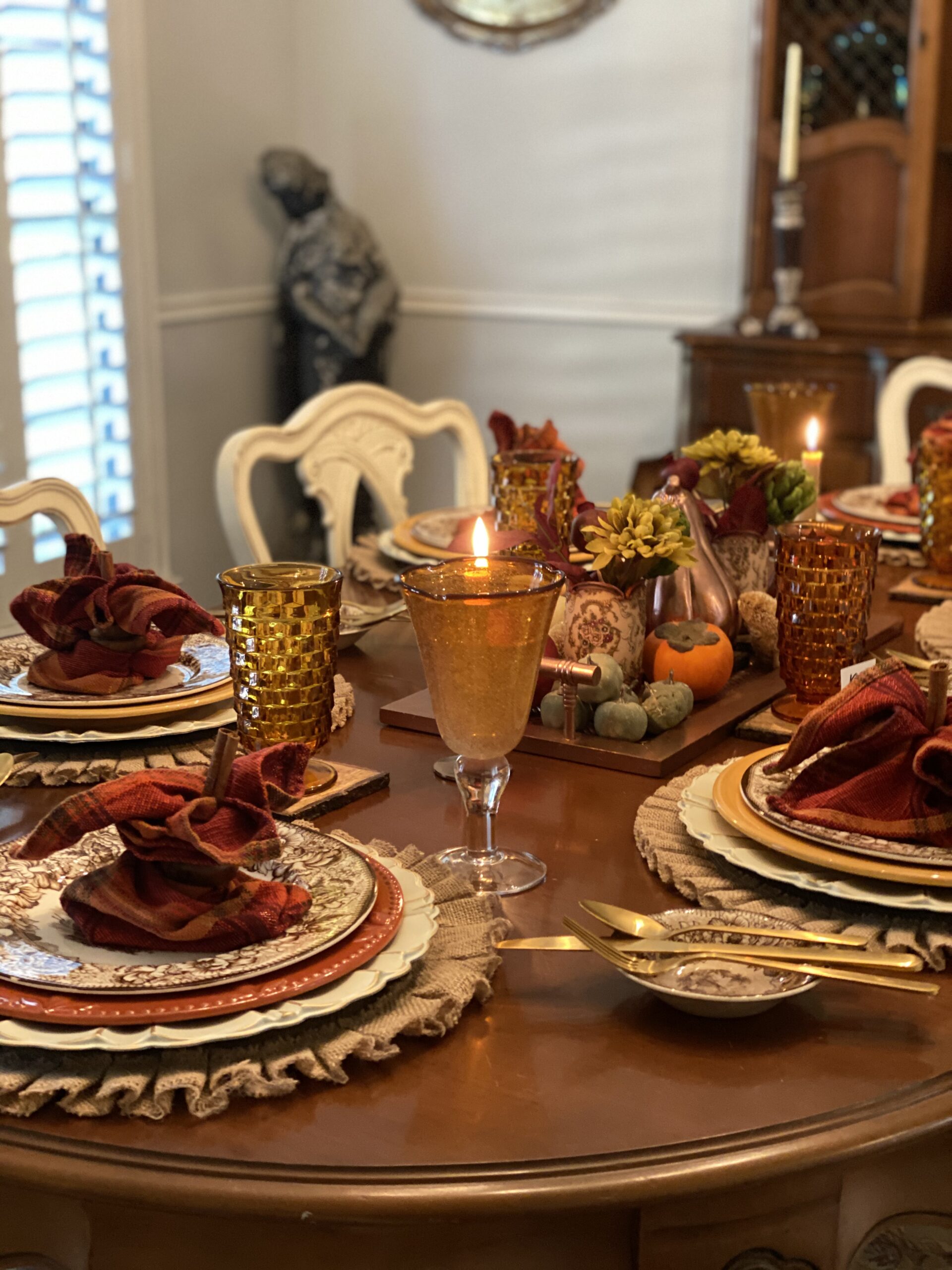 Fall is everywhere, I myself have purchased about 10 cans of gold and copper spray paint and have "copperized" everything that wasn't tied down. Spray paint has been so much fun to use as a transformer because come March or June, I can spray whatever items I "copperized" back white or black or whatever color for whatever season. I was struck by copper this year and have been having so much fun painting ALL kinds of goodies, from pumpkins to thrifted serving trays.
Let's start with this table. I find plates a plenty when thrifting so I used all thrifted plates on this table. I also mix and match quite frequently. I scored some amber vintage glasses and couldn't wait to use in a setting. I'm not sure what this style is called, I see them everywhere and I'm pretty sure my parents had a set of green ones back in the 70's, long-since garage-saled I'm sure. I only scored 4 of these glasses, however, so I paired them with 2 gorgeous amber water goblets for both heads of this vintage fall table.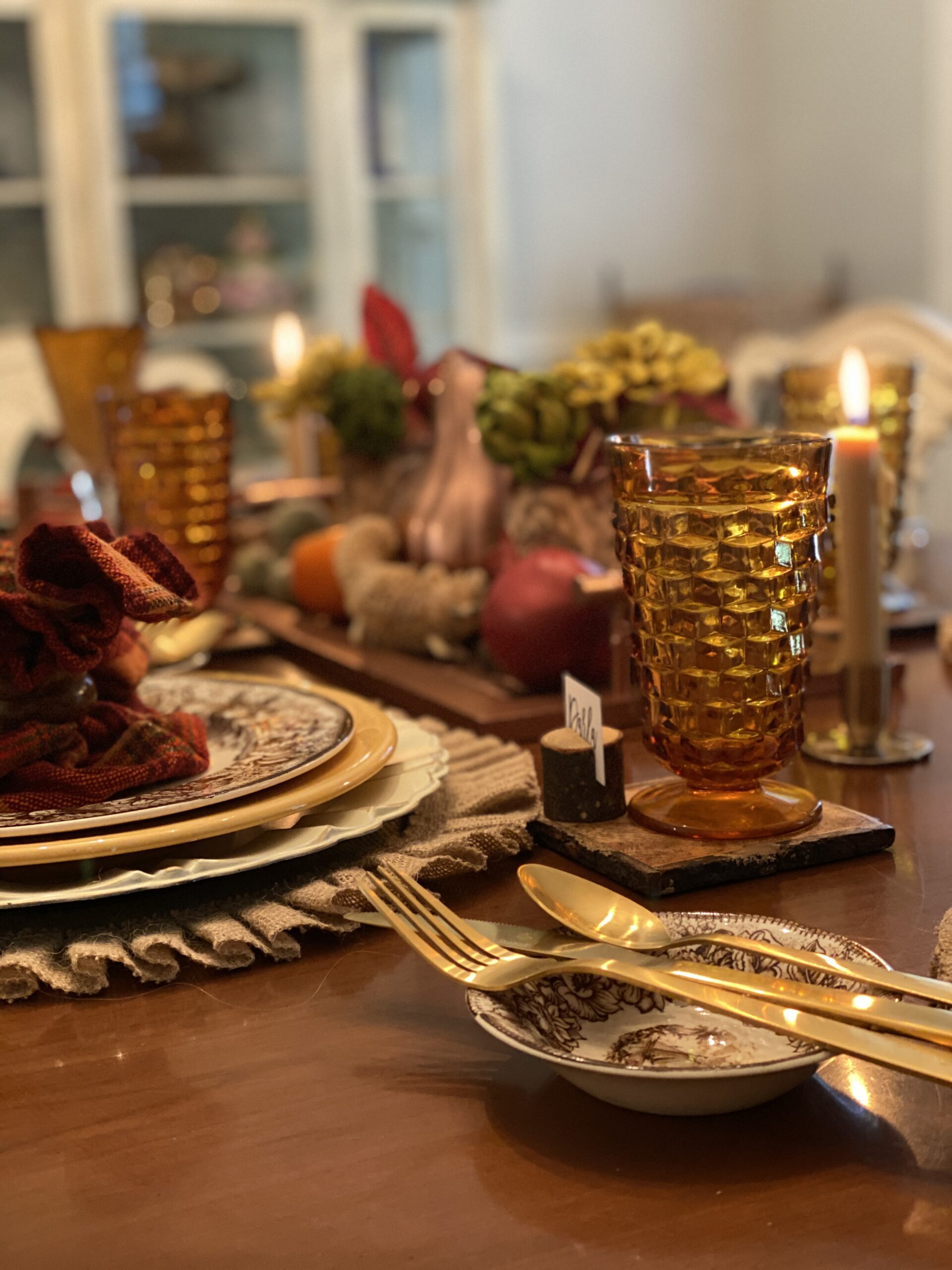 I am a rebel and Emily Post (or whoever her tablescape authority equivalent is) would most likely have heart failure at the way I mix and match and set tables. I'm in it for fun and symmetry. I do tend to like each side of the table to have the same view when it comes to centerpieces, but that is about as far as I go with the matchy-matchiness.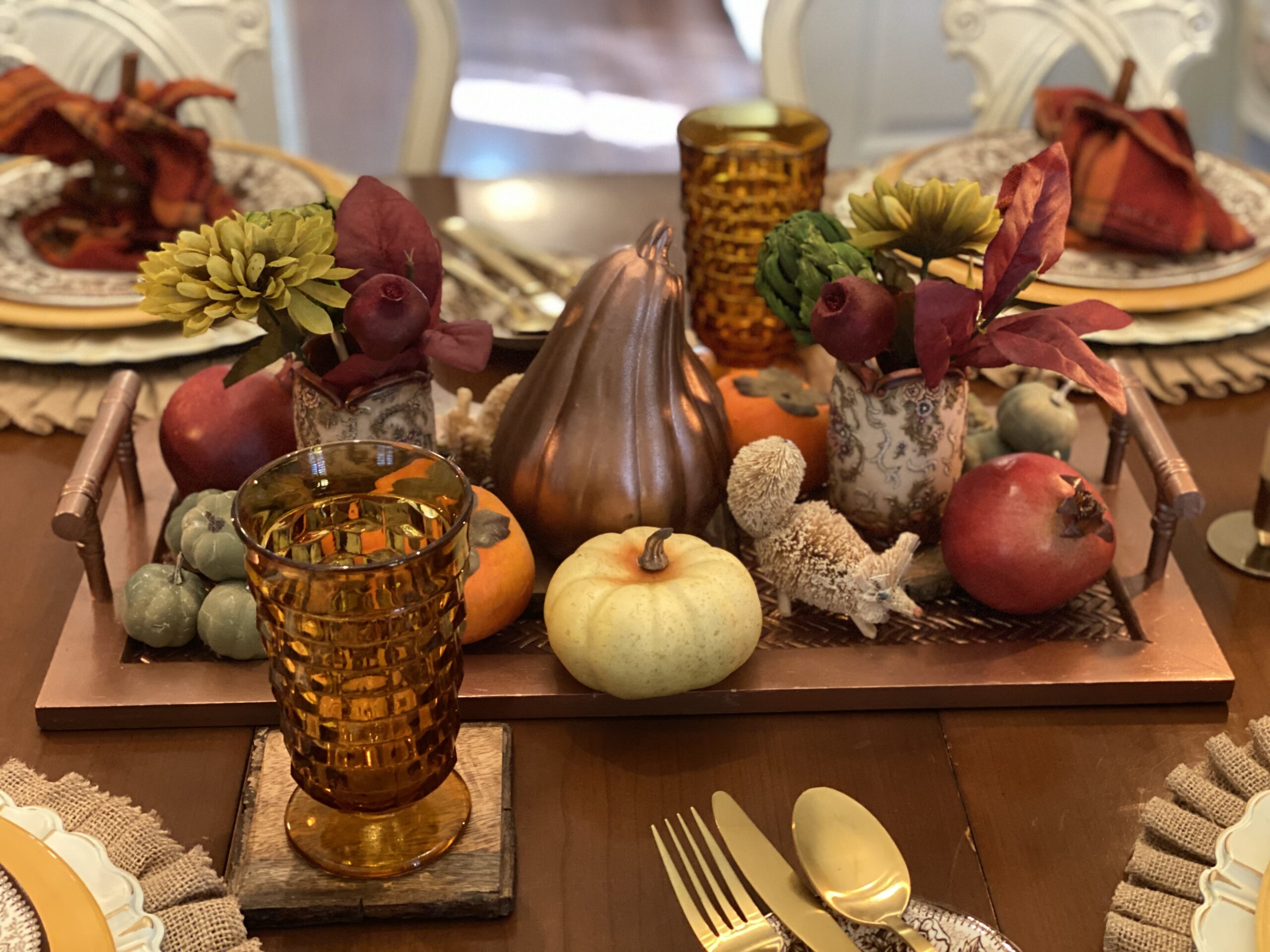 I started with a long rectangular tray that I picked up thrifting with Ashley last week. I gave that sweet ole' tray a copper makeover, so she's the base of my centerpiece. I purchased the 2 brass candlestick holders at a garage sale (actually have about 12 of those babies) and boy do I use the heck out of them!  The two little flower holders on the tray are actually I believe, toothbrush holders that I got at a thrift store a few weeks ago, but I loved their autumn colors and thought they would be oh-so-cute on a fall table.
The napkins I have had for decades it seems and they get pulled out every fall to use for gatherings or Thanksgiving dinners. I play around with napkin folding a lot. I was actually trying to figure out how to make a pumpkin with the napkin, but my pumpkins turned into fluff balls so-to-speak so I just puffed them out and put a cinnamon stick in the top. I thrifted 10 wooden napkin rings last week for $.99 and they came in handy making these napkin-quasi-pumpkin-pouf show pieces. I pushed the center of the square napkin through the napkin room and pulled and poufed until it turned into what you see here. A cinnamon stick inserted in the middle is just a way to show a pop of autumn color on the plate and fragrance the room to boot! How much more fall can that be?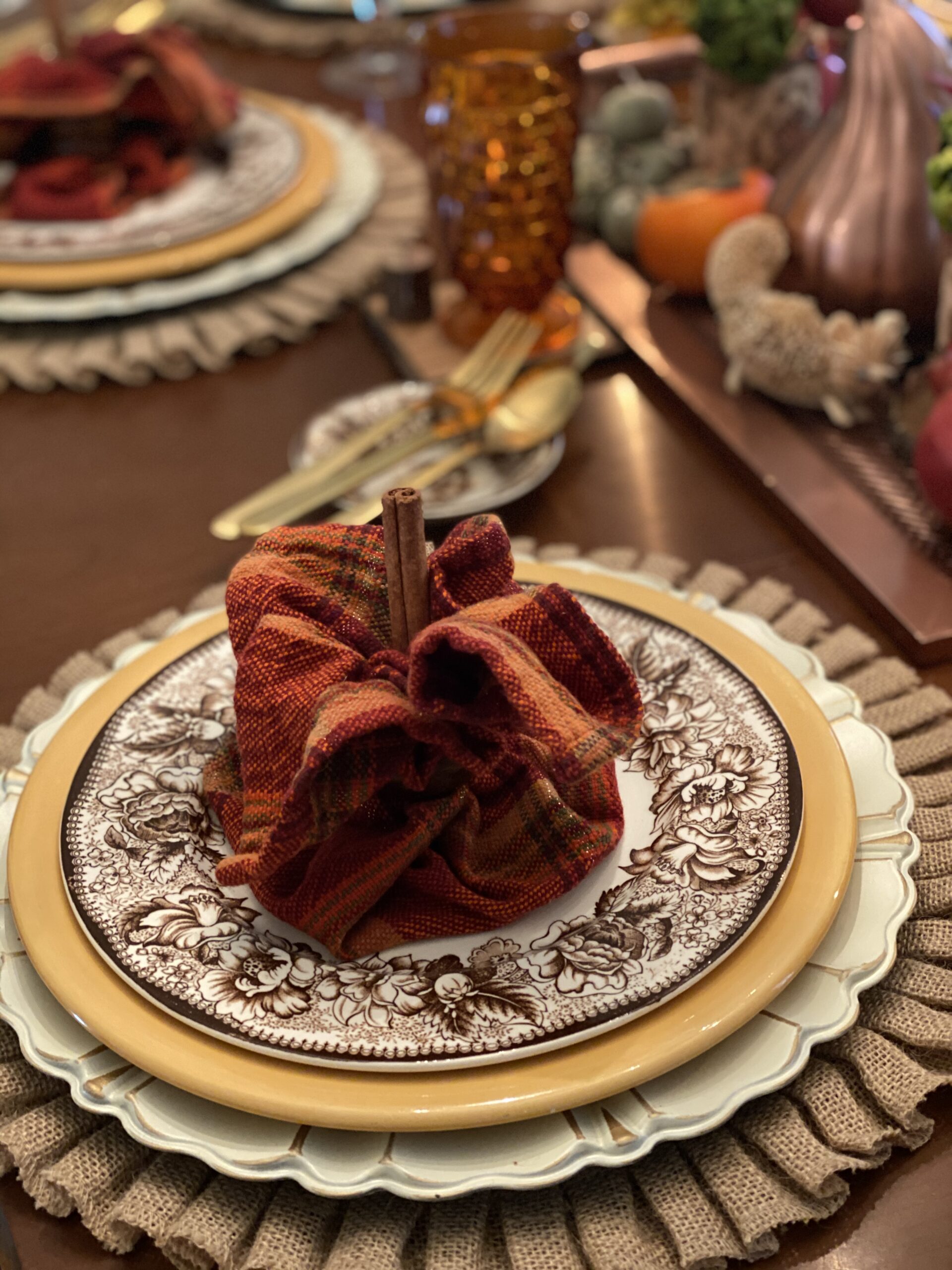 I snagged a whole set of vintage Tonquin Brown by ROYAL STAFFORDSHIRE china a couple of months ago on Craigslist. I love LOVE love this pattern. I plan on using them from now until Thanksgiving for sure. They just SCREAM fall, don't they?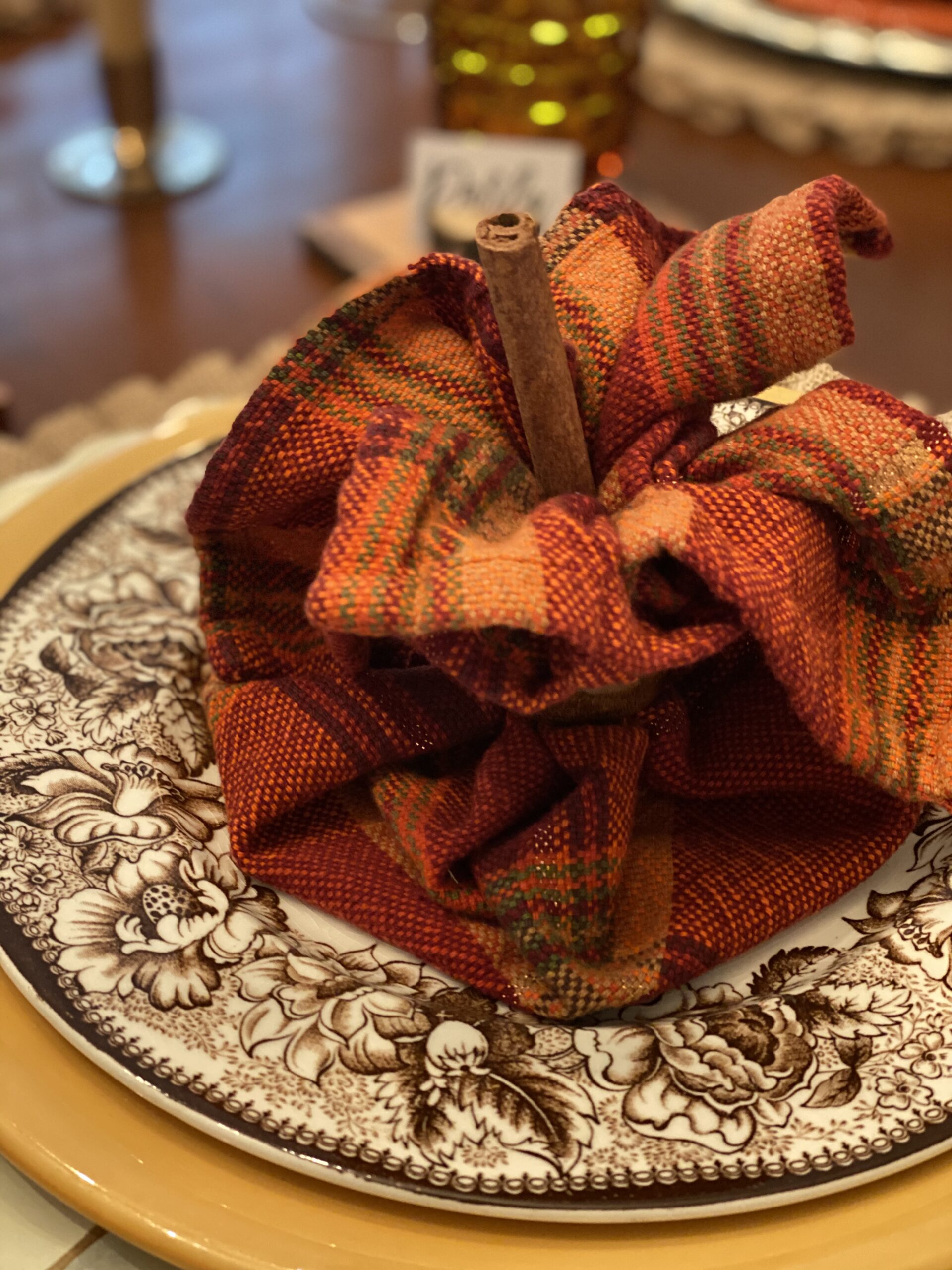 I guess if my family would say anything about my tables is that they never know where the utensils will land. I tied them in napkins, I place them on the plates, and in this table, I put them sweetly on little bowls next to the place setting.  Those three little guys don't HAVE to sit uniformly on each sides of the plates, right?  The gold flatware isn't vintage, I snagged it at Target at a great, almost thrifting price. The chargers and placemats aren't vintage either, they are from Pier 1 and boy have I used those suckers, I just love them!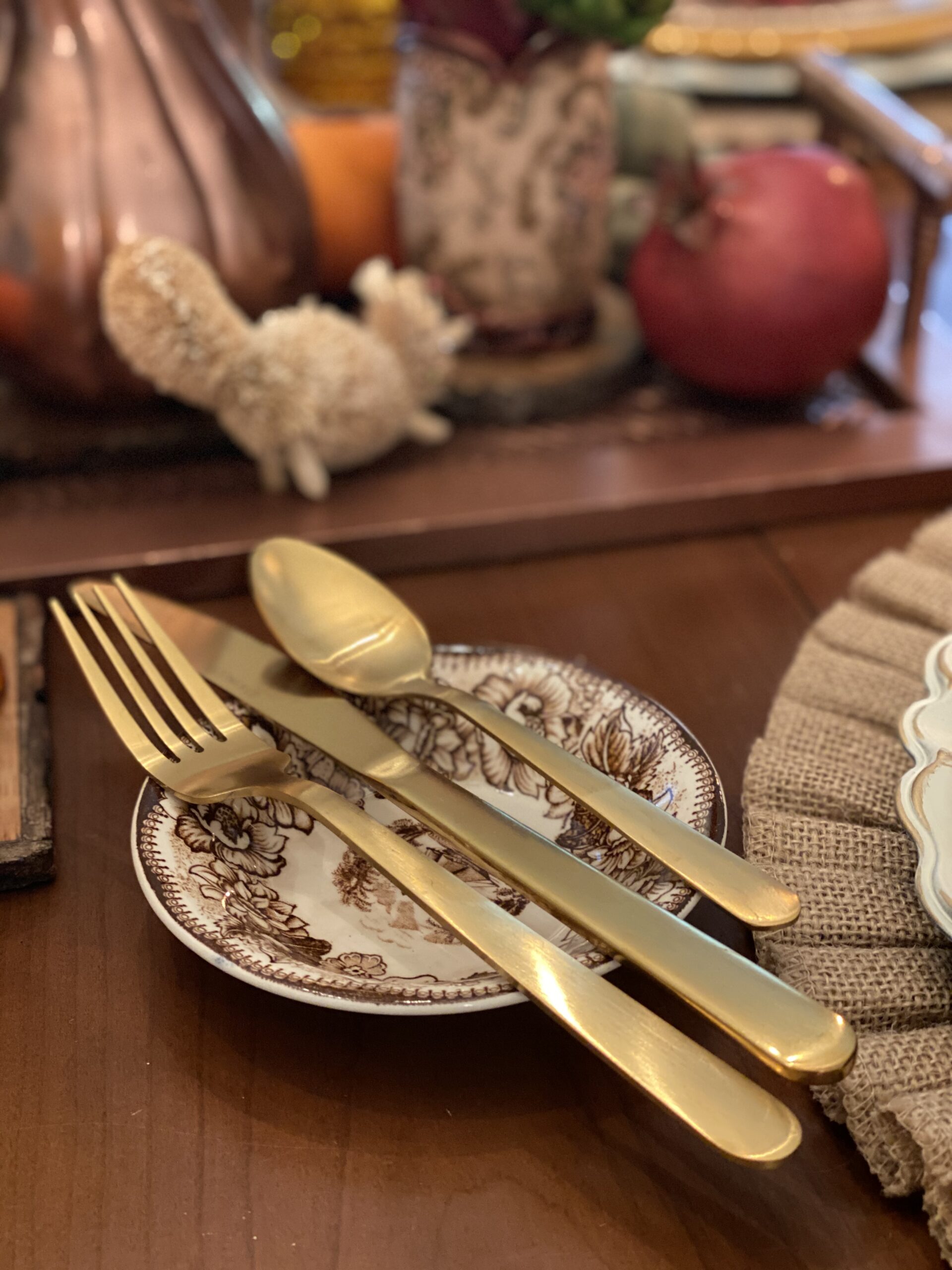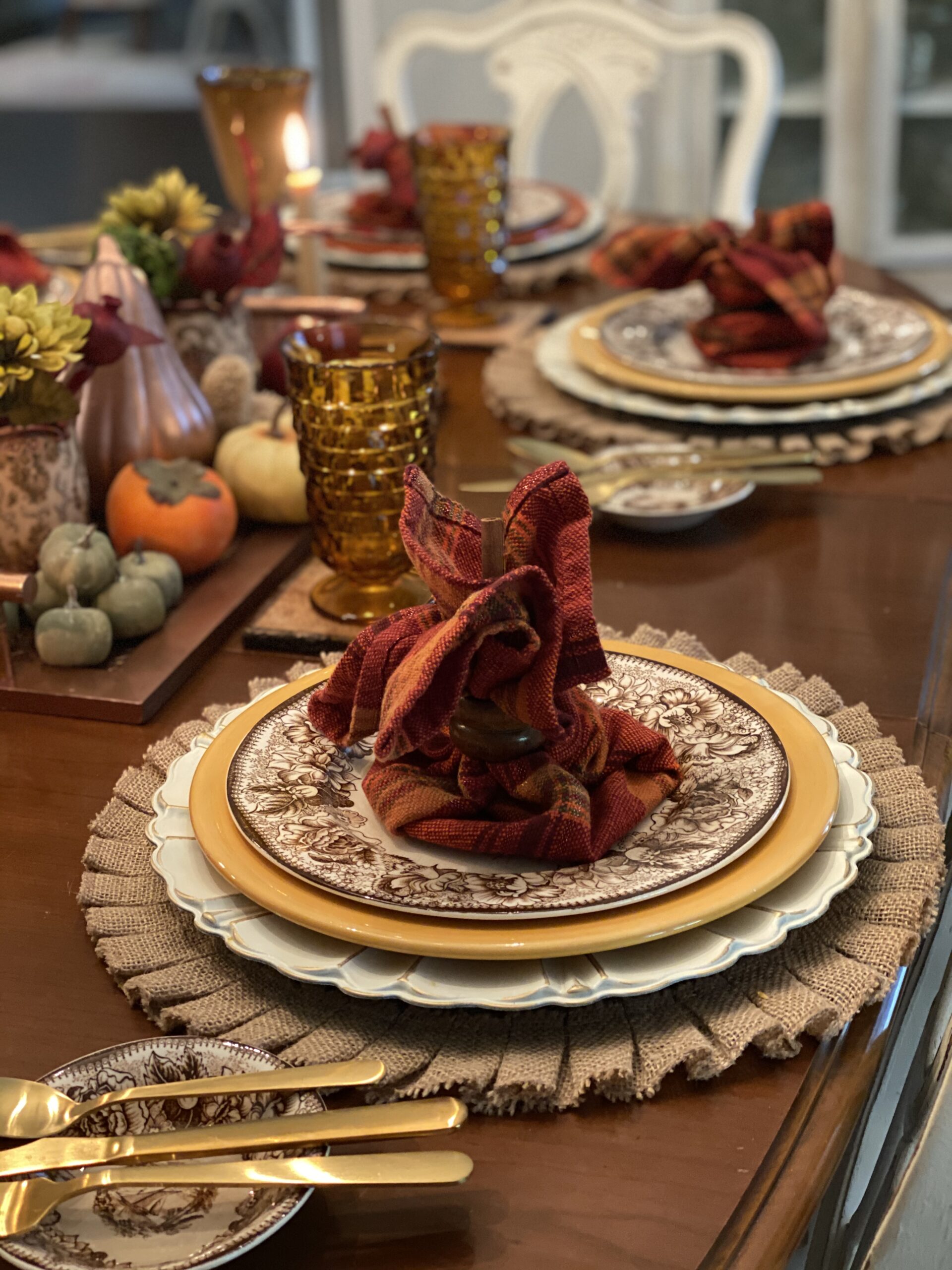 So as you are setting your fall tables, use what you have, mix it up, everything doesn't have to be matchy-matchy at all. I think it is more fun to use what you have, and if you say you don't have anything … head to the thrift store, you can fix yourself up for sure! Happy Fall!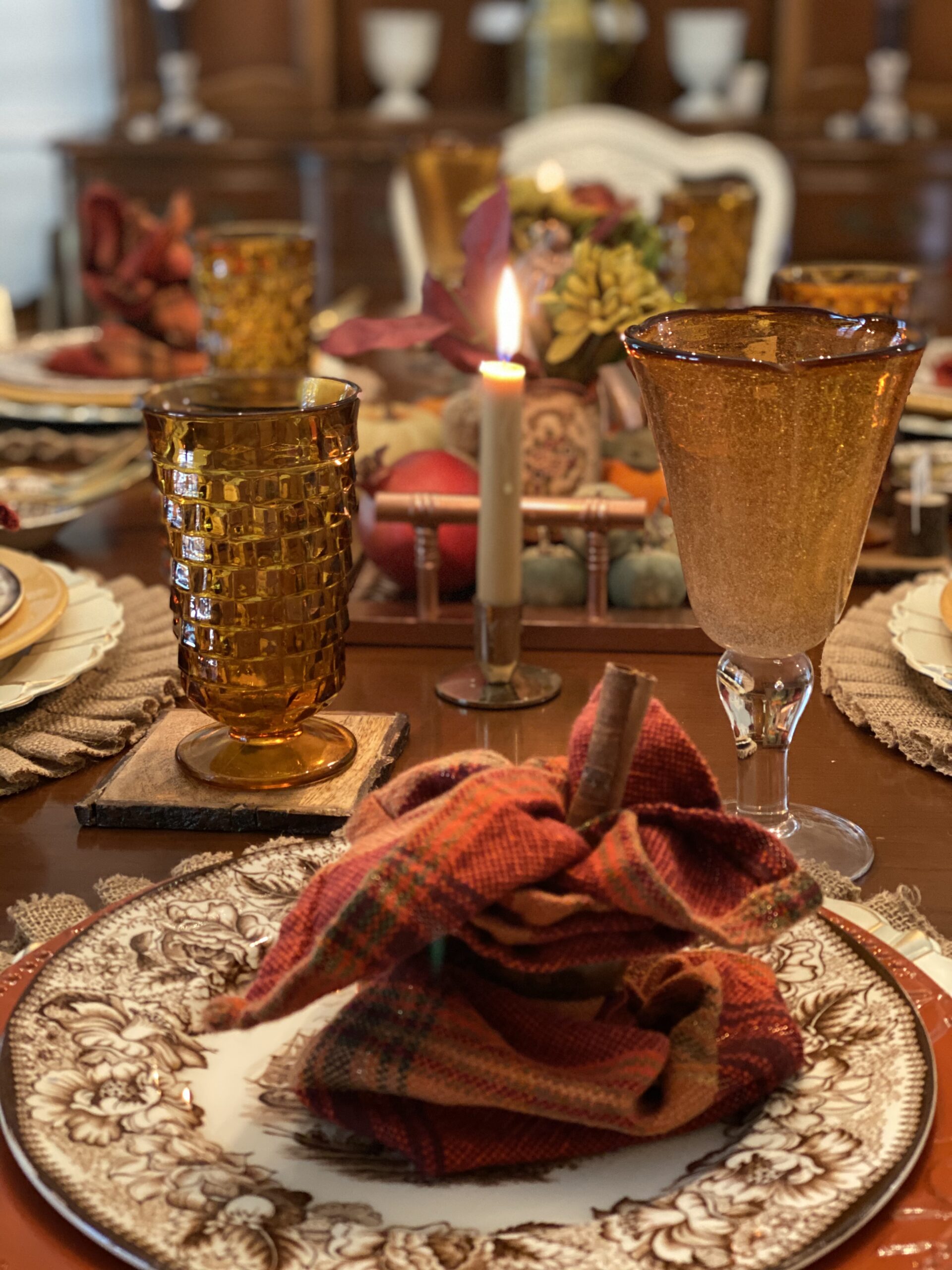 ********************
For everything there is a season, and a time for every matter under heaven: a time to be born, and a time to die; a time to plant, and a time to pluck up what is planted; a time to kill, and a time to heal; a time to break down, and a time to build up; a time to weep, and a time to laugh; a time to mourn, and a time to dance; a time to cast away stones, and a time to gather stones together; a time to embrace, and a time to refrain from embracing; …
Ecclesiastes 3:1-22