It is my pleasure today to join a group of my blogger friends who are sharing our Spring bedroom touches.
Our master bedroom is, as is much of our house, definitely a work in progress and is constantly changing.  If someone were to ask what my decor style is, I honestly don't know how I would respond … maybe vintage, mixed with new, mixed with farmhouse, mixed with French Country, mixed with thrifted decor?
Our current master bedroom set up is vintage French Provincial furniture from most likely the late 60's or early 70's. It belonged to my grandparents so it is special to me.  I've added a couple of additional French Provincial pieces I scored off Marketplace or Craigslist, and painted all of them with Annie Sloan old white chalk paint and edged them with dark and black wax. The hardware got a Tarn-X bath and presto, our Master bedroom furniture was refreshed.  Everything is accented with gold or brass, so when my husband and I "gave each other" our new Samsung Frame TV  for Christmas, the frame of the TV tied in perfectly with all the vintage brass accents.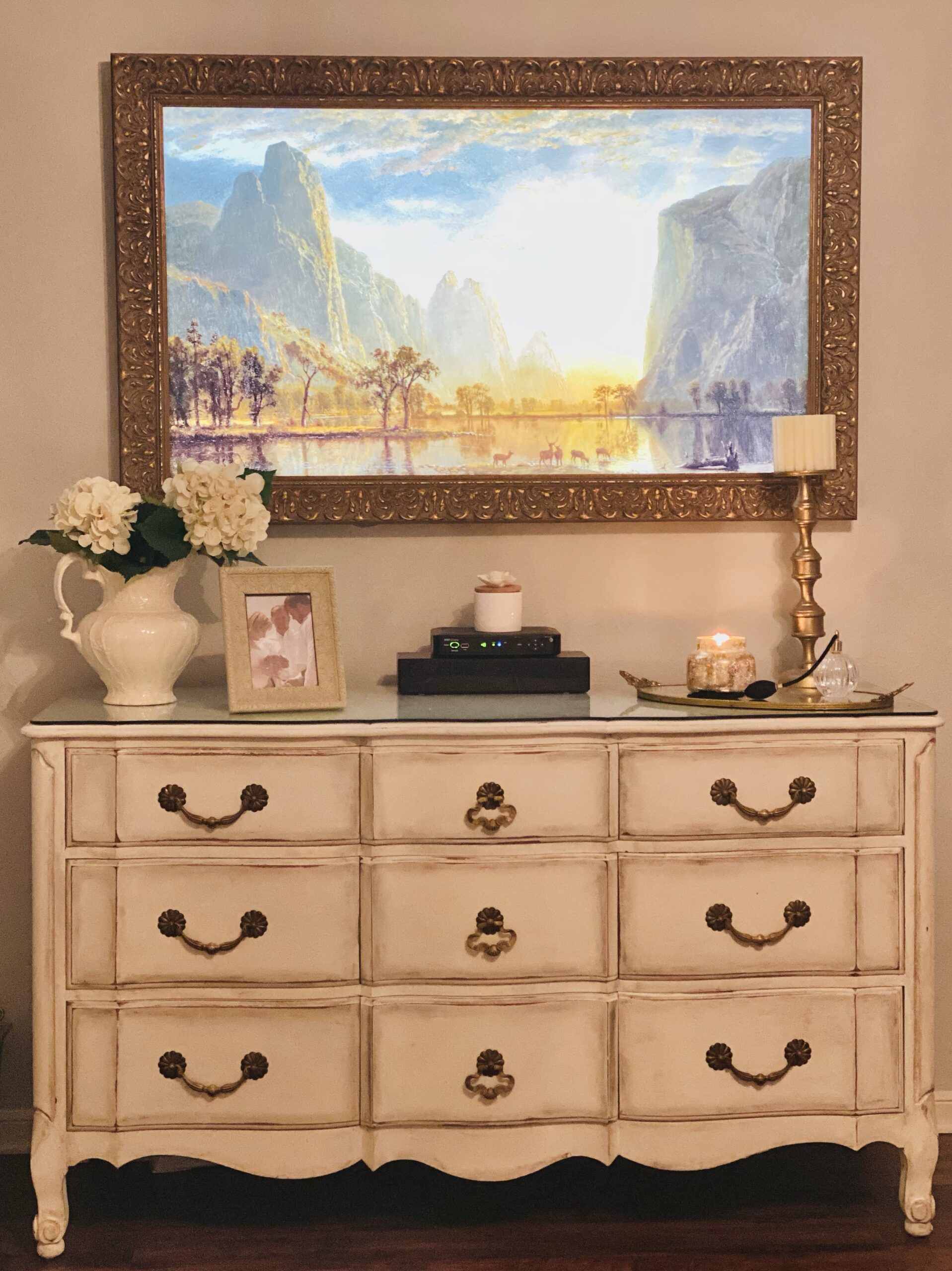 I love how these pieces allow me to change the room with the seasons. During the holidays I played up the gold and added pops of red and now that Spring time is here, I'm going to accentuate the lightness of the paint color, highlight the gold and brass with other vintage gold accents and bring on the florals!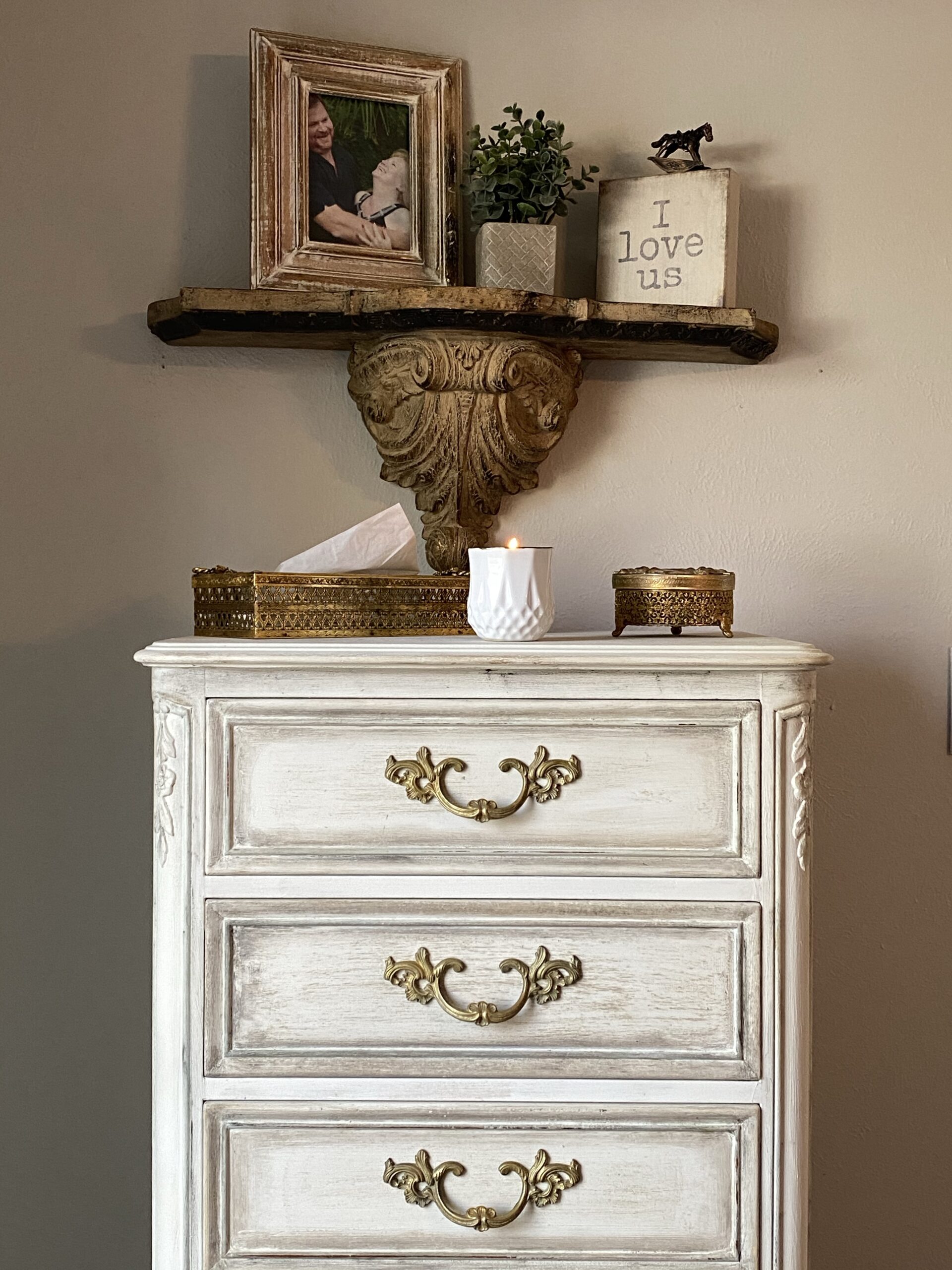 I think Monet wrote this quote for me: "I must have flowers, always and always.."
When I think Spring, my mind naturally goes to flowers. I'm a bit of a flower junky anyway so that's an easy touch for me. Truth be told I usually have either faux or fresh flowers in my bedroom year round. But this go-round some white hydrangeas in a vintage white pitcher fits the bill.  The top of our dresser is always a great place to add seasonal accents, which I guess will always include florals, right?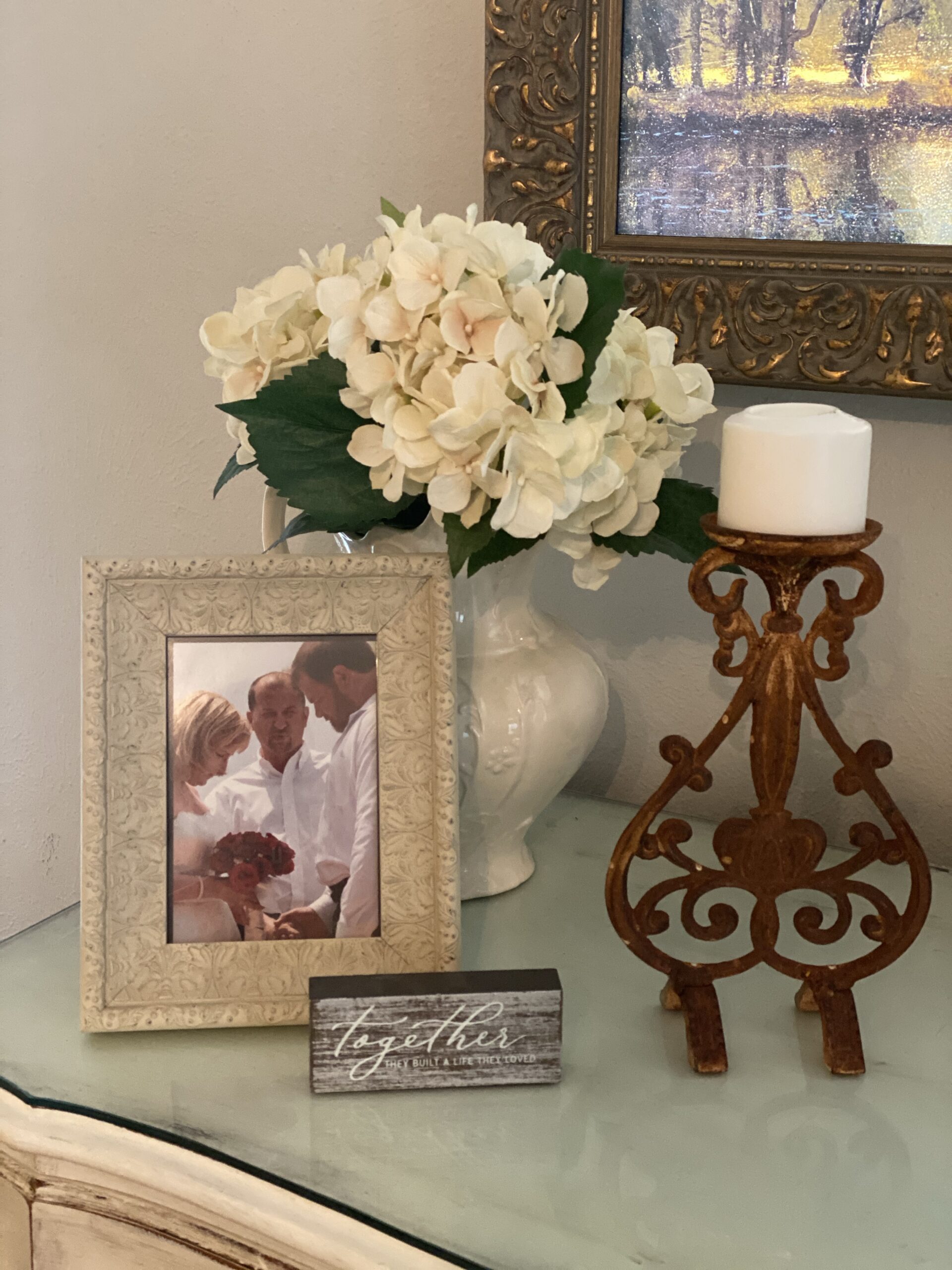 The Scent of Spring … perfect ambiance.
Smells are everything to me.  I have a super-duper sense of smell.  My family all knows that if you don't know what to get me for a gift, get me a candle or anything scent-related.  I always enjoy florals, not food smells I tell them.  Food smells ONLY during the holidays I say, LOL.  I adore this Anthropologie candle on my grandmother's vintage mirror tray, and it smells like Spring time or heaven, whichever you prefer, as you enter the room!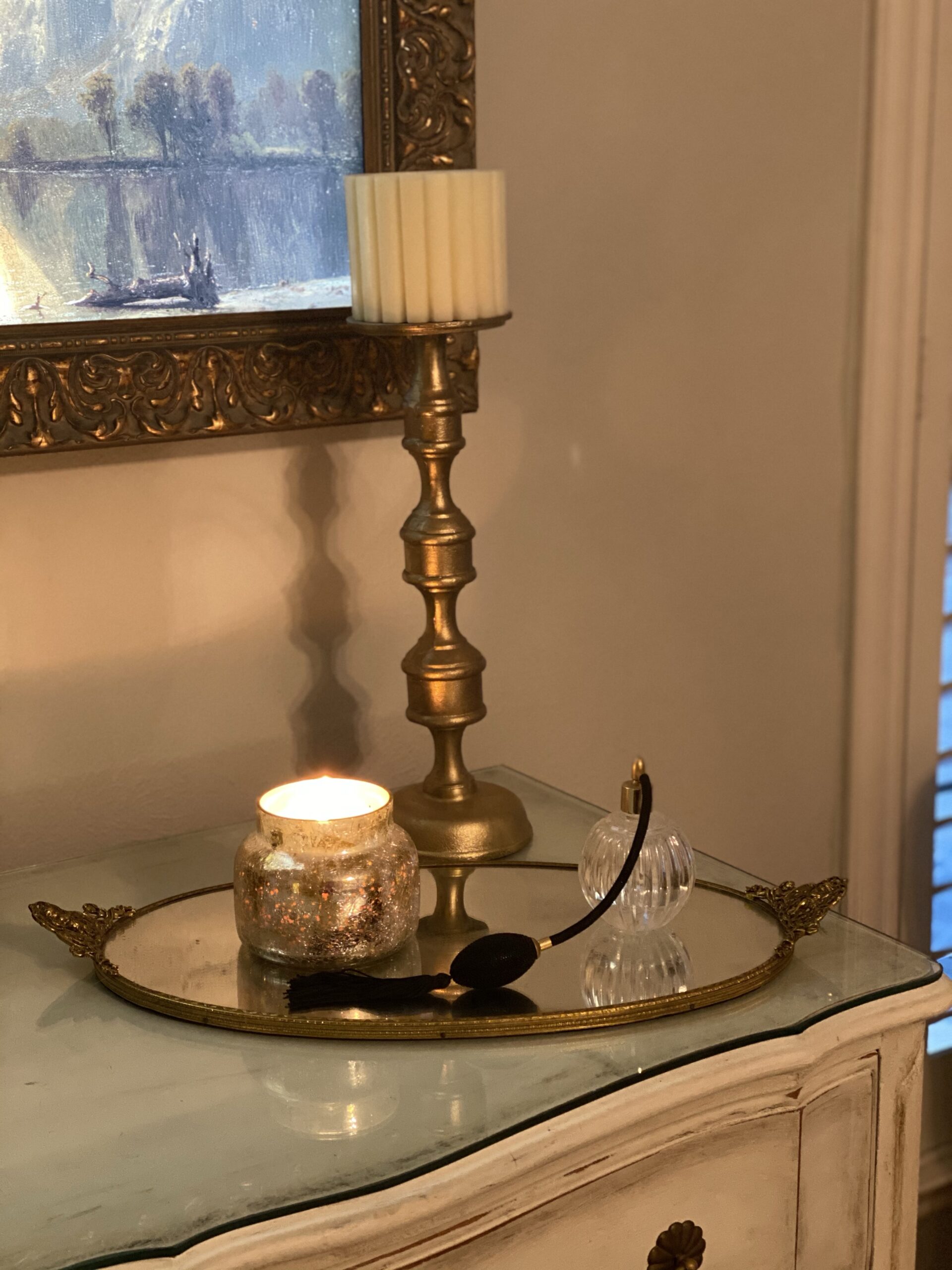 Headboard Makeover
We had the headboard from my grandparents' set in the room for a while, but it never really quite fit because of our elevated adjustable bed, so we went a while without a headboard.  One day I was surfing Craigslist and found this ornamental steel piece for $40.  I wasn't sure what it would look like but when we got it home and held it up on the wall over our bed, it just fit.  I took it out in the backyard and sprayed it my favorite Vintage Gold" Rustoleum spray paint and then we attached it to the wall.  A make-shift headboard was realized.  It's a little over the top, but with all the ornate gold in this French Provincial room, I decided to just go for it, and well, it worked!
Beautiful linens are a must!
Linens are always a great way to "Spring" up a bedroom for sure.  I usually have a white comforter on our bed.  My friends always gasp at me having white linens (especially with dogs) but I love white washable linens (keyword – "washable").  You can SEE when they are dirty and they can be washed and bleached if needed, that's why I like white!
Last summer I was "influenced" by Shalia at The Spoiled Home to purchase a set of Cariloha® Resort 400-Thread-Count Viscose sheets.  All I can say is "oh my goodness gracious" – no matter what is on top of the bed, I will always have these sheets as my foundation.  They are glorious!  I change out bedspreads (that I fold down at the foot of the bed)  throughout the year for different seasons and I purchased this Vue Signature Plush Decor Charlotte Coverletoff from Overstock.  It's currently out of stock, but the set includes the bedspread and 2 king shams and I love it, it definitely says Spring to me.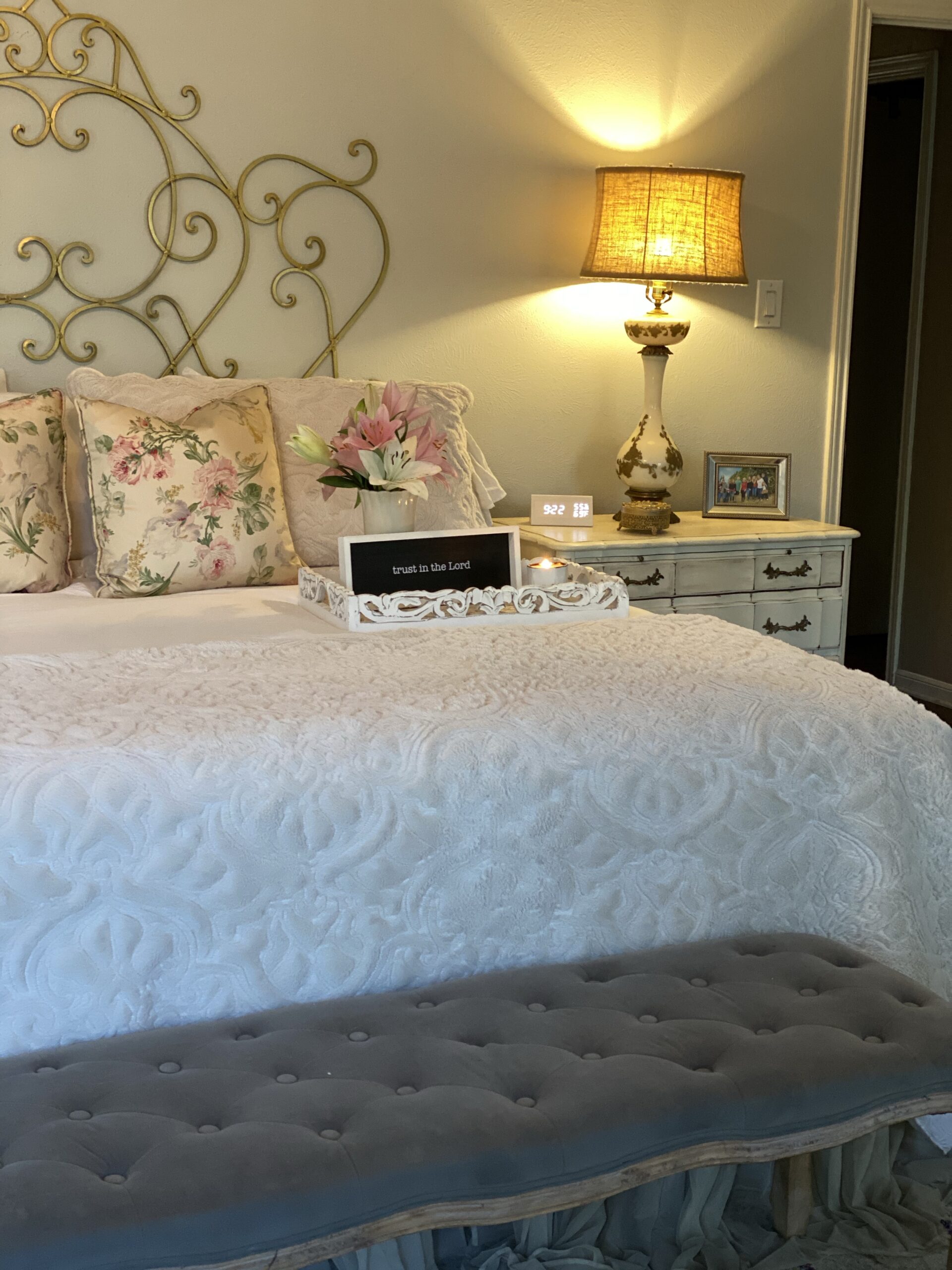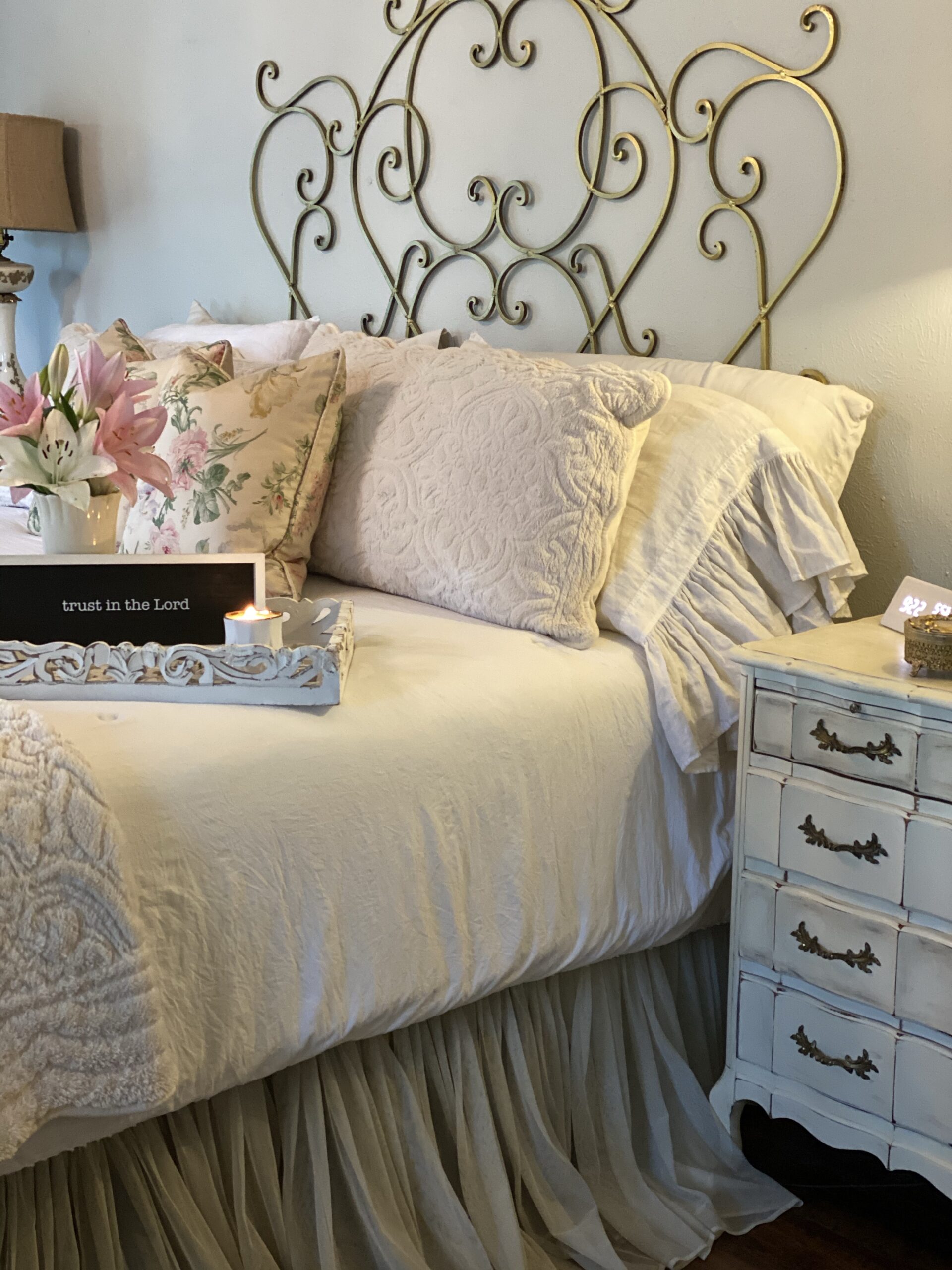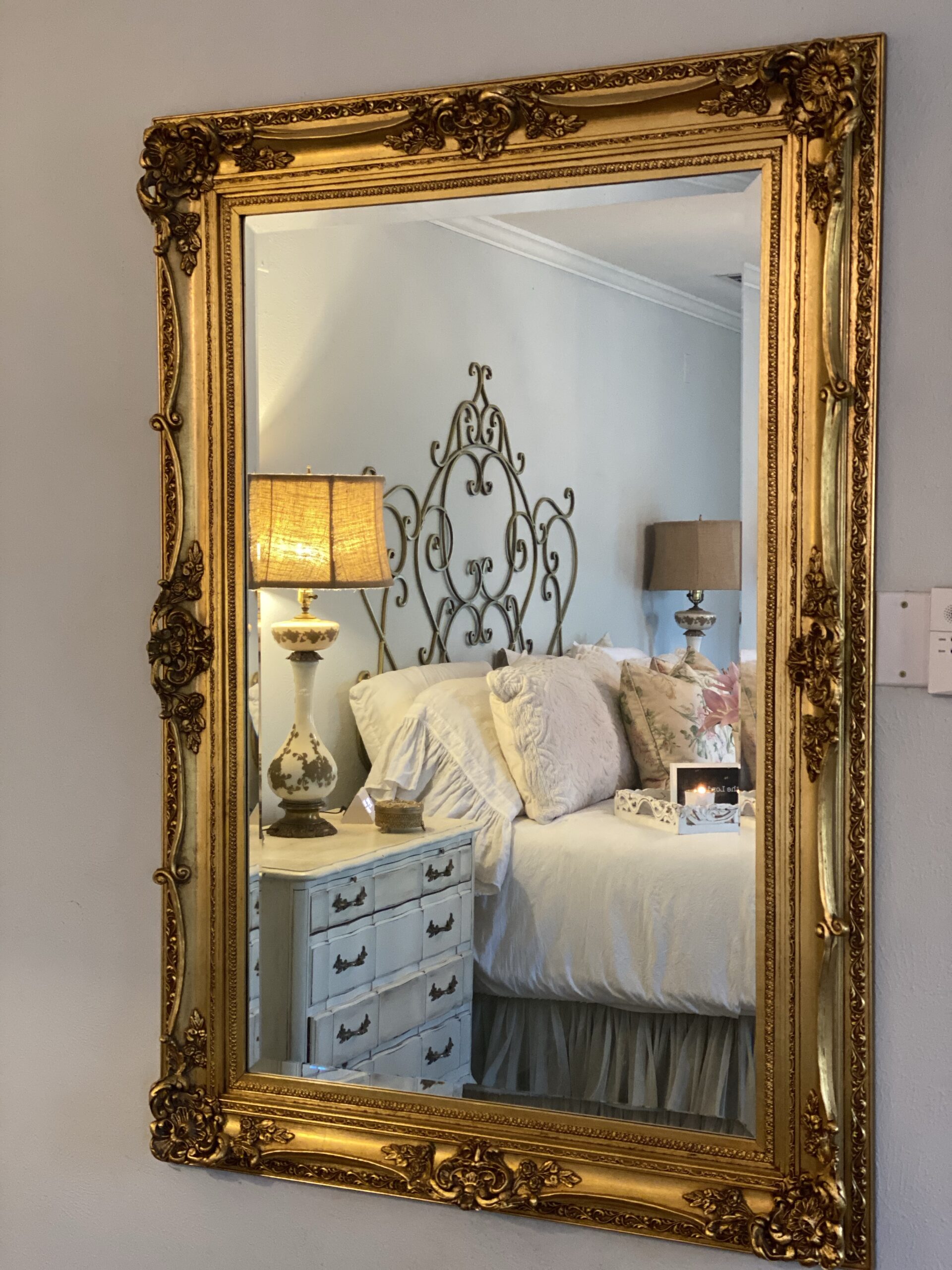 Who loves Rugs?
Another fun way to accentuate a season change are rugs.  We have a hallway in our Master bedroom leading to the bathroom and I always have a runner in this hall.  I chose a lighter shade of the My Texas House Lady Bird Runner and not only is it a fabulous runner, I think it looks so fresh and Spring like, not to mention it is of unbelievable quality and easy to clean.   I hope to get the 9×12 soon for under the bed.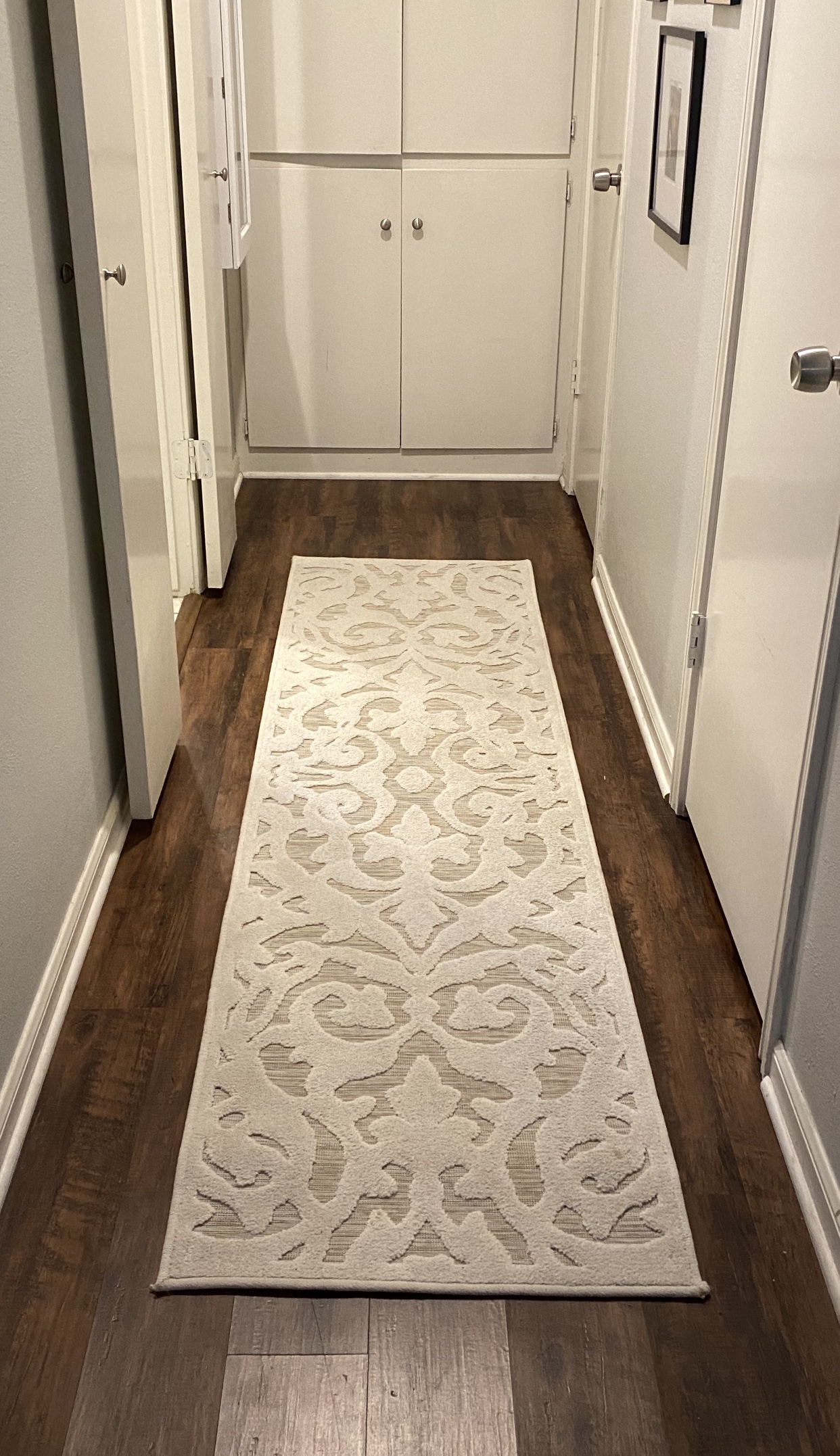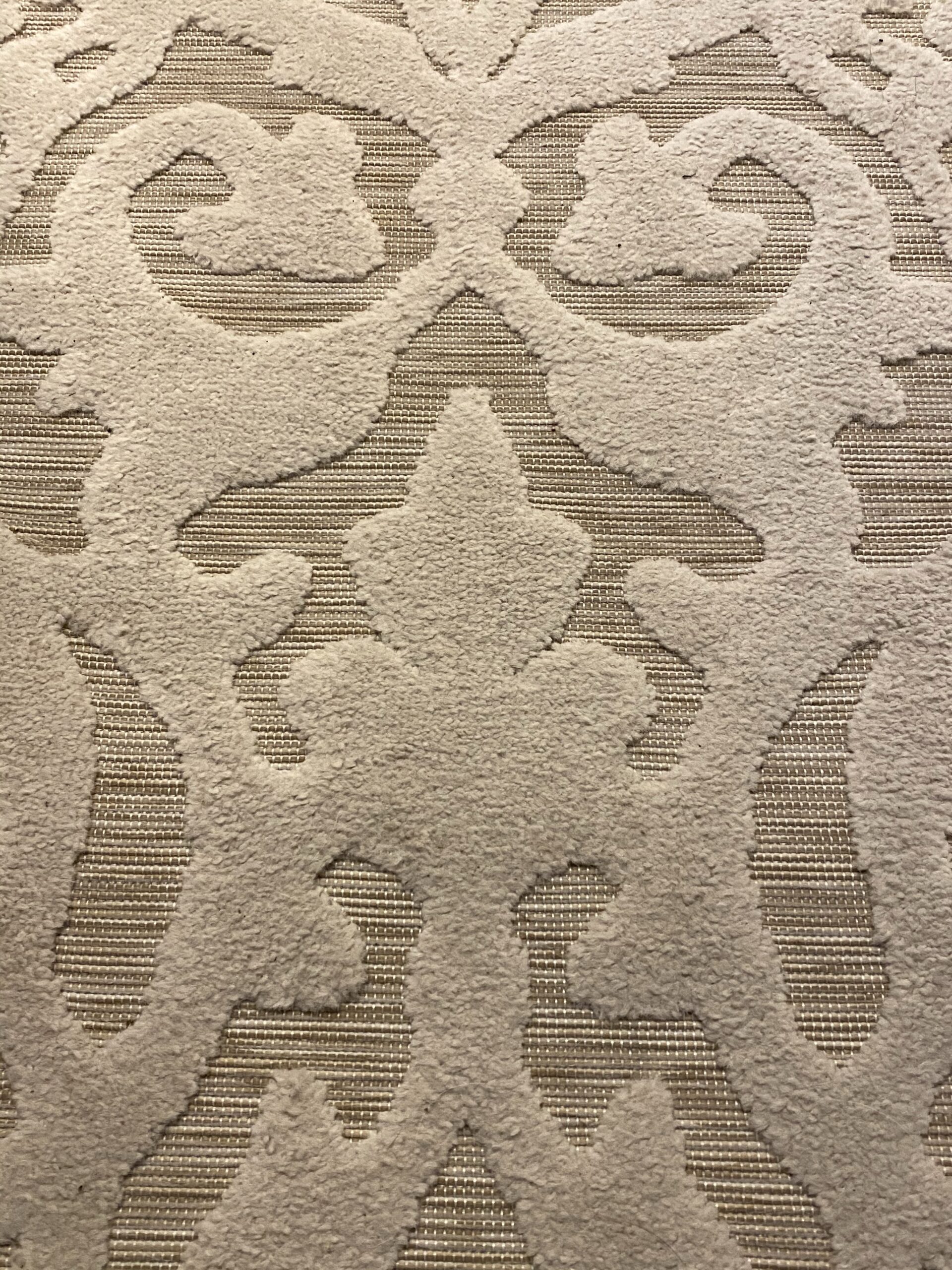 Simple Touches
Spring time always makes my mind think of plants, and of course, what is a great refresh ANY time of the year – succulents!  This beautiful succulent trimmed with pink edges screamed Spring to me so I put her by the window.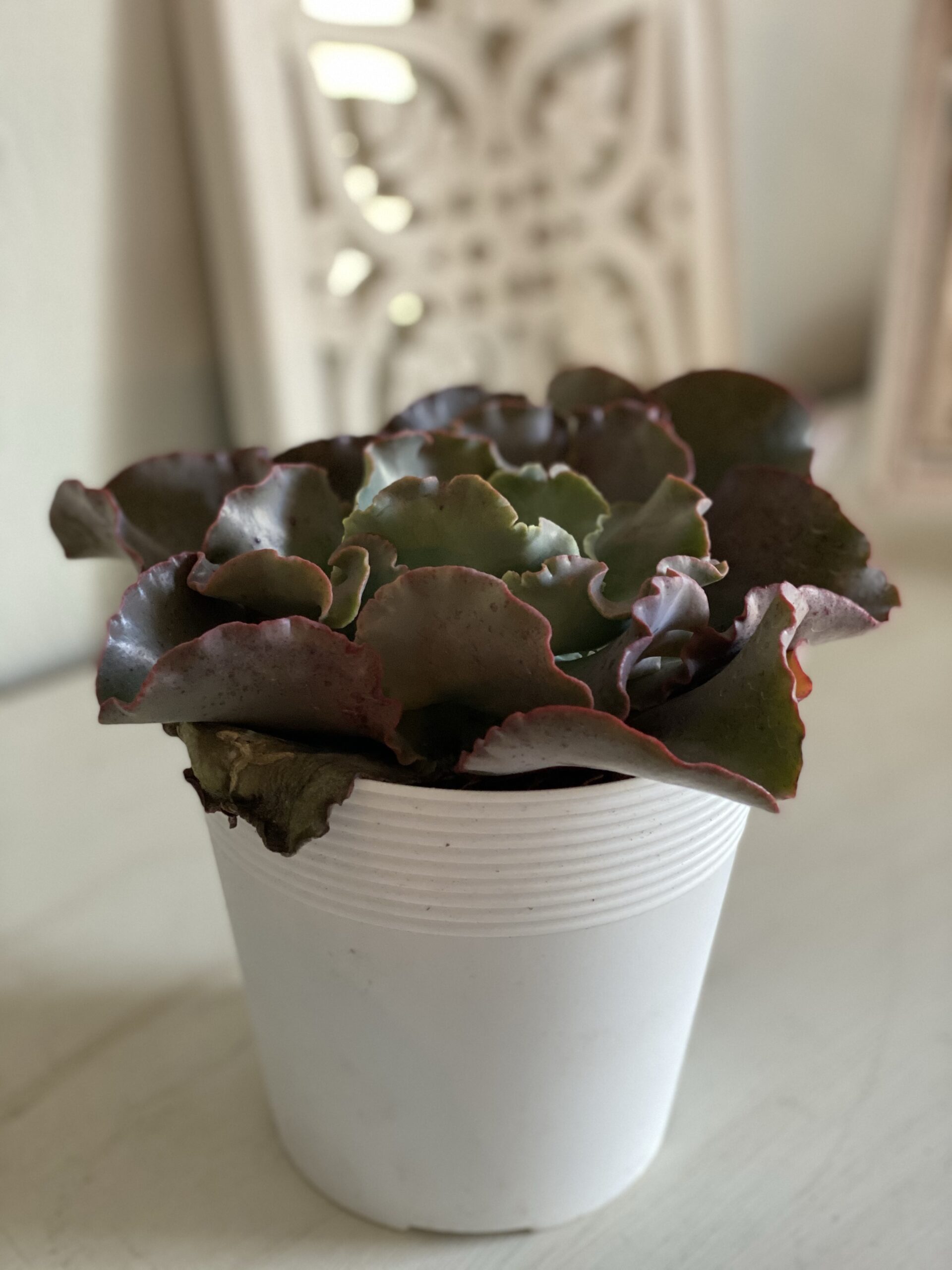 A pretty white tray on the bed with fresh flowers is always a wonderful touch as well.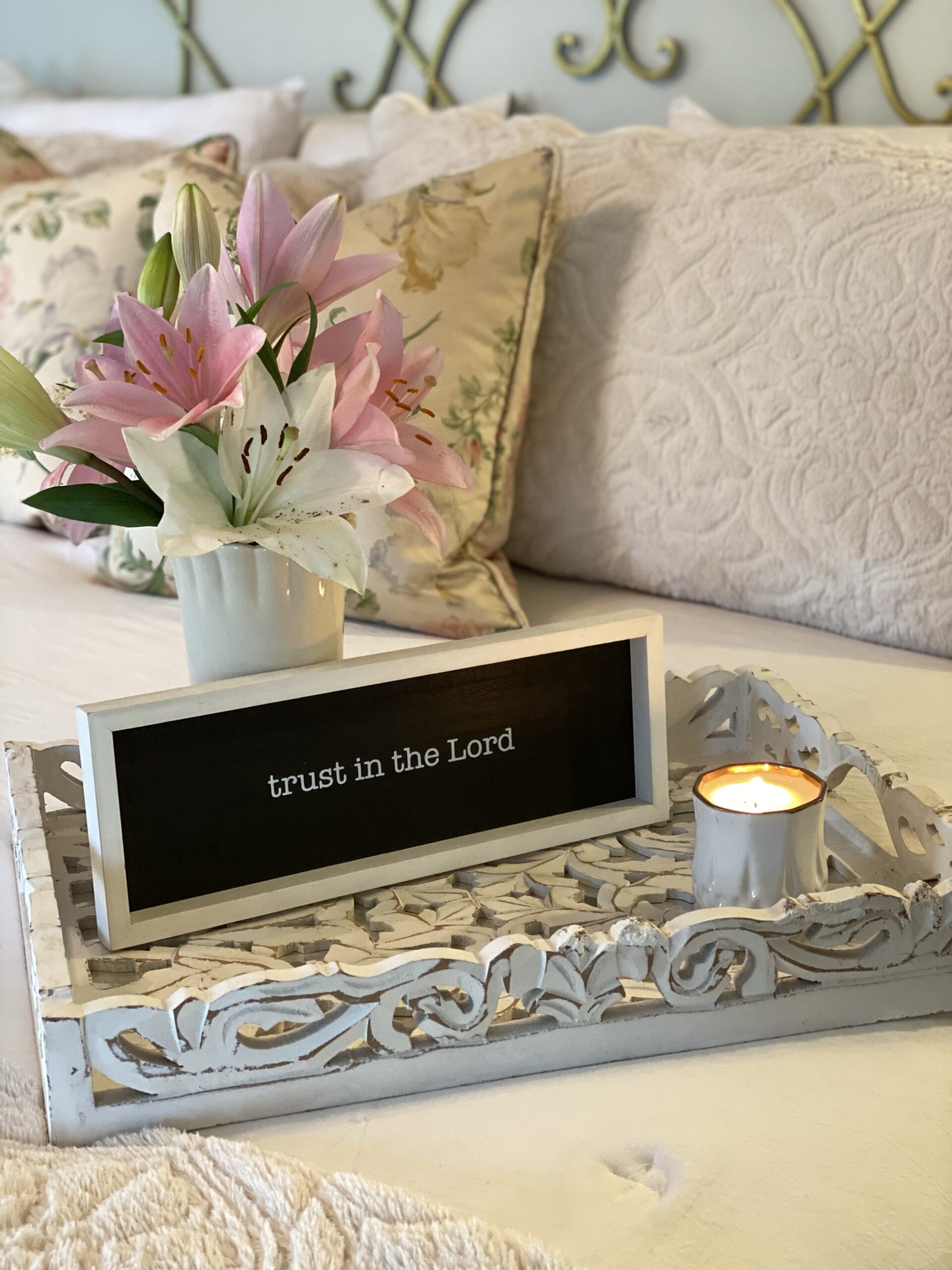 These are the things that I use to bring Spring into our Master bedroom. Anything that makes you think about this wonderful time of year, whether that be plants, fresh flowers, light colors, or new growth, can help shake off the winter blues and get us all ready for the sunshine.  I know I'm ready for sure.
Please visit my fabulous blogger friends below that are sharing their Spring bedroom refreshes!
First, check out Vicki and Jennifer @ 2 Bees in a Pod.  This talented mother and daughter from Atlanta have a passion for decorating home interiors. They thrift, paint furniture, repurpose and do unbelievable DIY projects.   Check out their Spring refresh at:
2 Bees in a Pod – How to do a Spring Refresh in the Bedroom
My friend Cindy @ DIY Beautify is a marvel.  She has the most inventive and fabulous style.  Her home is a nest of budget friendly, oh-so-cute DIY projects and boy does this lady have the "touch".  See her Spring bedroom refresh here:
DIY Beautify – Spring Bedroom Refresh
Next, is Christy @ Our Southern Home.  Christy is a South Carolina lady with so much unbelievable talent, it is such a pleasure to be on this blog hop with her.  She has SUCH a gift of design and her home is gorgeous.  I can't wait to see what she does with her Master Bedroom:
Our Southern Home – Spring Master Bedroom
Sonya  Burgess is a southern gal who is a teacher by day and a home decor, homemaker and do it yourself enthusiast on the side.  She shares my LOVE of thrifting and gardening and has unbelievable decorating skills.   Can't wait to see what simple steps she uses in her Master bedroom:
Sonya Burgess – Simple Steps to Adding Spring Touches to Your Master Bedroom
Last and certainly not least is Kim at Shiplap and Seashells.  I have been a fan of Kim's for years and her home and greenhouse on the Puget Sound.  She lives in a BEAUTIFUL beach cottage and her home and garden are nothing short of FABULOUS!  Her greenhouse and garden are the things dreams are made of.  I love following her IG account and blog.  I encourage you to click over to see what wonderful things she has come up with for decorating a small bedroom for Spring.
Shiplap and Seashells – Small Bedroom Retreat Ideas for Spring
* This post includes affiliate links *
"For behold, the winter is past; the rain is over and gone.
The flowers appear on the earth, the time of singing has come,
and the voice of the turtledove is heard in our land." Song of Solomon 2:11-12