Well … THIS July 4th was going to be our "back to normal day" celebration.  We planned a couple of months ago to have our friends over on July 4th to celebrate hopefully everything opening back up and summer and July 4th. I have been itching to entertain and not being able to do it is driving me crazy. Well … that ain't happening because of this dang corona virus still hanging around. So, our celebration this year is not going to happen sadly.
I am a big "after the holiday" shopper. I cruise the stores AFTER the holidays and wait until the decor is 75% off and then stash it away for the next year. I have accumulated so much party decor and July 4th decorations and was really excited to set my July 4th table for the big coming out of Corona party.  Here we are on the last day of June and well, our beer-buddy virus is still hanging around, in fact in Texas, he's making a comeback of sorts, so I guess the celebration will have to wait until July 4, 2021.
In an effort to satisfy my entertaining addition, which I'm convinced I have.  Yes, my name is Darla and I am an entertaining addict.  I decided to stage a faux July 4th party and decorated my front porch, including my new DIY hanging daybed swing, and dressed up an outside table on our back deck. A few years ago my husband and I together made a long table out of some dumpster-dove decking material. I told him I wanted to make an outside table that would fit 12 people. We had an old sewing machine stand that I had brought home from my mom's house that we used for the end pieces, and with the addition of a craigslist FREE table base, poof, we DIY'd an outdoor rustic table.
I set it up all festive and decorated for July 4th with all the goodies I had accumulated over the years. I think it looks very celebratory with the blue glasses and candle holders.  I used galvanized chargers I picked up at Ross (gosh I miss Ross, will be so happy when they open up again).  I complimented those rough chargers with white dishes I snagged from Dollar Tree.  I used packages of Sparklers to hold the napkins down (because if you are outside, the wind ALWAYS blows your napkins, right?) and used some other fireworks as decorations.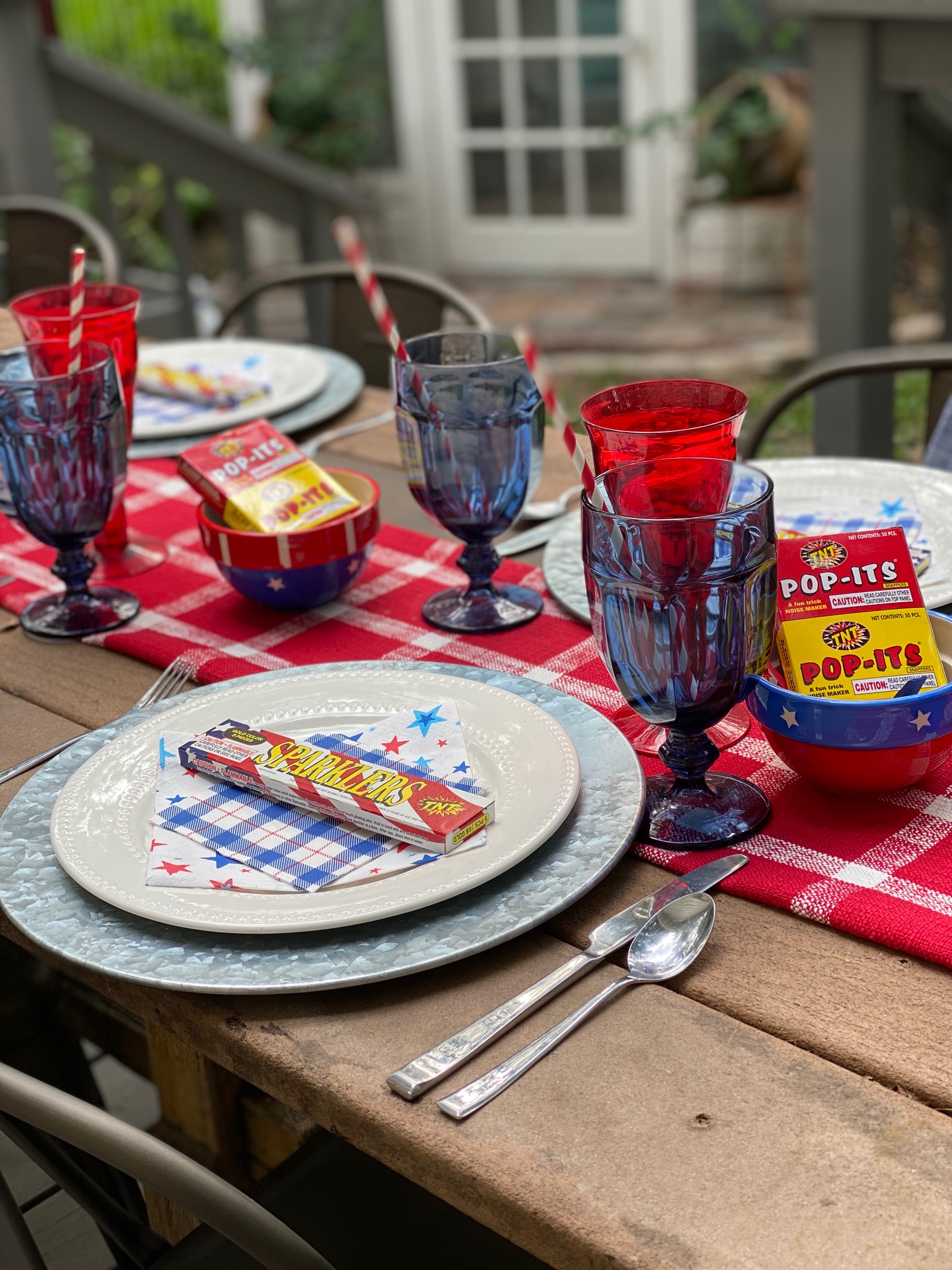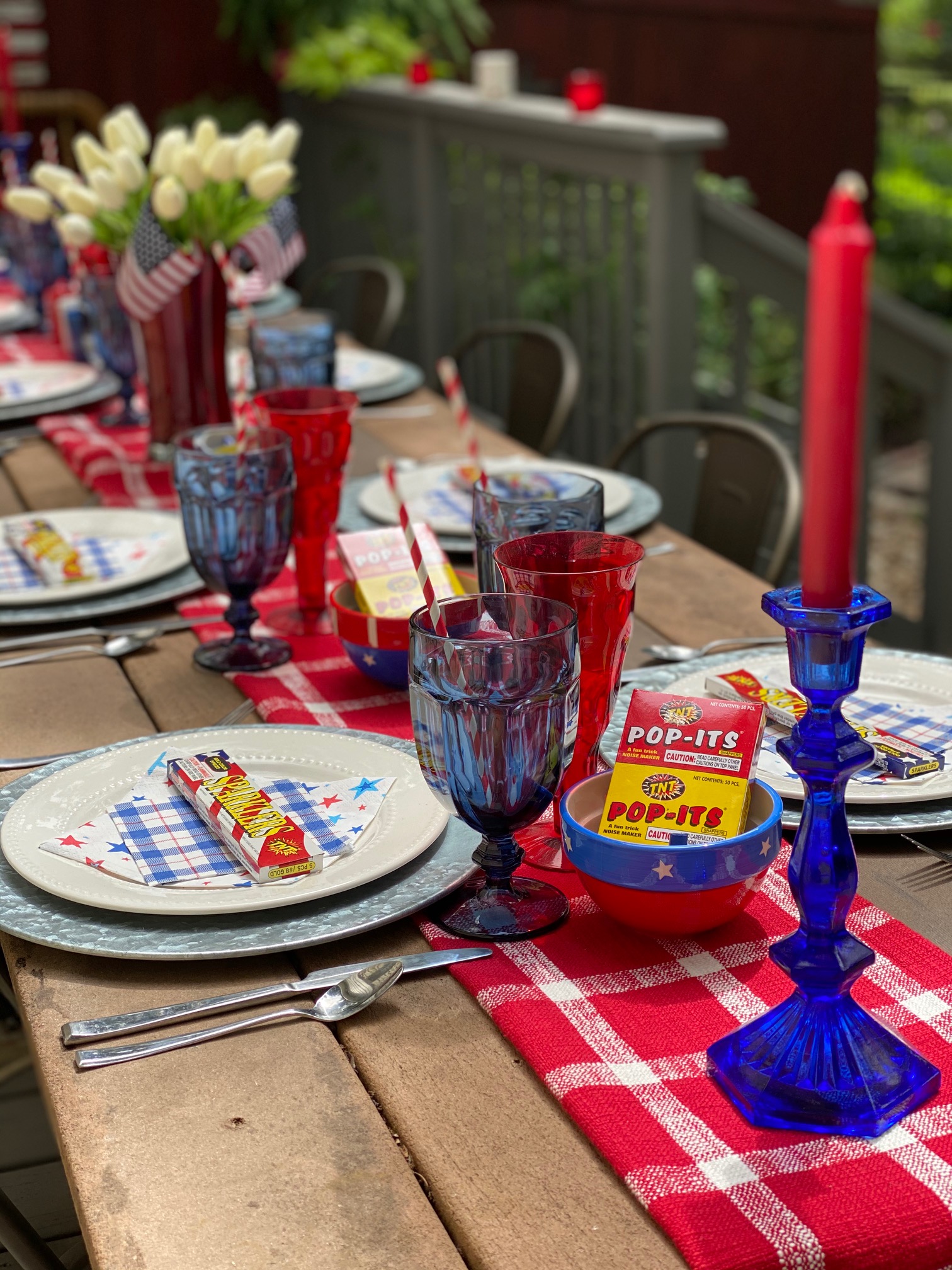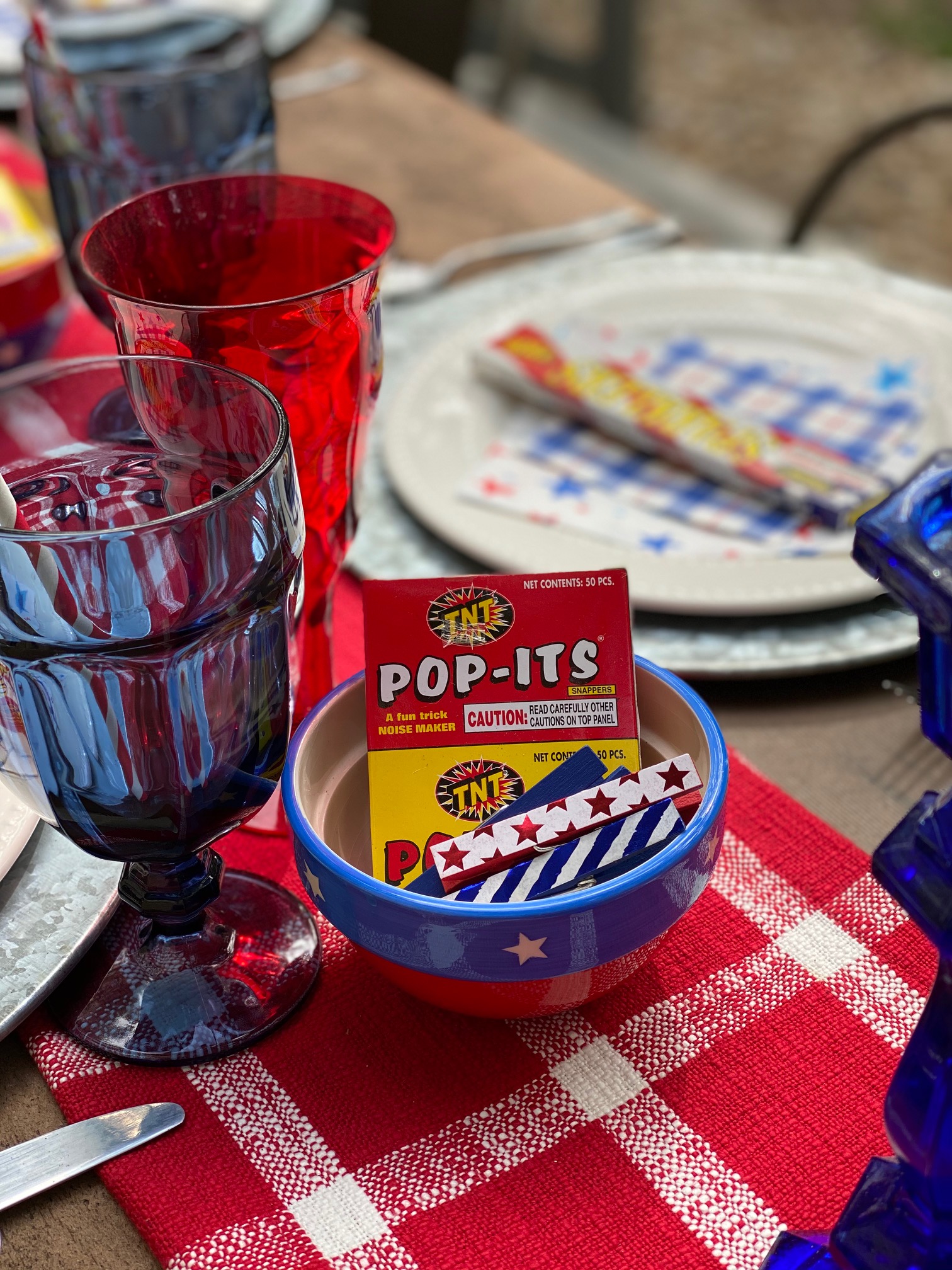 I photographed this in the afternoon and evening so I could see if the lighting would be different and I wanted to light the candles on the table and in the lanterns. I even tried to swing a sparkler centerpiece, but not sure that was such a success.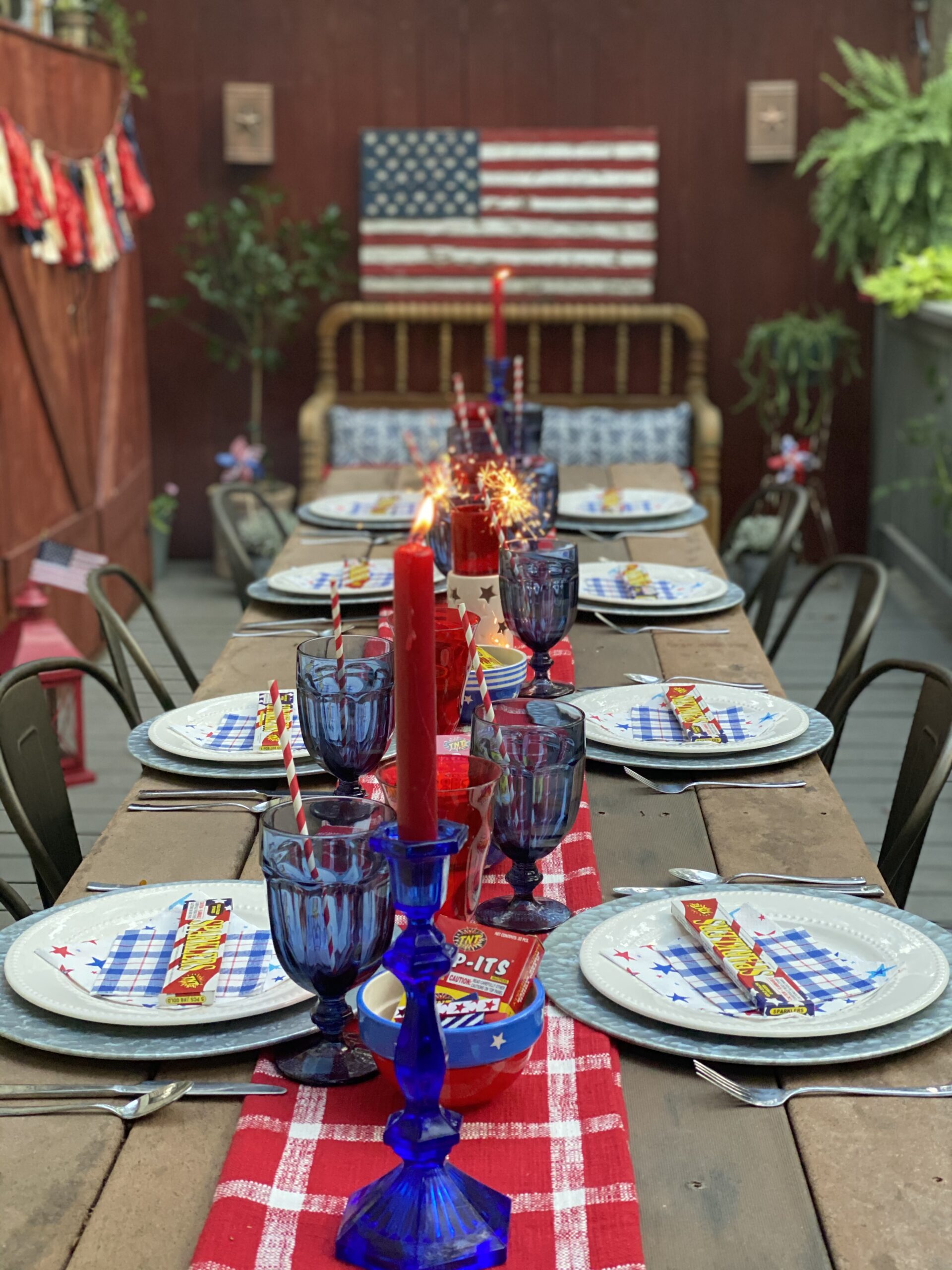 I purchased these 2 red lanterns on the clearance rack at Walmart a couple of years ago and dressed them up with a little flag.  I always have believed that red can truly be used year round.  Think about it, there is of course, Christmas, then Valentine's Day, then Memorial Day, Independence Day, and you can mix them with fall colors when autumn rolls around.  I love red.  Red rocks, ALL year round!  That cabinet of sorts behind the lanterns is a quick little cover-up project my husband and his best friend did for me to cover up all the cable and breaker boxes.  I am not a fan of wires, of any kind, so when we moved here and the back had multiple wiring boxes, I really needed to cover them up, so again, poof, we DIY'd a faux barn door cabinet of sorts.  SO much better than all those exposed wires and cables for sure!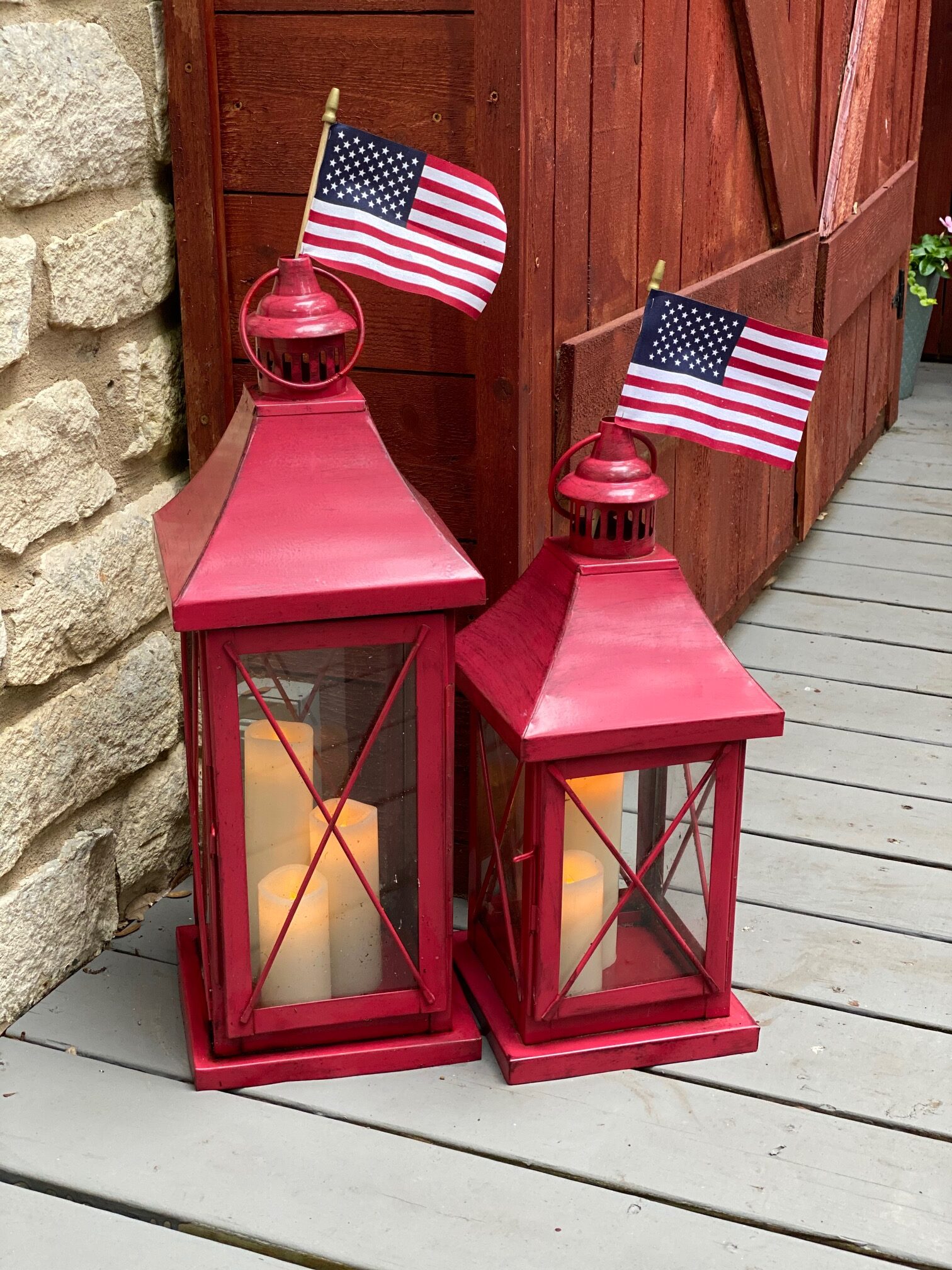 All and all I'm really happy with the 4th decorations that won't get used for a 4th celebration this year, but maybe next year, right?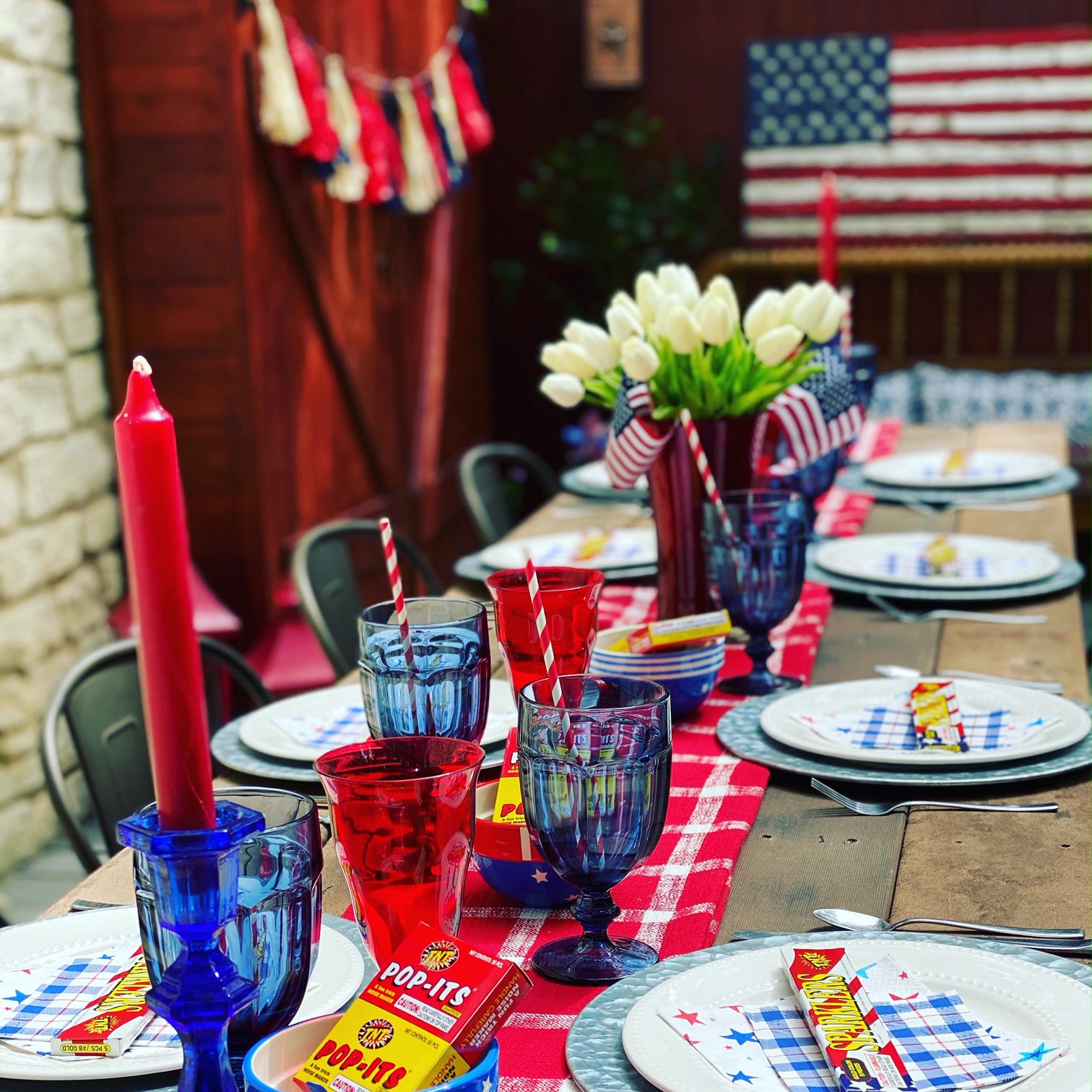 Happy Independence Day to everyone and with all that is going on, we need to remember what a wonderful country we live in and how fortunate we are to be free (even though this dang virus makes us not feel that way sometimes).
Anyone out there have any fun plans for July 4th? I sure hope so, and hope that everyone stays healthy and safe.
God Bless the USA!
I can do all things through Christ who strengthens me.  Philippians 4:13