Well, it's almost Halloween so that means it's time to switch out the front porch decor … (as my husband says, "AGAIN?"), yep, time for Halloween decorations!  I told him when we DIY'd this porch swing that it would come with seasonal changes … summer, fall, Halloween, Thanksgiving, CHRISTMAS, maybe New Years, Valentine's Day, and who knows which other holidays I may choose to dress her up.
We live in Round Rock, Texas, which is a northern suburb of Austin, and our neighborhood is usually deluged with trick or treaters. Not that sure what will happen this year, I'm thinking of how I can work the candy thing, but in the meantime, this porch needs to get dressed up!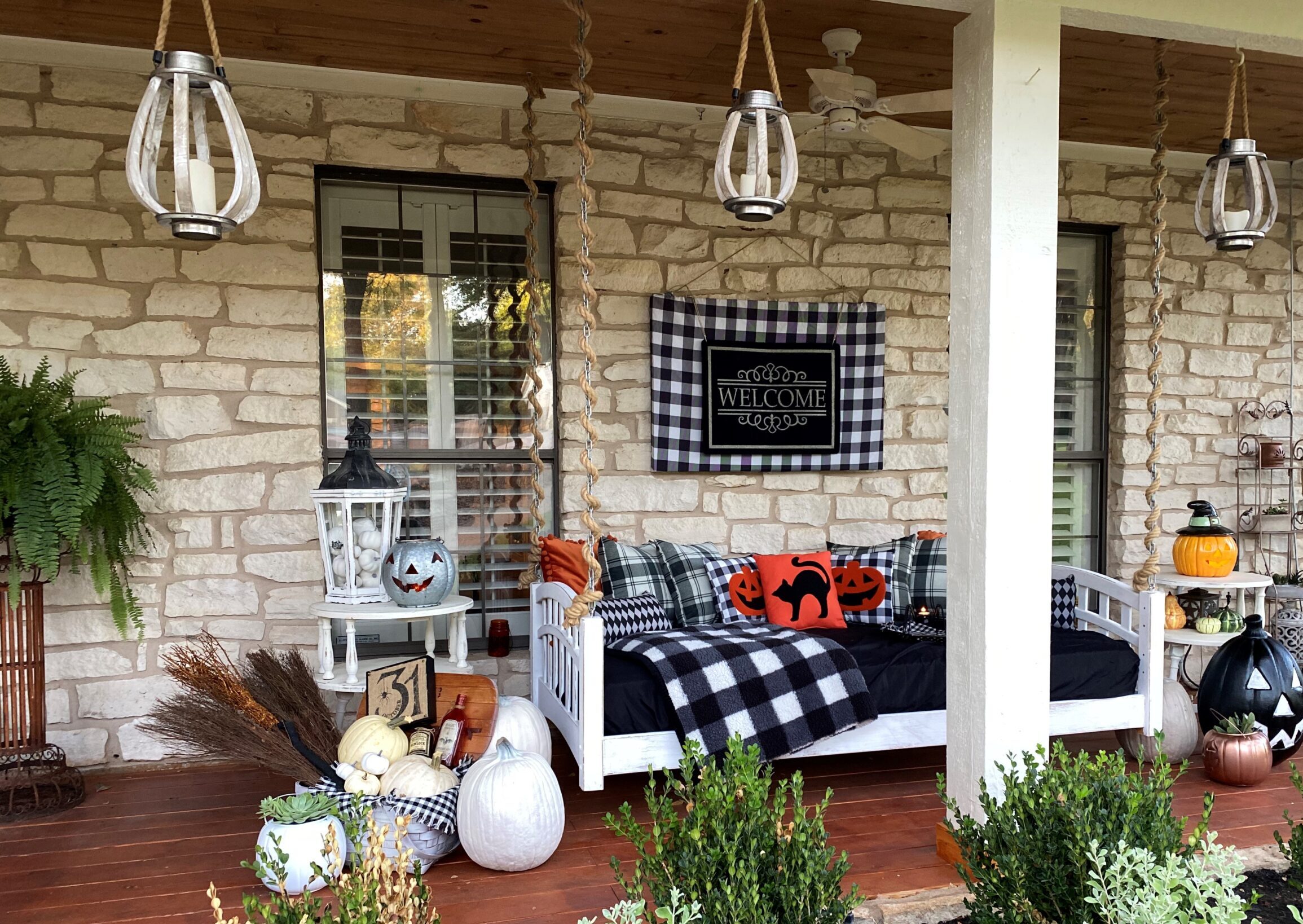 I change this out for the seasons so I switch some things around quite frequently. I had a thrifted picnic basket on my fall porch housing some beautiful fall mums.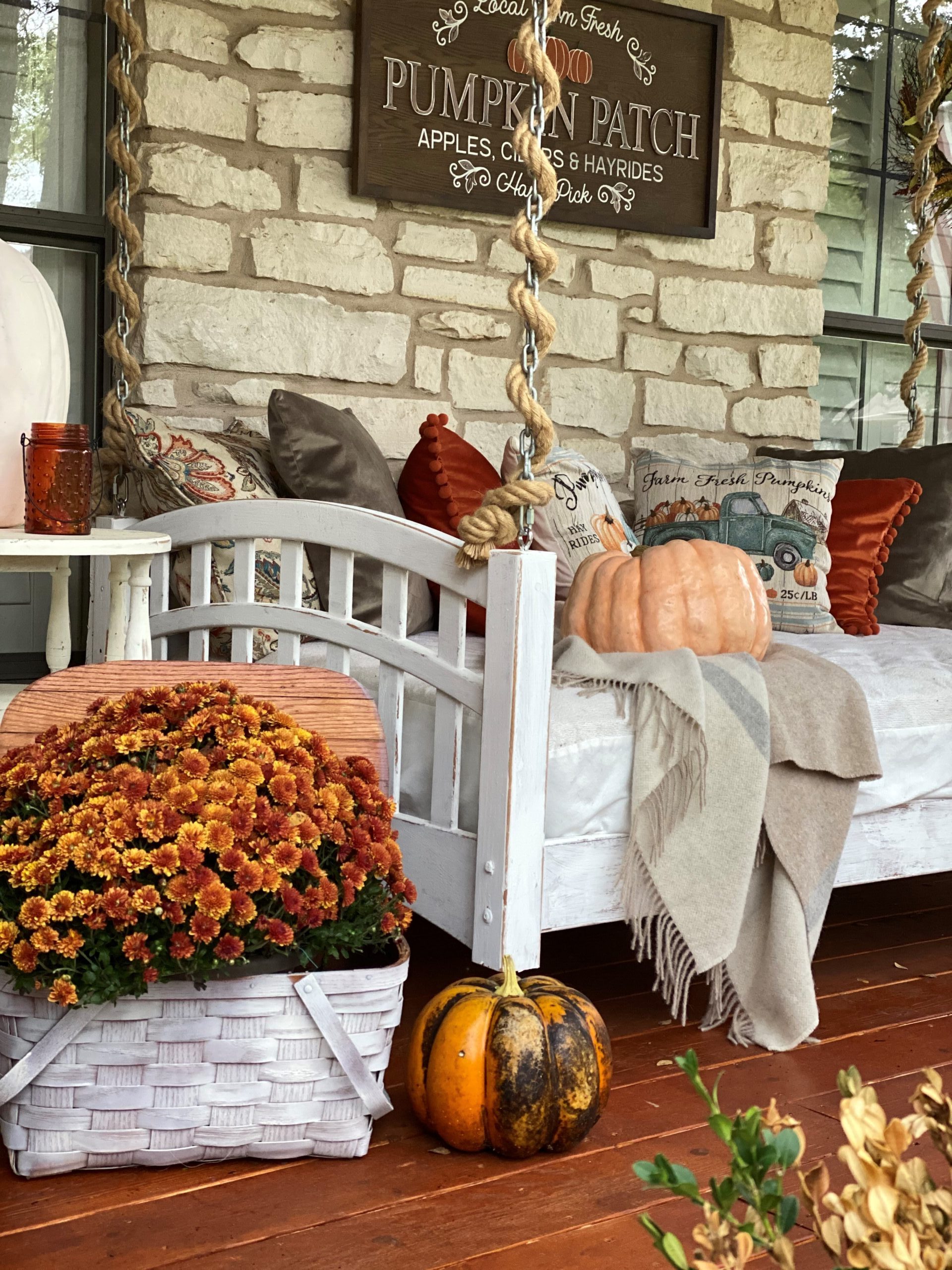 Those mums had just about run their course, so I stuffed the picnic basket with white pumpkins and some Halloween goodies, including a couple of potion bottles, lots of scented brooms (always a nice touch on your front porch so folks smell cinnamon as they approach your front door), and a cute October 31 sign.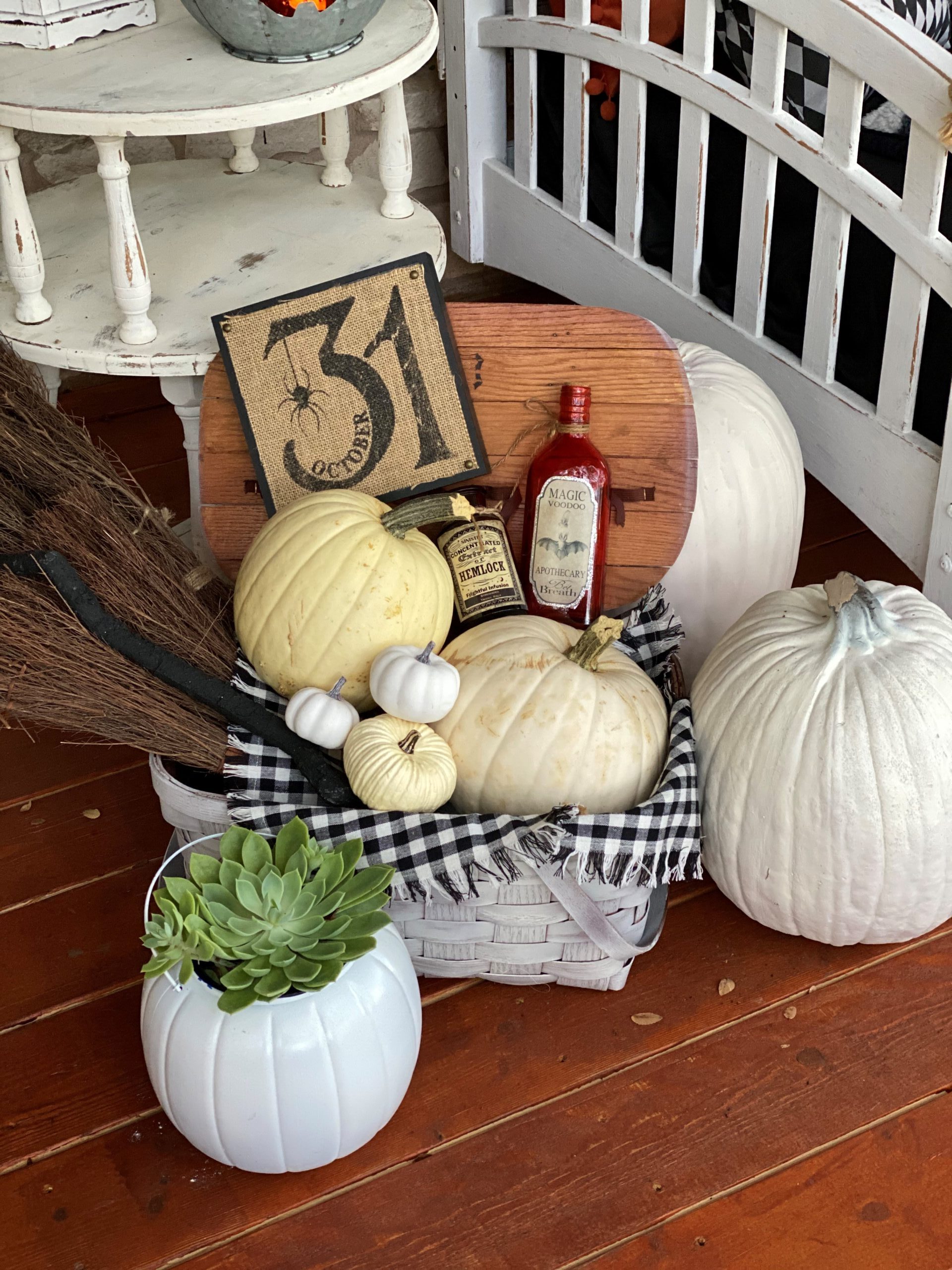 I love black and white buffalo check so I thought that might be a fun Halloween theme. The day bed swing got a black sheet on her and the porch sign got wrapped up in a buffalo check shower curtain. I thought about making a big BOO sign in big block letters but ran out of time, SO I just took an inexpensive black and white Welcome doormat from Walmart (less than $5.00) and pinned it to the sign to tell friends and trick or treaters WELCOME instead of BOO.  In my Instagram stories, I have shown how I'm a spray painting fool this fall and Halloween was no exception.  I had a big ugly OLD plastic pumpkin up in my holiday storage that I spray painted black for this front porch.  I painted the old fella's eyes white so he would match the black and white theme and I think he fits in just great!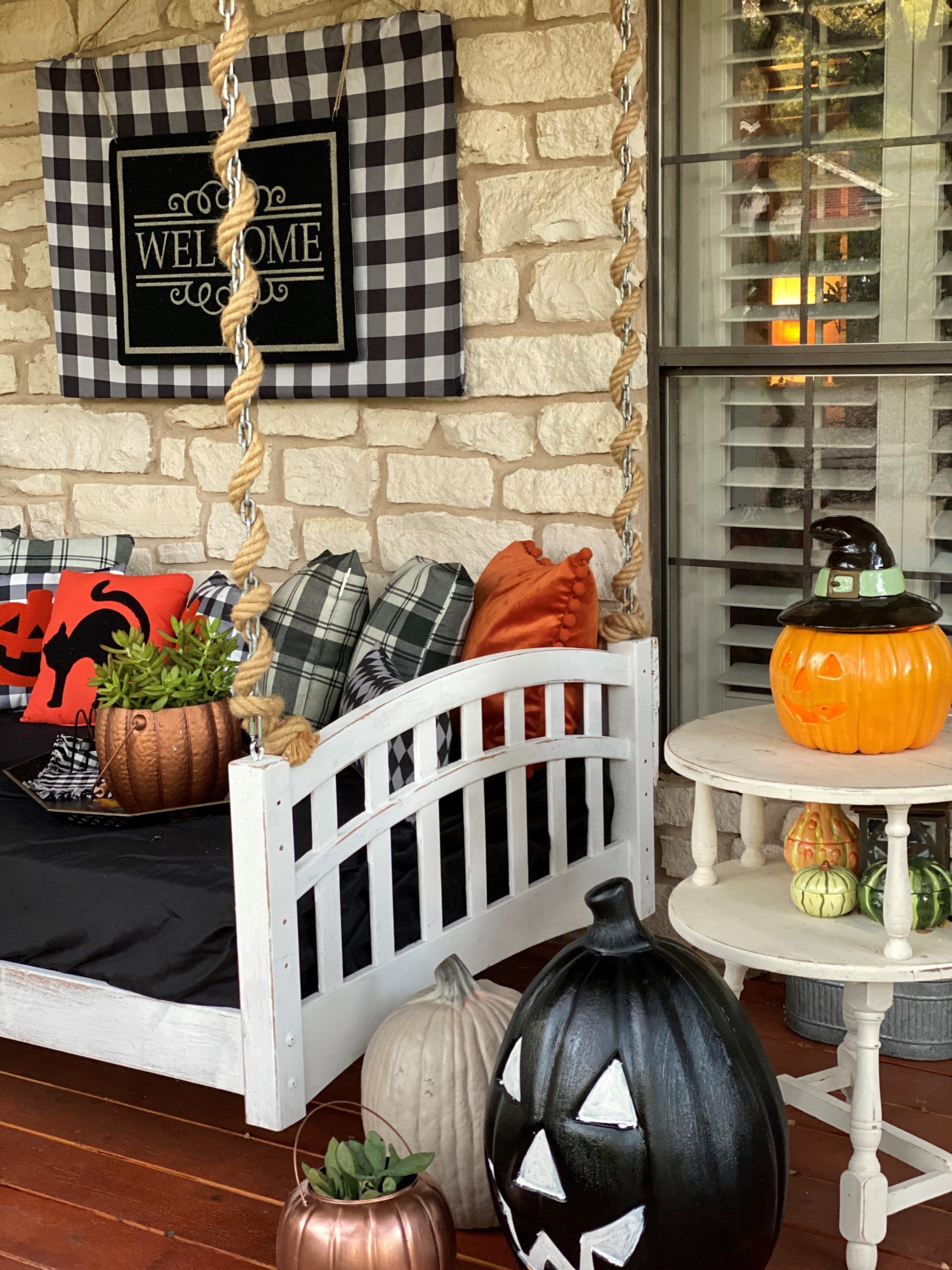 It is hard to pass up those beautiful mums in the stores these days.  I wish I could figure out the secret to make them last longer!   This white one put in a buffalo check planter was JUST the ticket!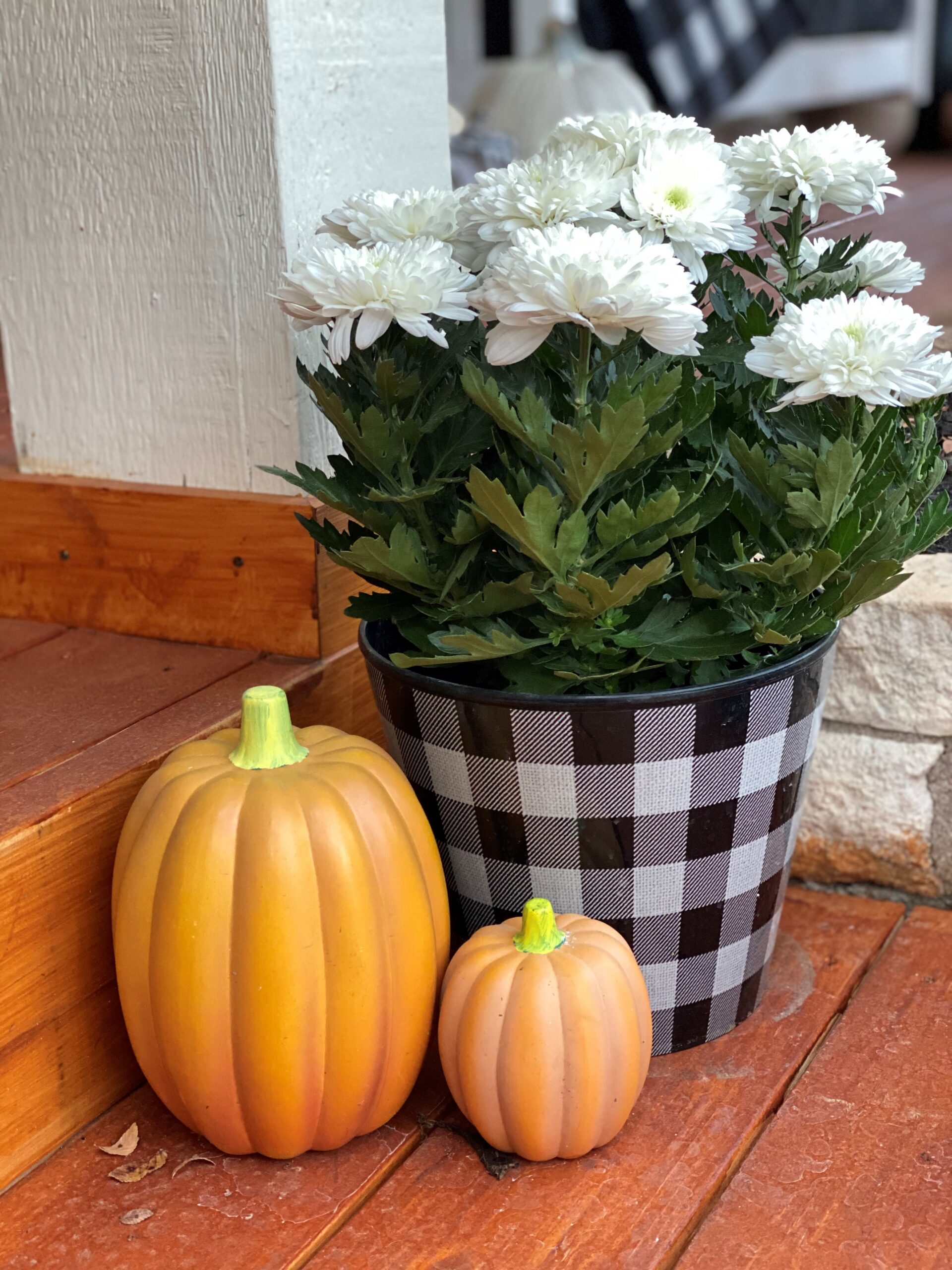 I sprinkled succulents here and there in pumpkins and topped it off with some Halloween pillows from Walmart. I think it all comes together to make a fun, not scary, perhaps a little over the top celebration for Halloween! I'm curious how everyone is going to celebrate this year, especially since it falls on a Saturday night this year.   What are your Halloween plans?  Hope everyone stays safe and has fun!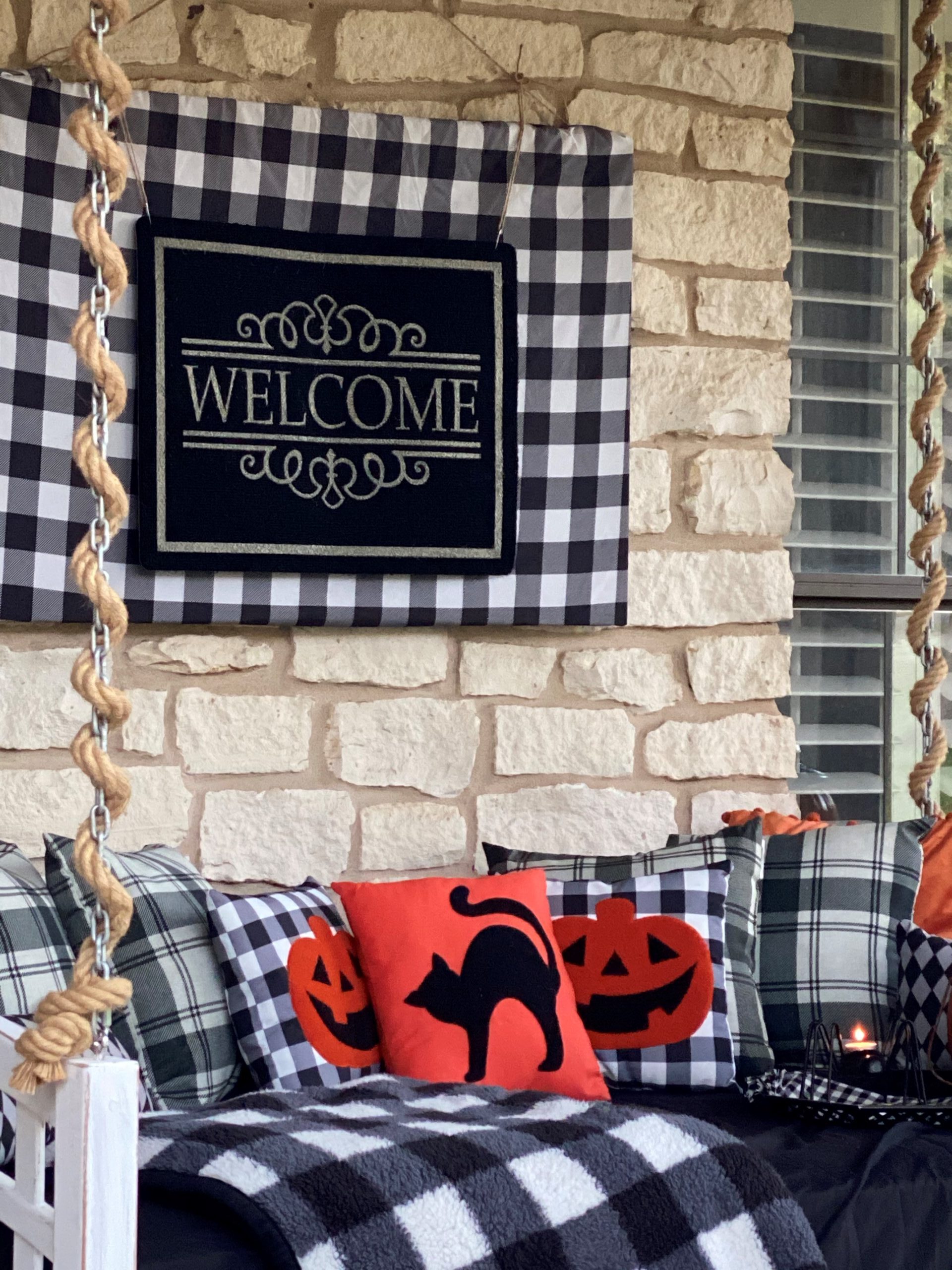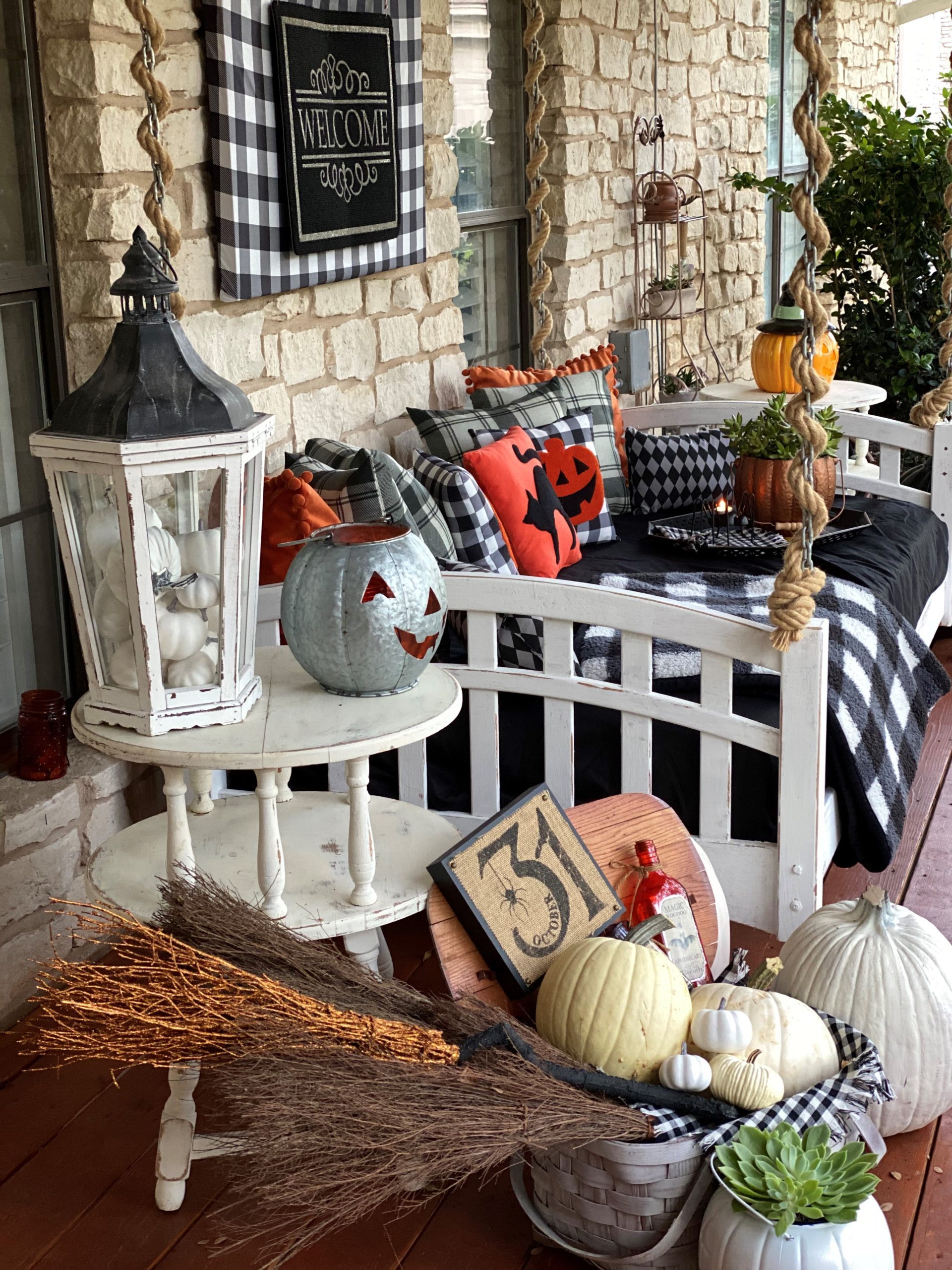 "These things I have spoken to you, that my joy may be in you, and that your joy may be full".
John 15:11