So, I have been DROOLING over all these day bed porch swings I've been seeing. I think I first saw one on one of my favorite IG accounts, Erin, @mytexashouse. Her back porch was to die for and I fell in love with that swing!  Erin's account and home are oh so lovely and I love everything she does!  If you don't follow her, head on over there right now and I promise you too will LOVE everything she touches.
That beautiful swing was from Walmart but geez louise, it was too expensive for an impromptu front porch makeover, so I looked around online and saw that most of them were over $1000, way over this home girl's budget for sure.
So as I often do when the purse strings won't allow me something I desire badly, I thought – could I make one? I then hopped over to Pinterest to get some inspiration and my brain started ticking. Here are a couple of inspiration photos I looked at.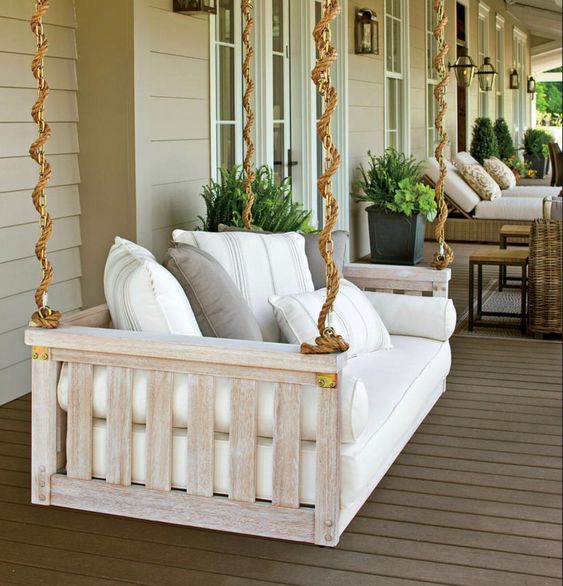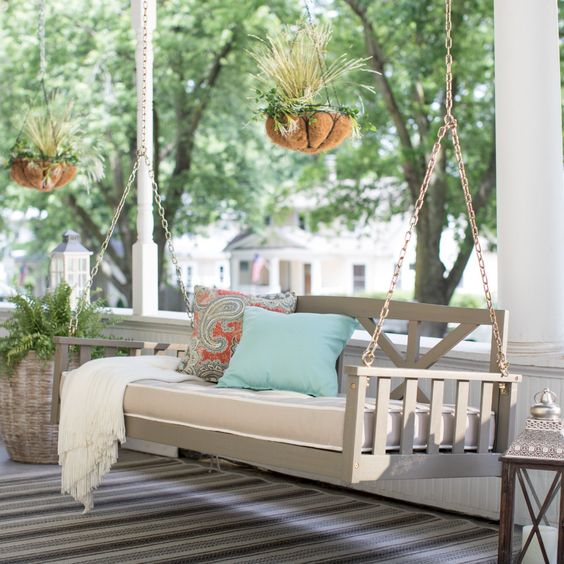 I thought to myself, why couldn't I just find a twin bed and make my own hanging day bed?
I am an avid, or, well, almost obsessive Craiglister. I cruise the FREE section way way too much. But in doing that, I run across more free fabulous goodies than you would ever believe. After searching on CL and Marketplace a couple of weeks, I learned that it is rare to find a twin bed with the headboard and the foot board the same size, which would be necessary to make a day bed swing. Then all the sudden, I found one for $40 so the hubs went and snagged it for me. My sweet, oh so willing husband put it together, put 2 pieces of shiplap (part of a FREE group of shiplap that I picked up on Facebook Marketplace) to the back of the bed and sawed off the legs for me.  But, to be honest, he did not see my vision, as unfortunately is the case often.  He does always come around, however, when that vision starts taking shape.  Pardon the messy, in the middle of about 19 project picture of my garage, but I wanted to show you this fabulous lot of wood we got FREE from a couple who had purchased it for a project, stained one side of it, but just never got around to getting that project done.  They were moving and simply had to just get rid of it, which we graciously took it off their hands!  I will most likely do a post of my Craigslist shopping, because you do have to be very saavy and careful shopping these sites.  There are scammers and unfortunately bad people out there that will mess you around if you aren't careful, which I am.  I'll share those tips and advise in another post down the road.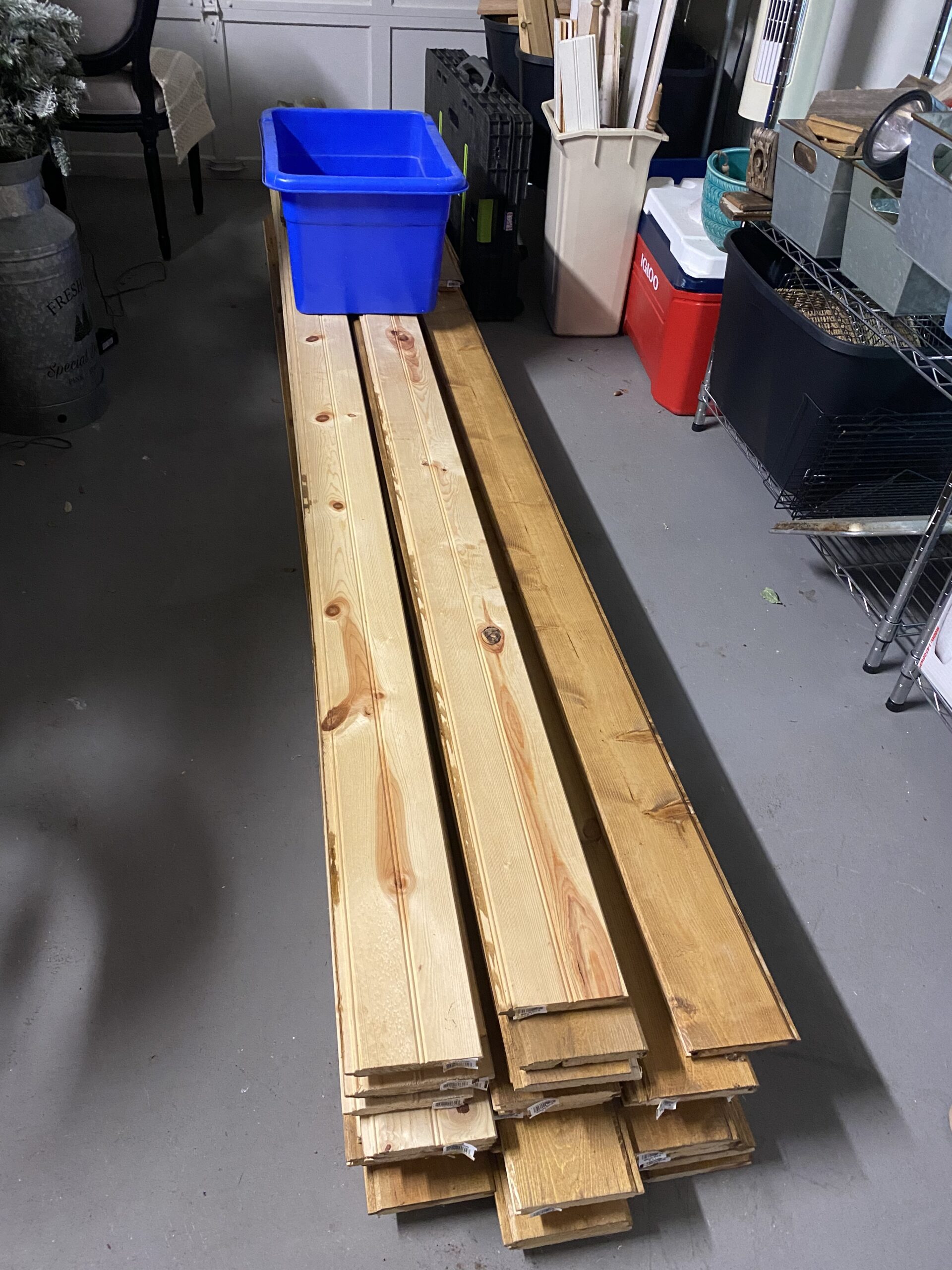 Making my vision come to reality would take some work. We had 2 ceiling fans on our porch and if I centered the swing on our porch, the fans would have to be moved as they would hit the chains that would hold the new bed/swing. My husband, again is wonderful, but a handyman he is not (which he professes loudly to me on a regular basis, LOL). One of my neighbors told me about a great handyman that was reasonable. The handyman came to give me an estimate, and he definitely saw my vision. In one and a half days he took the ceiling fans down, put in braces for the chains, put one ceiling fan back in the center and hung my swing. He also took that FREE tongue and groove shiplap (pictured above) and covered the ceiling for us.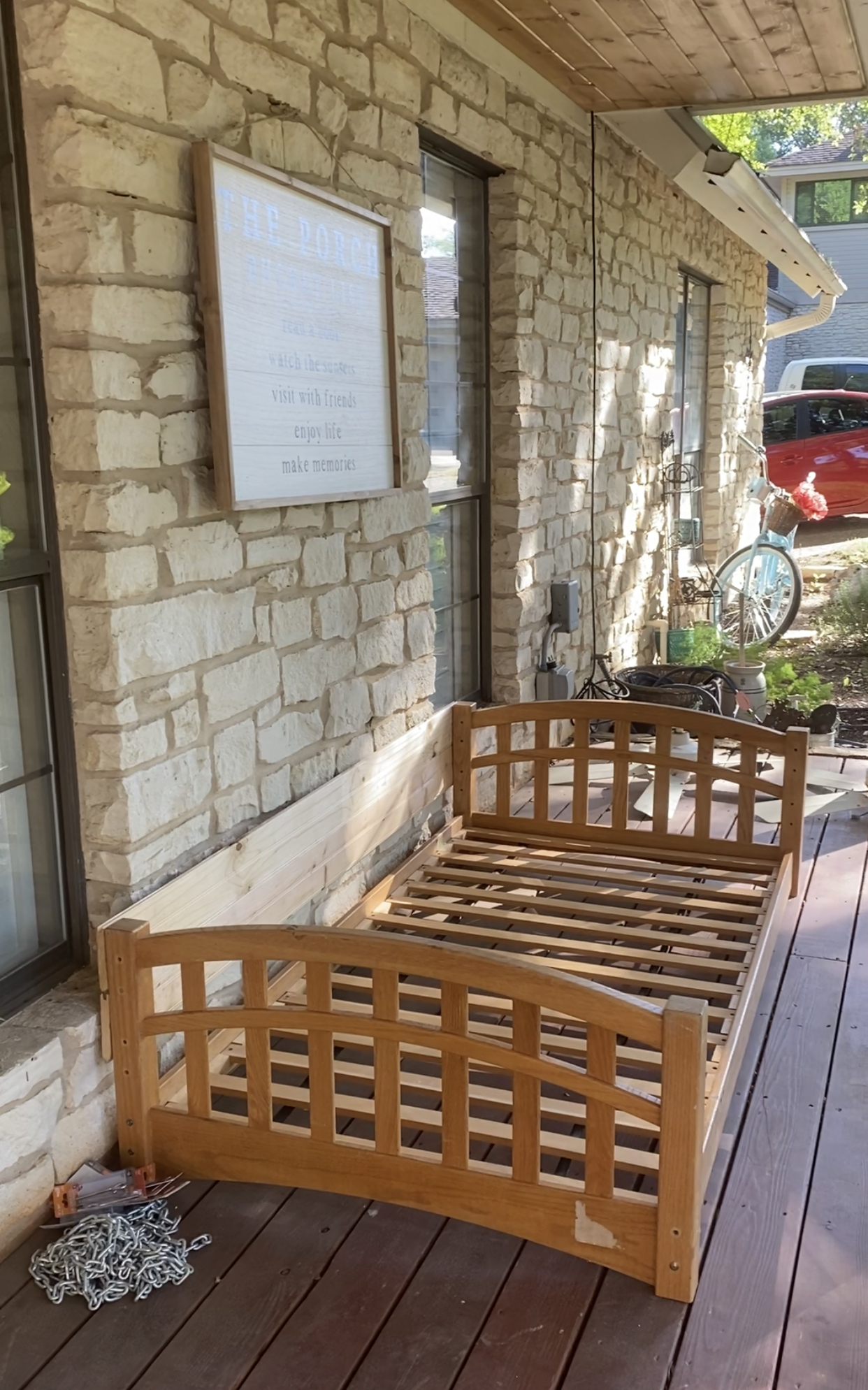 When the handyman left, I took out my can of Annie Sloan PURE WHITE Chalk Paint and went to town. The next day I distressed it and put the mattress and pillows on it. I think it came together nicely. My husband was happy and it gave me one more check mark on my "trust my vision" board for him.  I simply love LOVE love the way it turned out. I think doing the ceiling with shiplap is making us want to update the decking below to match, so that might be the next step, but it turned out just like my vision. I ordered 1″ rope from Amazon and wrapped it around the chains to give that final, in my opinion, very rustic yet finished look.  We used white zip ties to secure the rope to the top and bottom of the chains, so it would stay in place.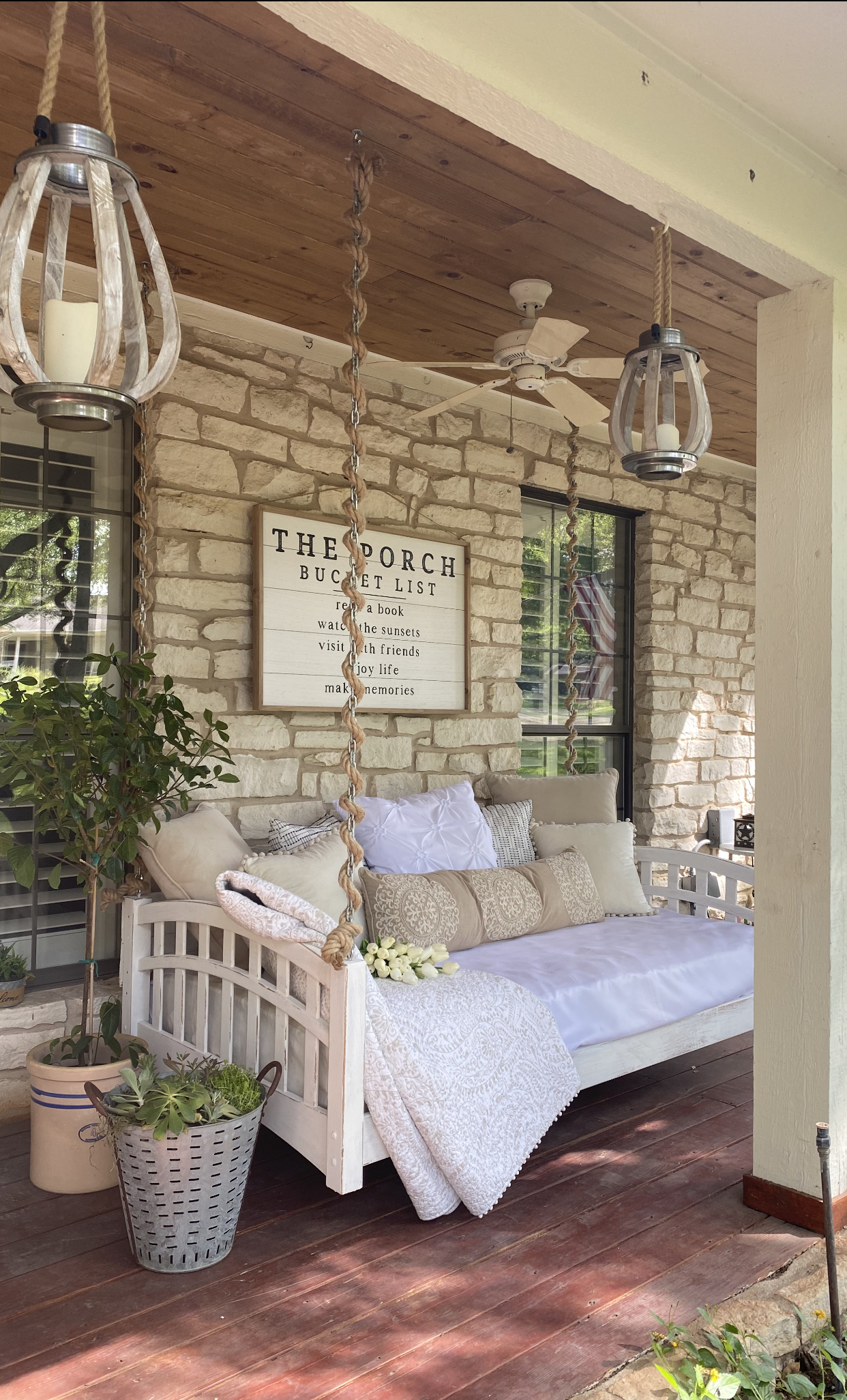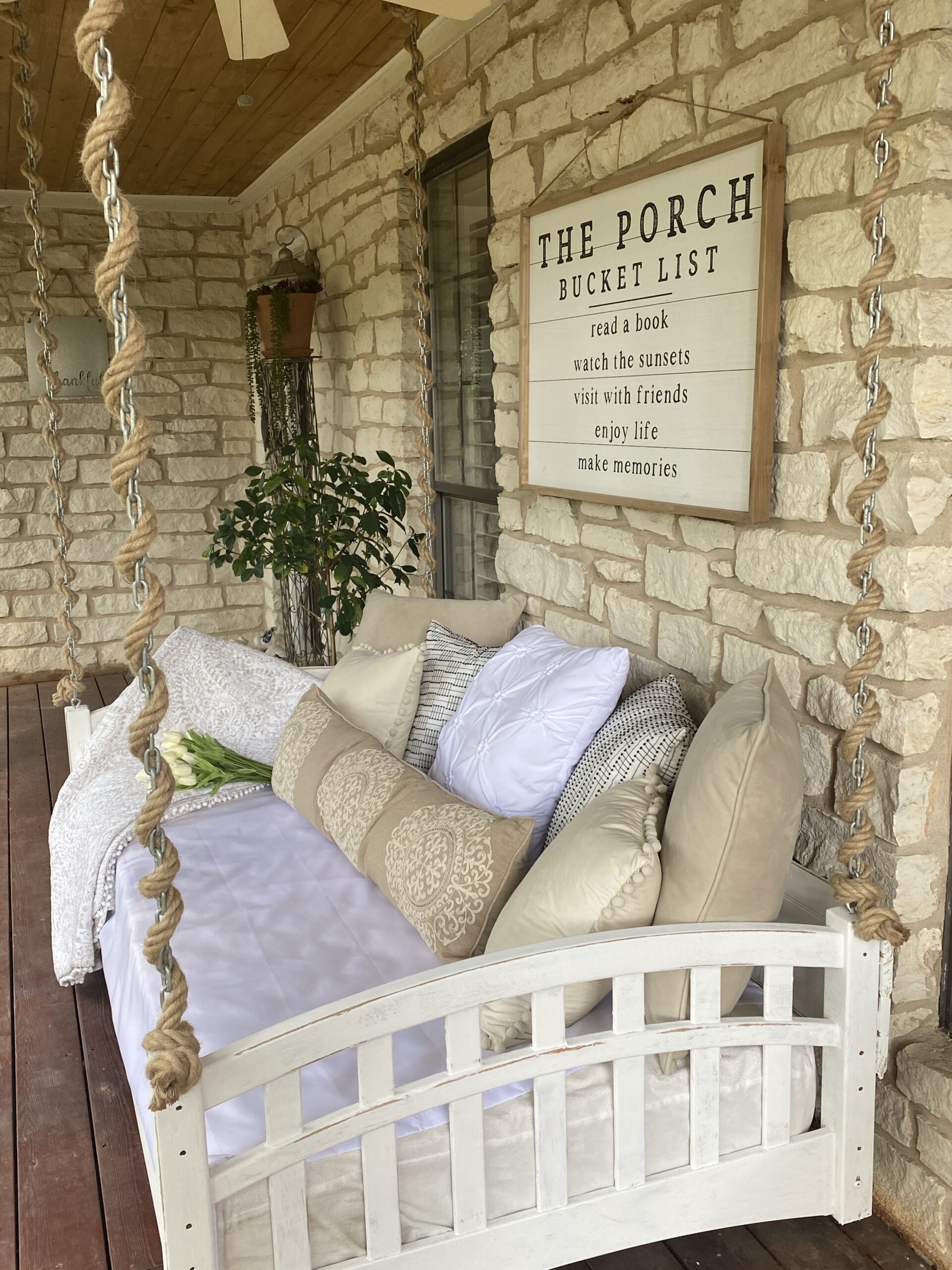 Don't give up on something you want but can't afford, most of the time you can have make it for so much less money. You just need an imagination and a good Craigslist or Marketplace ad!
Have you ever copied something expensive and it turned out fabulous? Please, do tell me about it! Thanks for stopping by!
Proverbs 3:5-6
"Trust in the LORD with all your heart, and do not lean on your own understanding.
In all your ways acknowledge him, and he will make straight your paths."