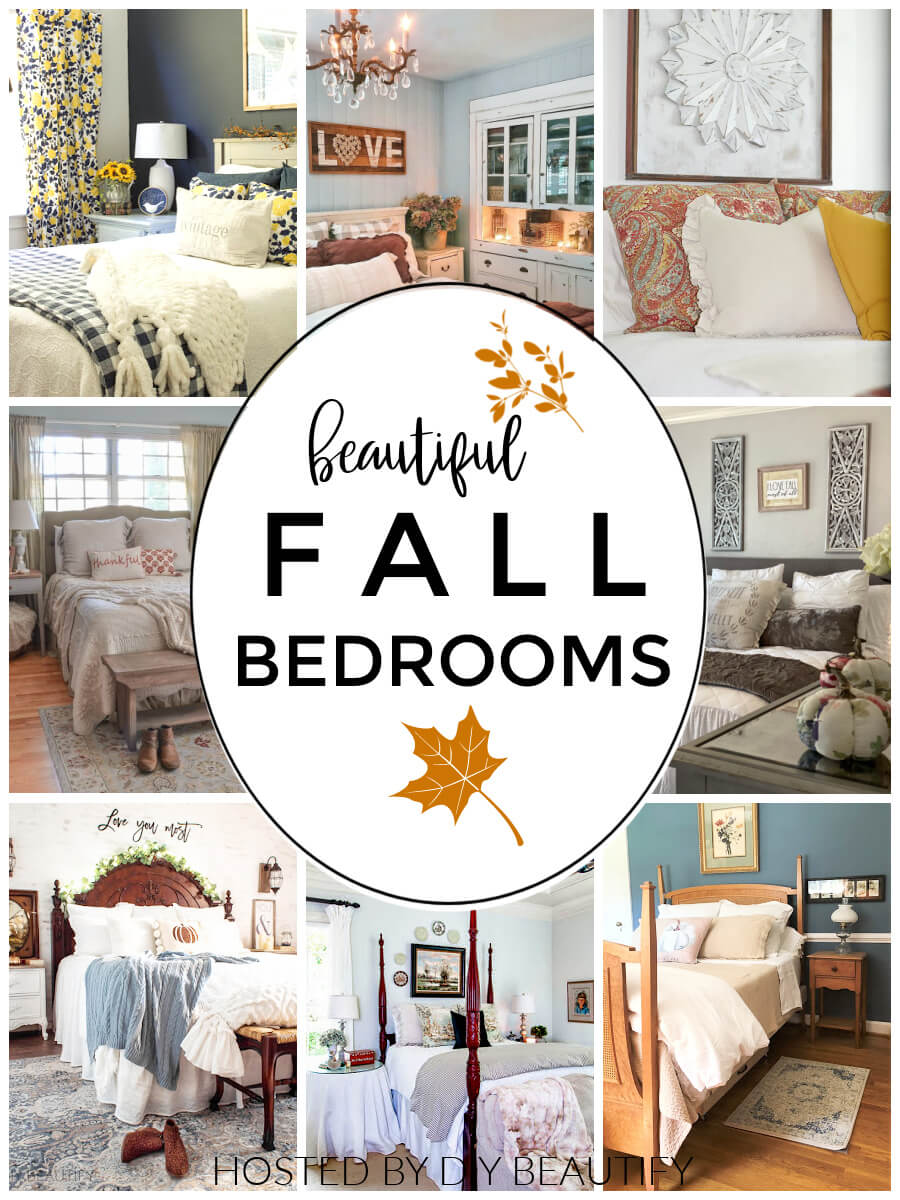 I am THRILLED to be a part of this blog hop with a group of talented bloggers on how we updated our bedrooms with Fall decor. Because I am in the middle of renovating our master bedroom, I am going to walk up the stairs to one of our guest rooms. I think that might photograph a little better than mismatched furniture, paint samples on the wall, and 3 different kinds of furniture in our master!
This guest bedroom, that we refer to as our "King guest bedroom" was redone a year ago when our youngest daughter, Maddie left the nest, our last little bird, making us empty-nesters.  Since we moved into this house it had always been "Maddie's room" so I wasn't sure what I wanted to do with it.  Maddie left 2 mirrored nightstands that we used in her bedroom, so I thought I would work from there.  I wanted this bedroom to be different than the rest of our house so we redecorated it in a more modern design, which is a step outside the box for me.  The rest of our home is a gentle mixture of farmhouse, vintage, antique, and french country decor.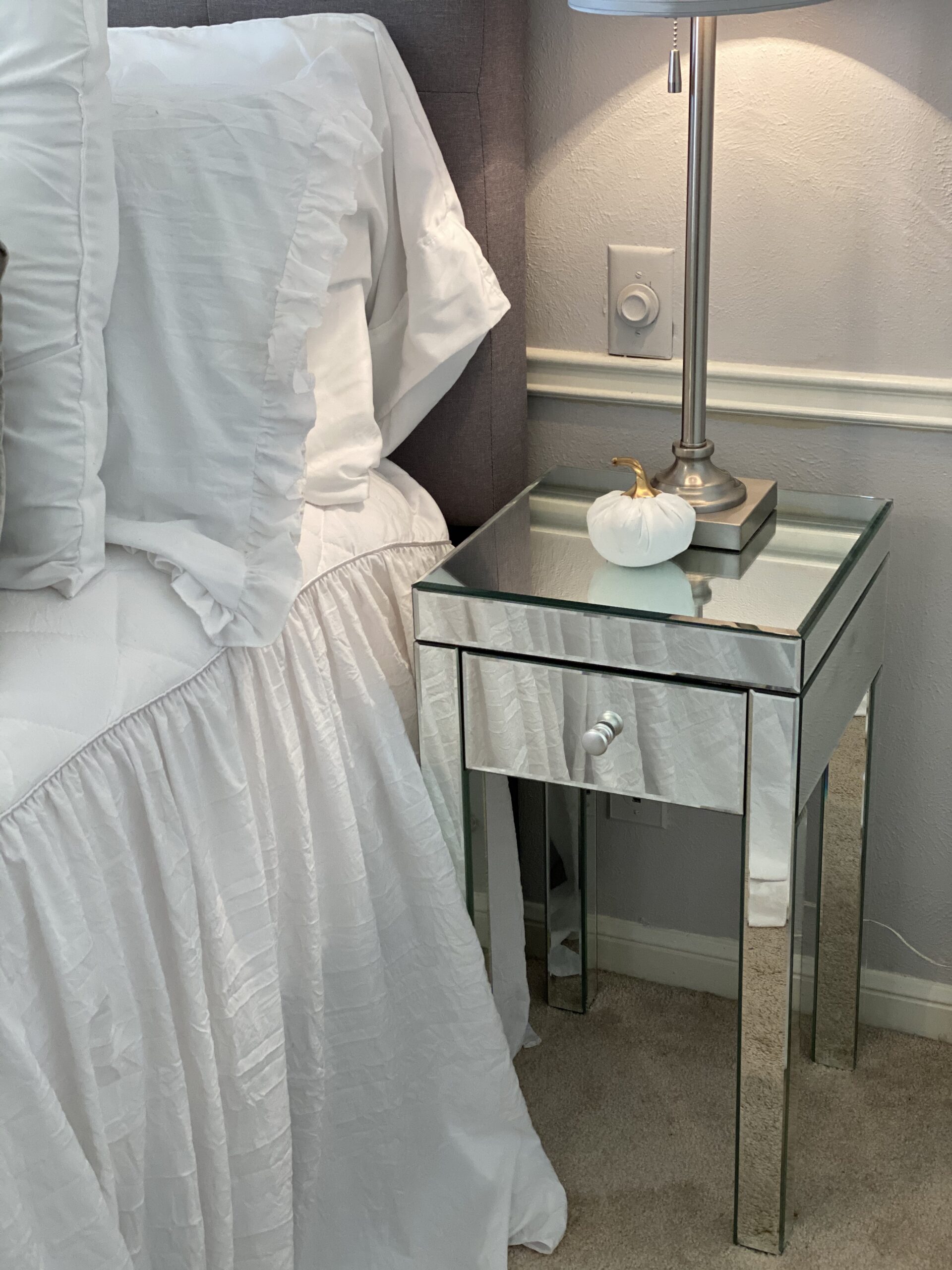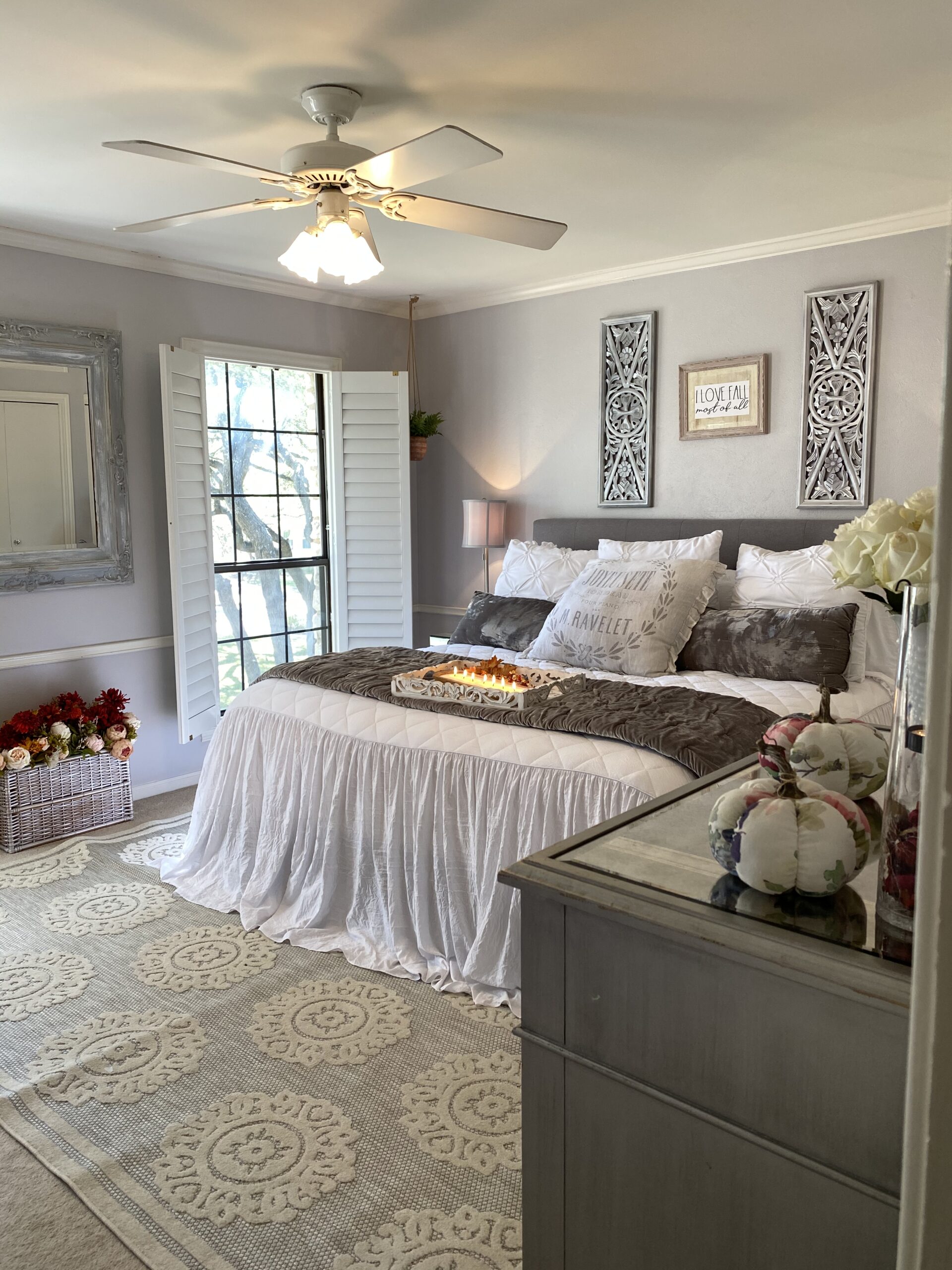 This bedroom ended up being basically white and grey.  So … HOW do I change the decor for the fall season?  I had some thinking to do and here is what I came up with.
In this room hangs my pride and joy, an original piece of art from Annie Lockhart Soulful Painting.  I adore that it is bursting with vibrant colors.  I thought it was just the punch of color this white and grey room needed, so I decided to play up some of those colors for fall instead of using the custom orange, rusts, or browns.  I chose burgundy.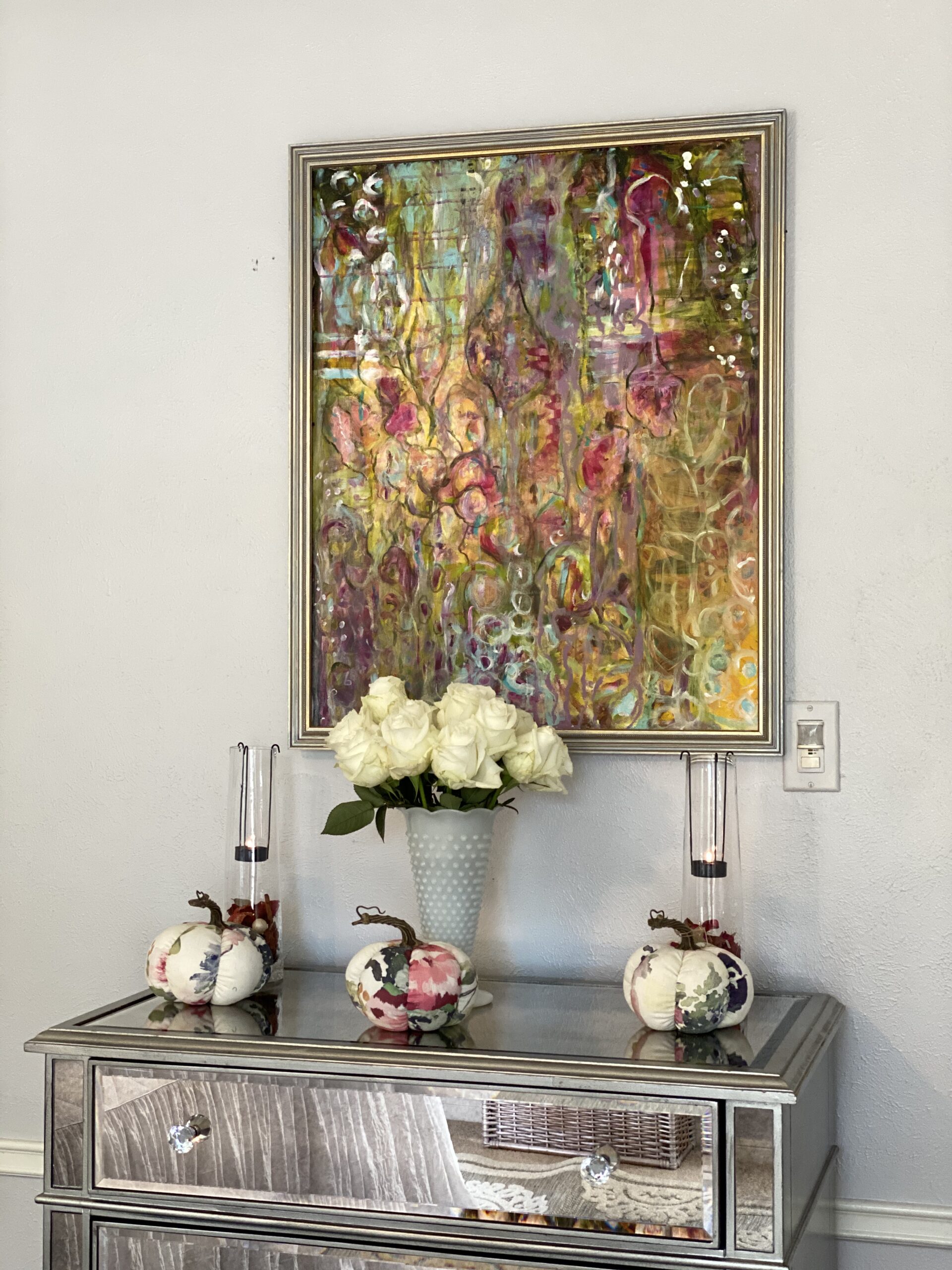 Last year I scored these cute floral pumpkins from Big Lots, believe it or not, that had burgundy and other non-traditional fall colors in them.  I think they pull from the Annie Lockhart painting perfectly.  I have these 2 unique candle holders on the chest of drawers that I have always loved so I sprinkled some burgundy potpourri in the bottom.  All of those items sat upon the mirrored chest of drawers to show a subtle, but different pop of Fall color.  Our guest for this particular visit deserved some beautiful white roses (fresh, not faux) in an antique milk glass vase.  Any excuse for fresh flowers in my house is a go … and who doesn't love white roses?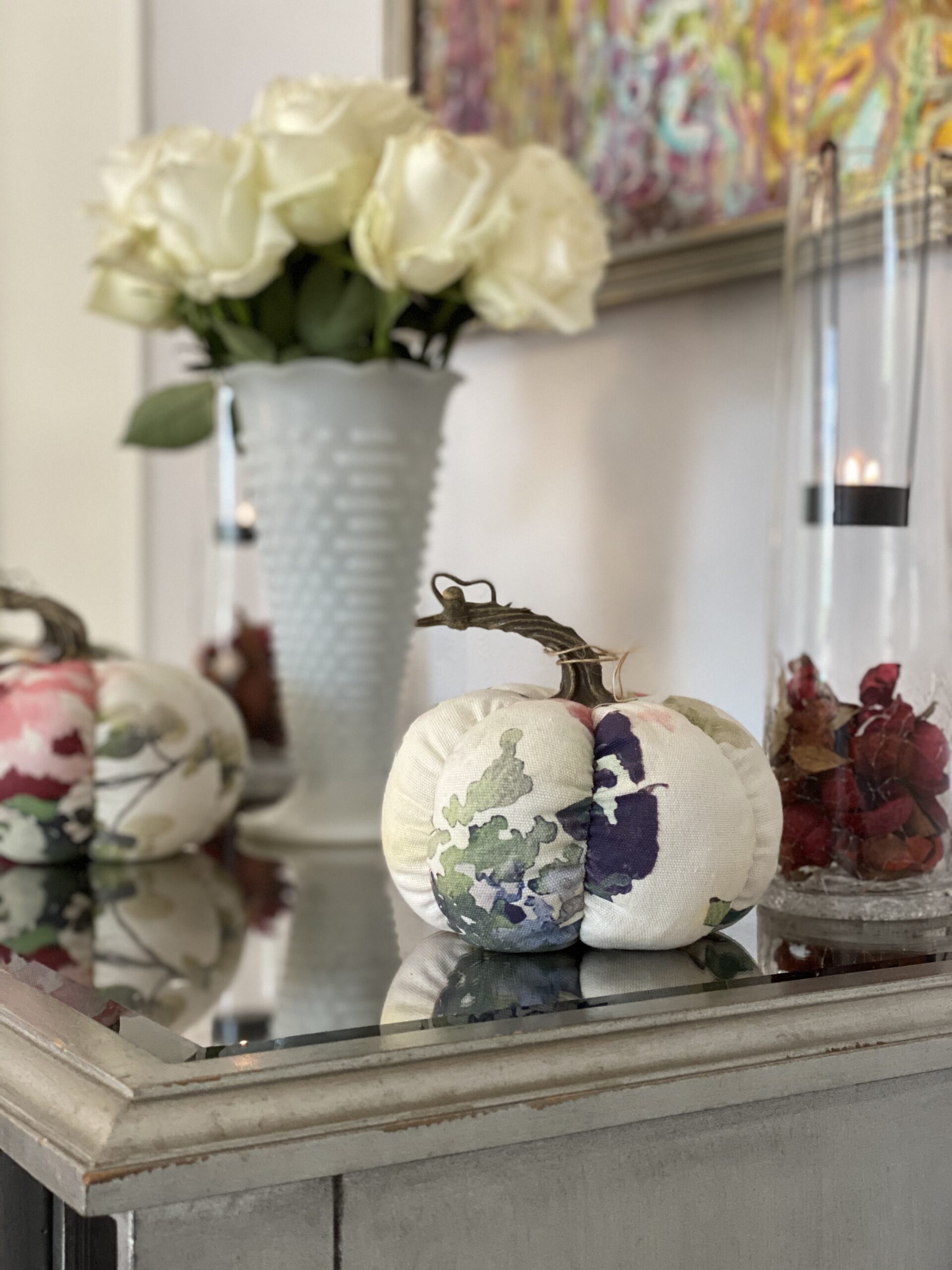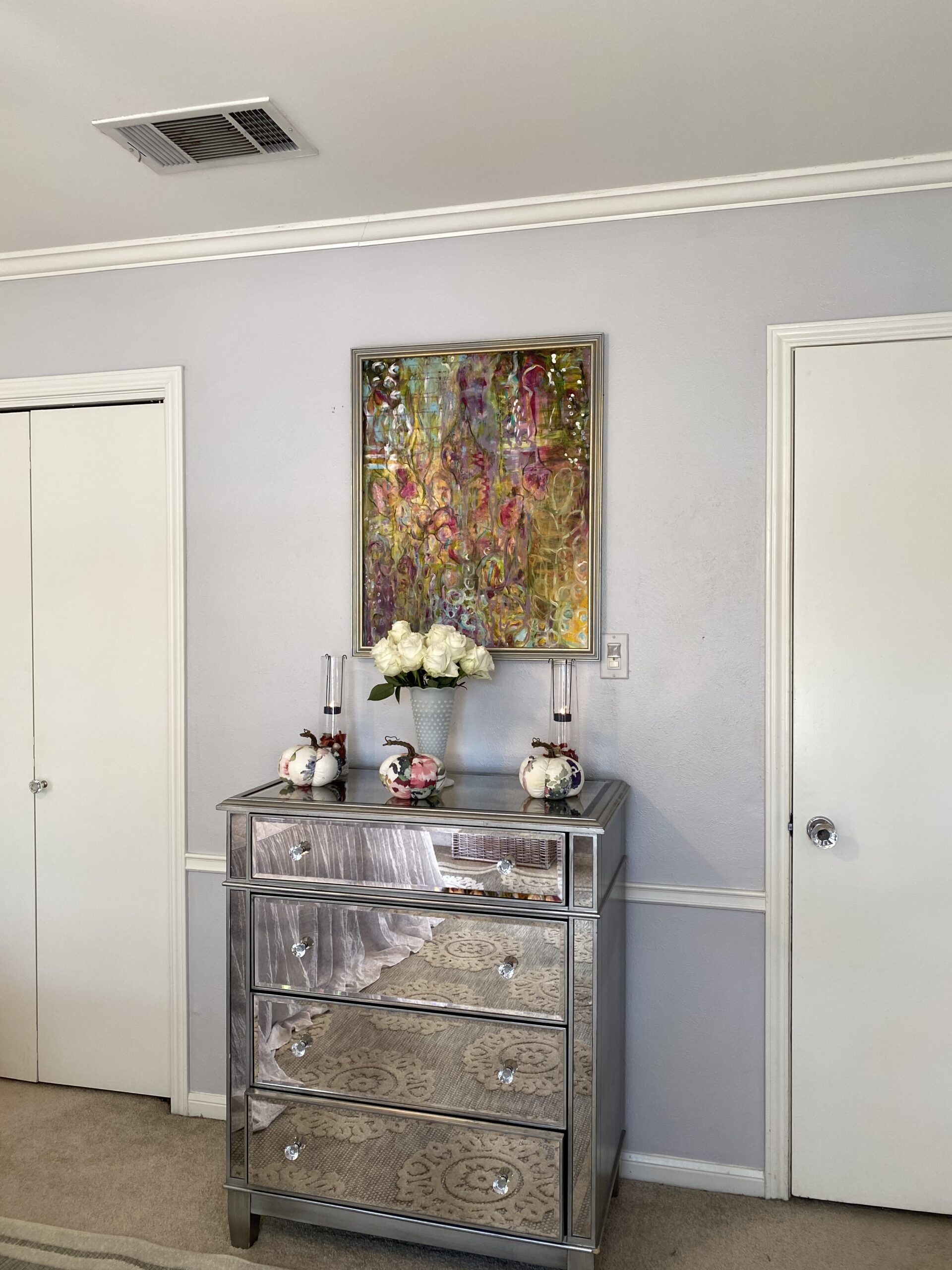 When I was updating this room, I had seen the Shaded Landscape Mural peel and stick wallpaper from ANewWall.com on so many Instagram accounts and just drooled for it.  So we added it to this room along with a hanging wicker chair.  I love them both so much but let's face it, neither of the two screams "Autumn."  Since I was using the pink theme, I placed a rose-colored cardigan type throw on the swing with a cute white pumpkin from Target on top!  A copy of Simple Abundance was close by for our guests' reading pleasure, and not only looks beautiful but is just the thing to soothe a guest's soul.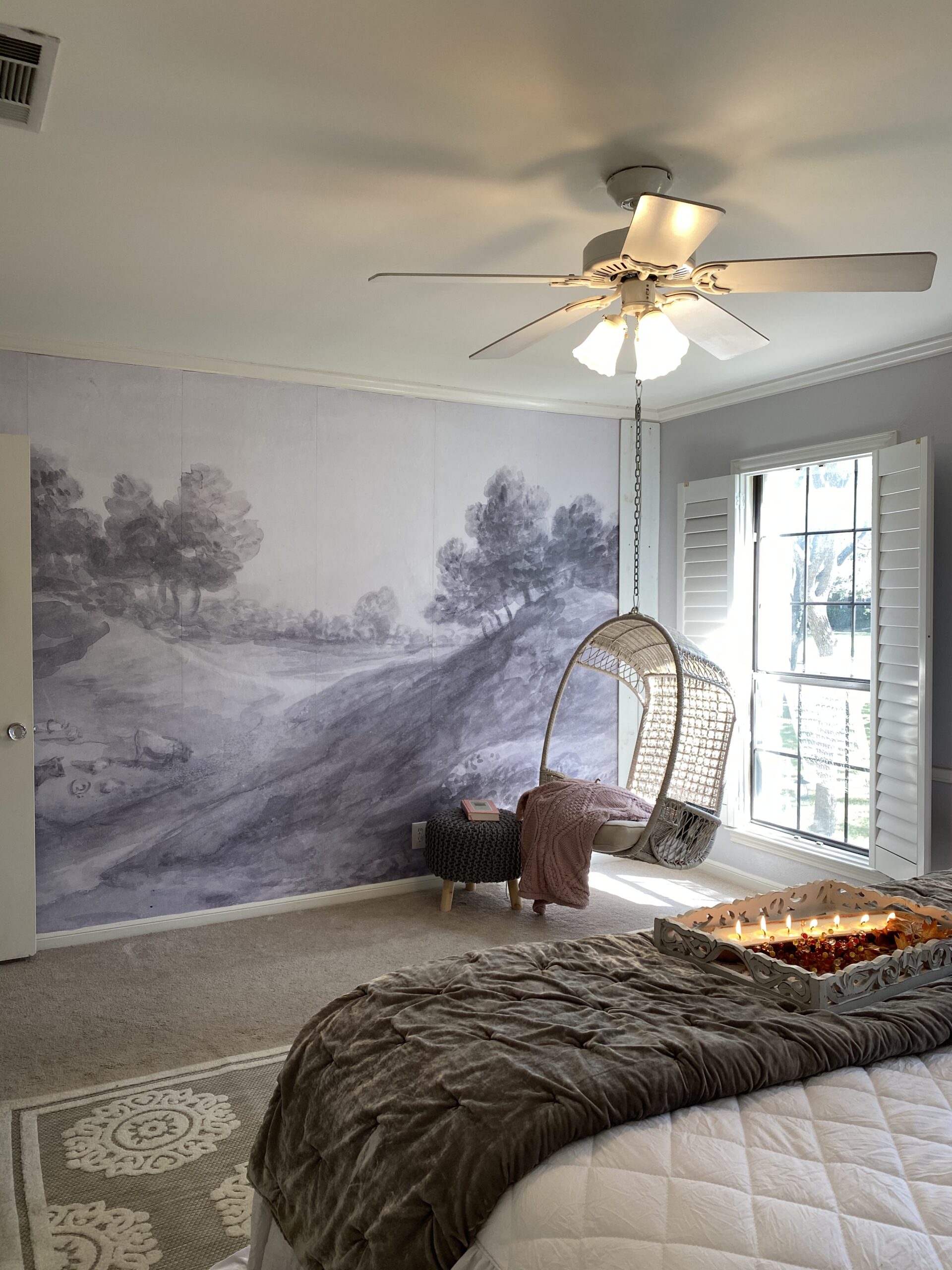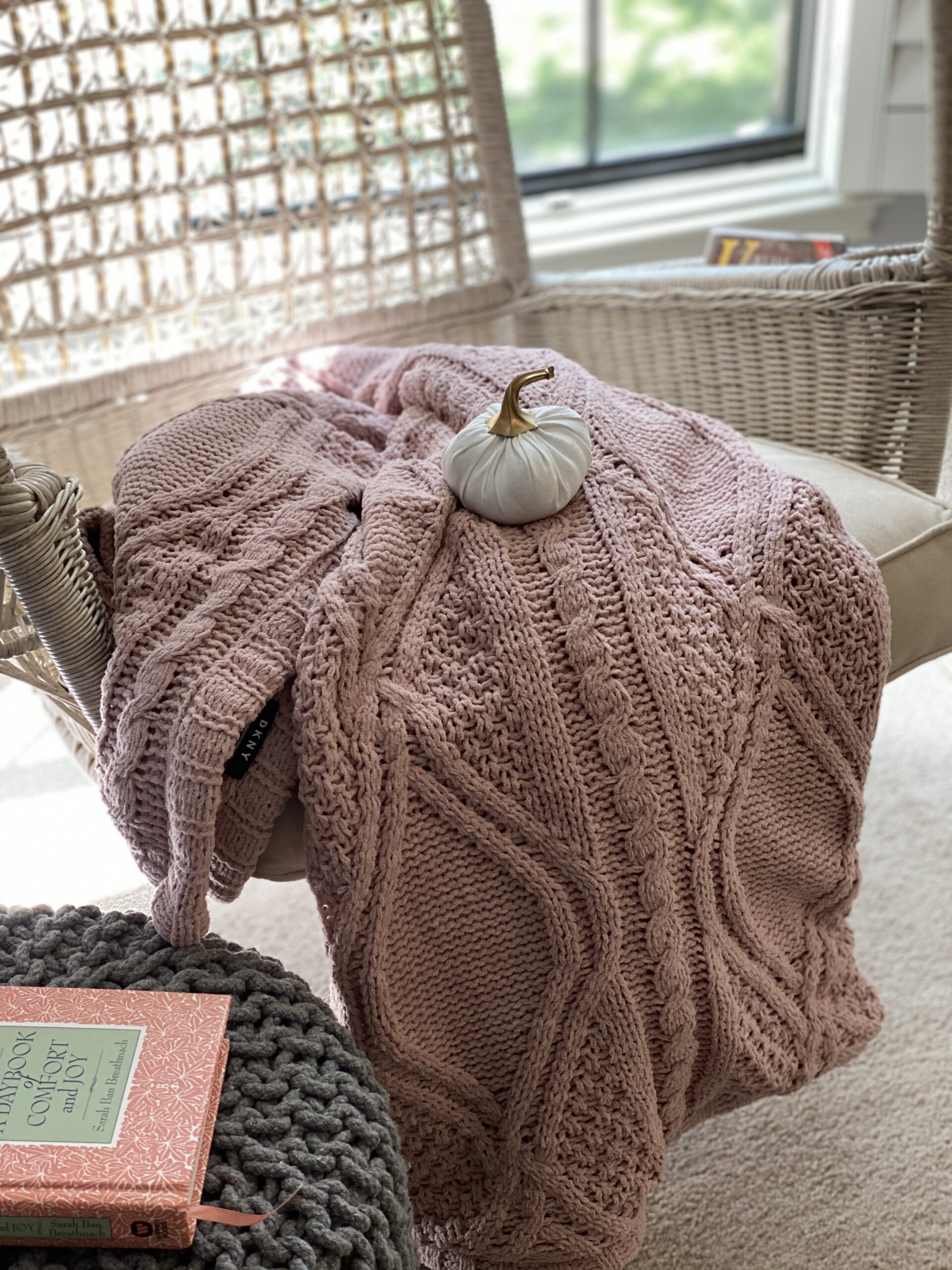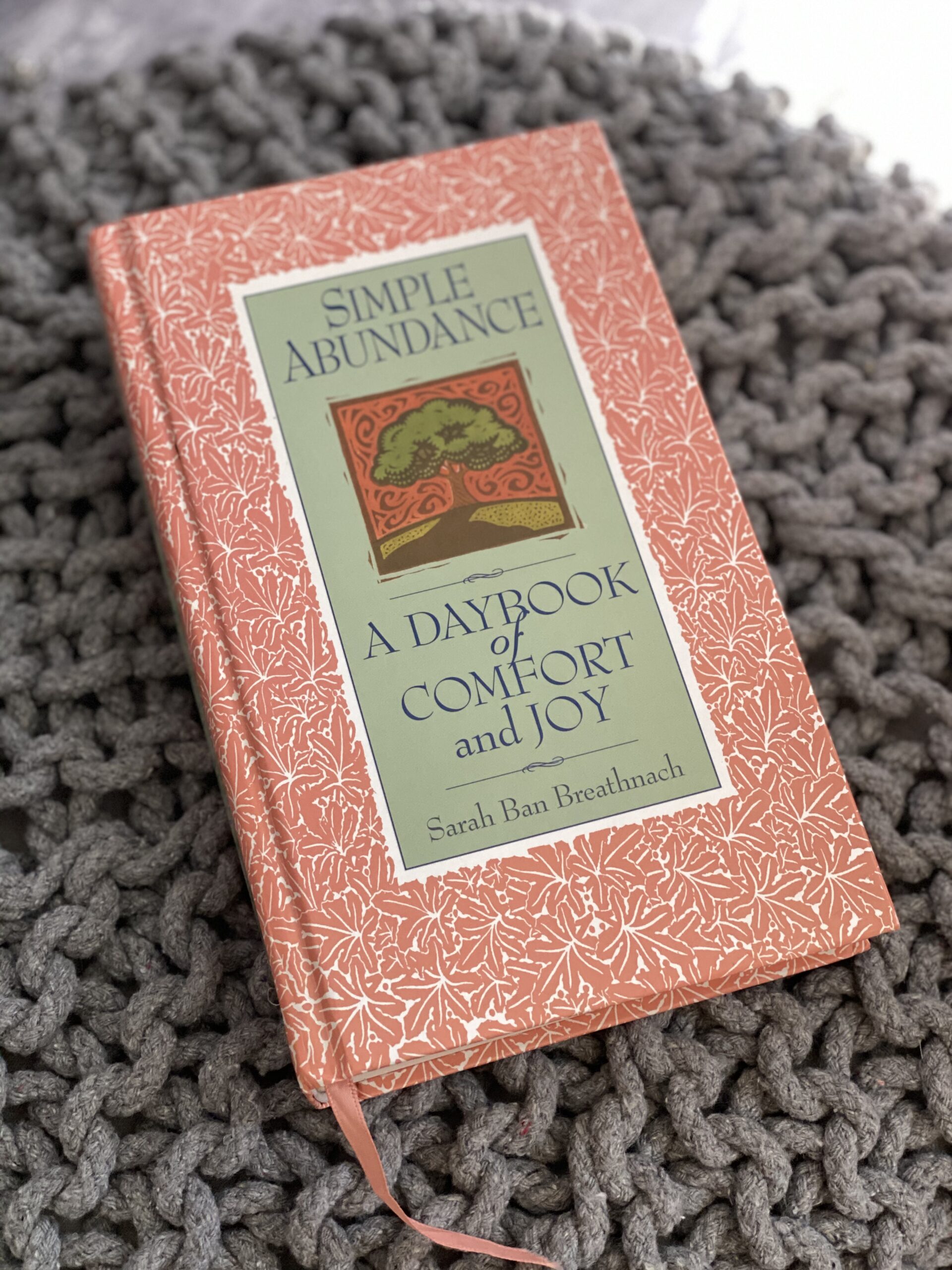 As much as I loved the sleek theme of this new room, I had to sprinkle some vintage here and there, right?  I chalk painted the mirror and distressed it, ordered this FABULOUS vintage-looking white bedspread from Amazon.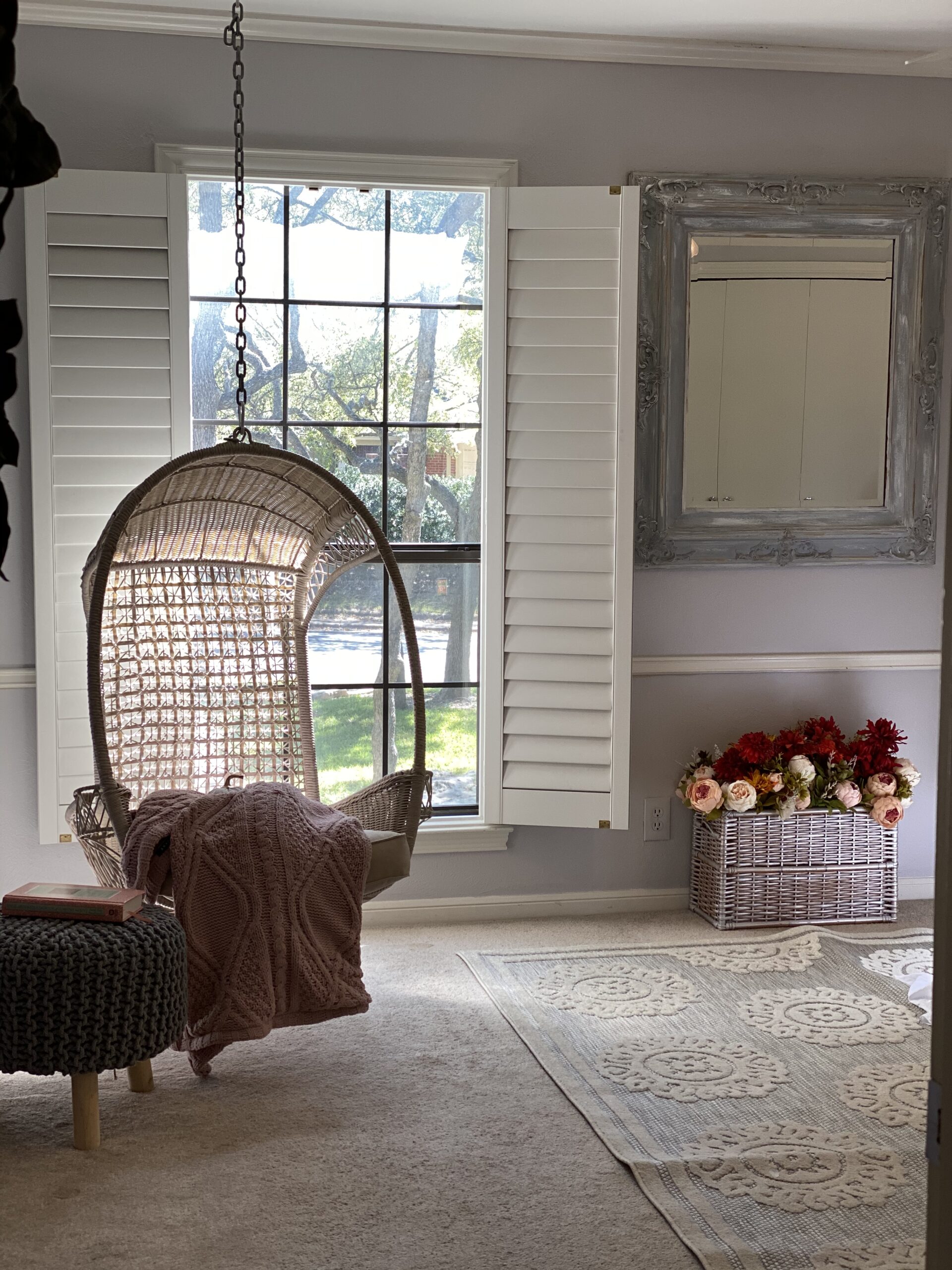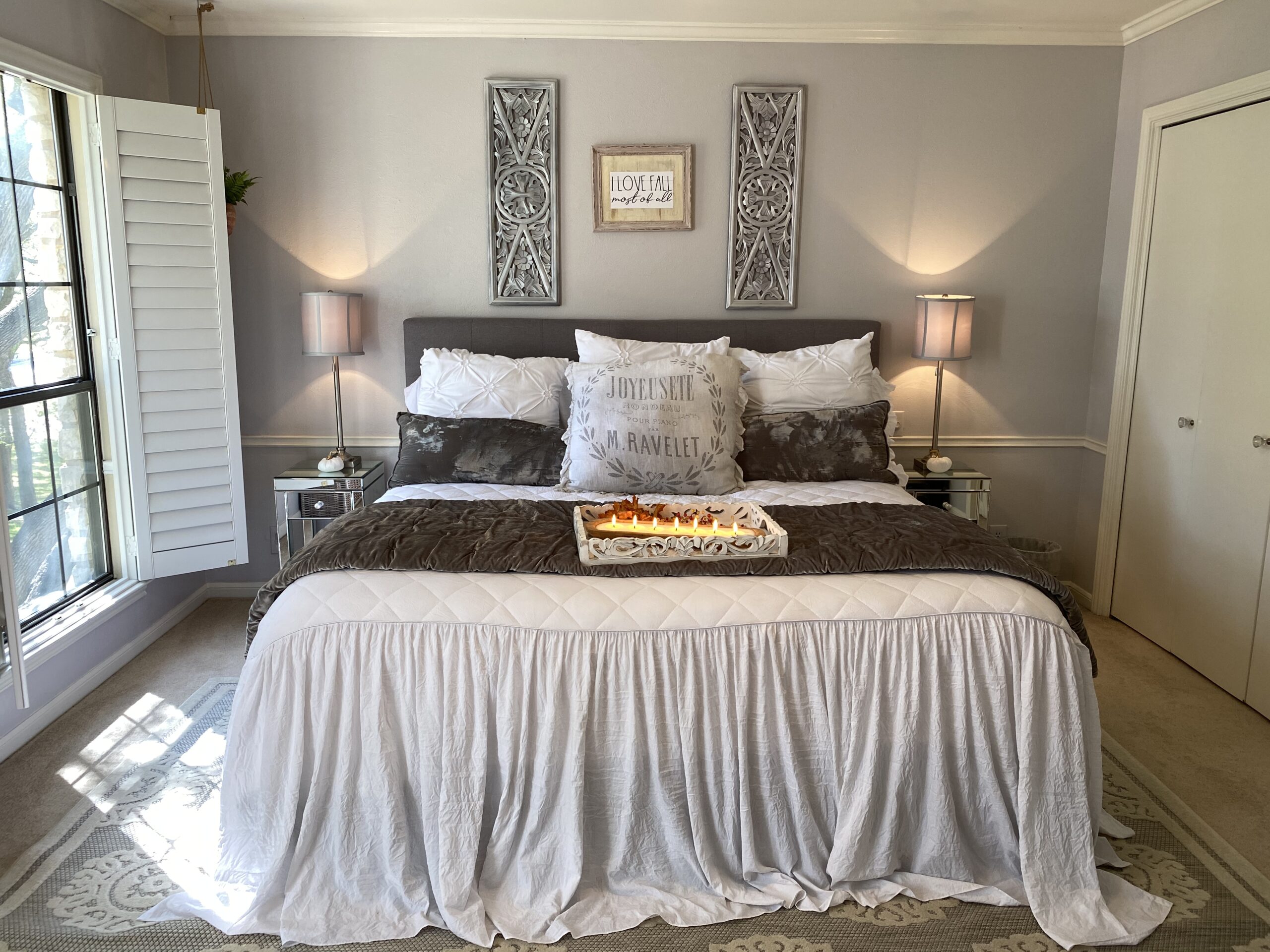 I thrifted a rectangle wicker basket that I keep an arrangement of some glorious faux peonies in.  I mixed in some faux autumn florals right smack in the middle of them to give a little burst of unexpected autumn.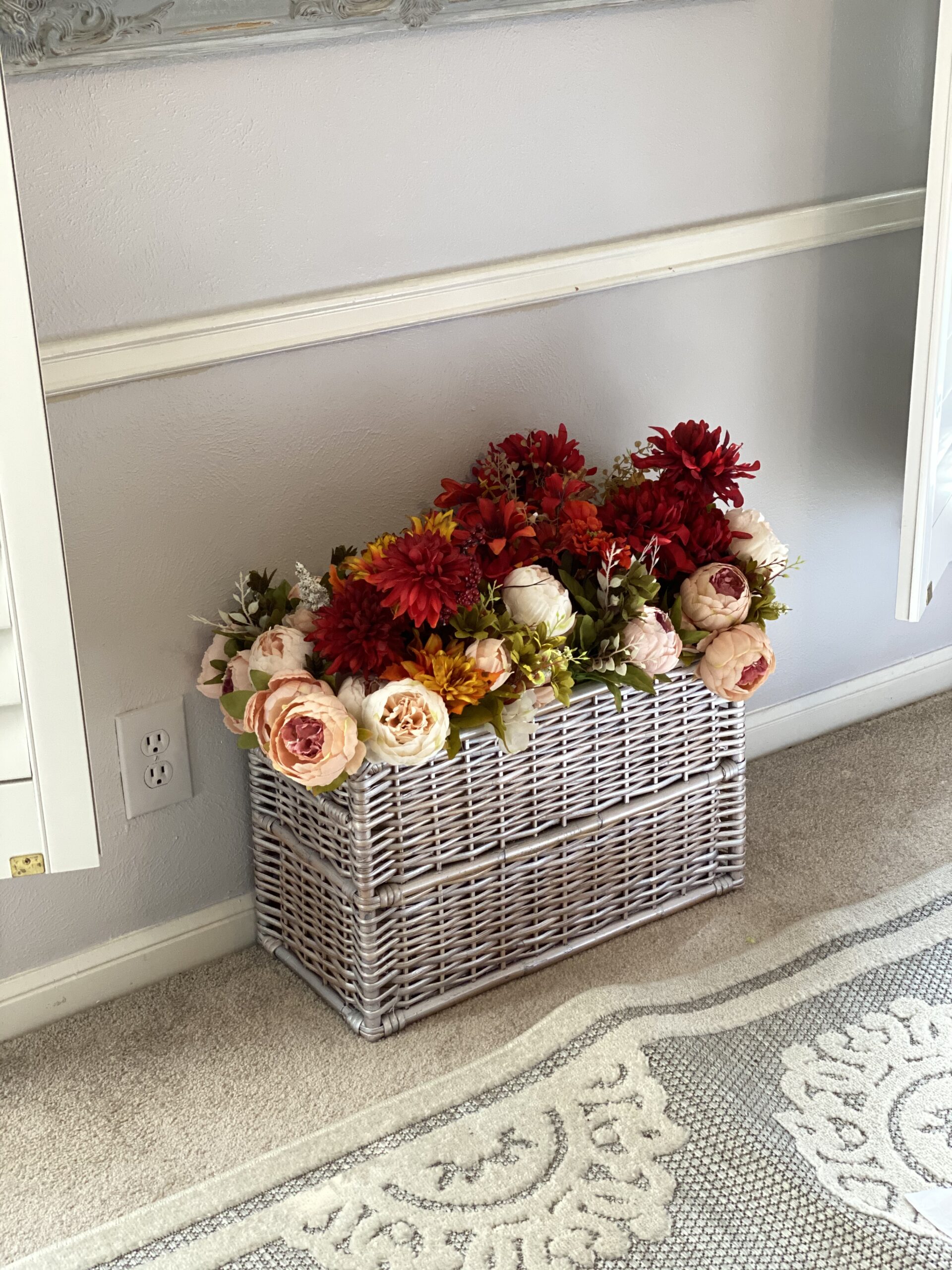 A few years ago I scored this grey velvet comforter and 2 long lumbar pillows from the Target clearance aisle.  I've used it in our master bedroom for the past 3 years, but since that room is going through some changes of its own, I thought draping it across this all-white bed might "fall" or I guess even "winter" it up a bit.  Because the room is basically white and grey, it works quite nicely.  I've searched Target and Amazon but can't find a link for this one, but you get the idea – grey velvet or velveteen.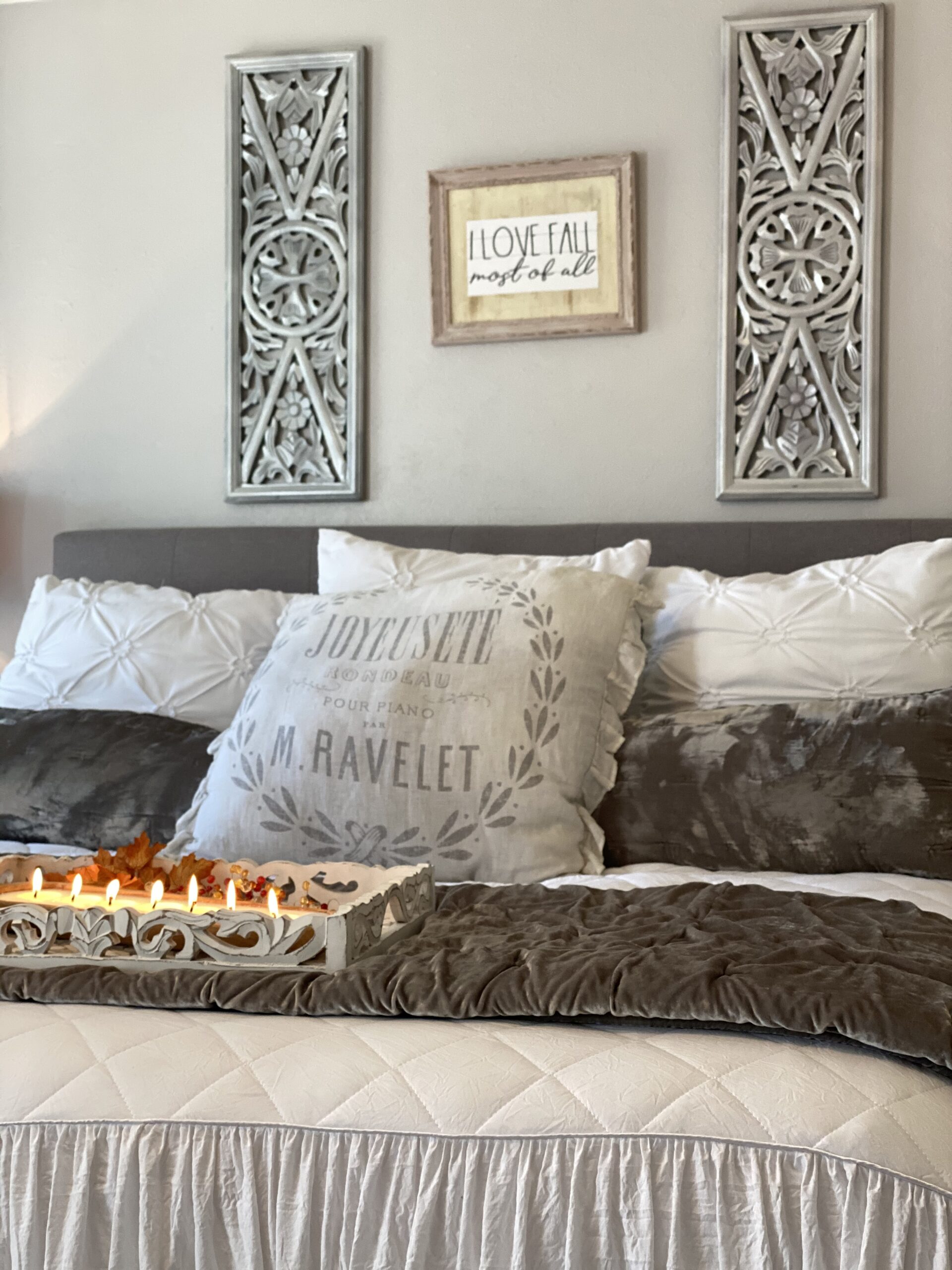 My name is Darla and I am a candle-aholic … there, I said it.  I love candles and unfortunately for my husband, I purchase and try way, way too many of them.  Last weekend I dropped into a DARLING shop on Main Street here in our little town of Round Rock, called The Mercantile on Main.  They are a Stockist for Annie Sloan Chalk Paint and I needed some for projects I'm doing.  I went in and went down a rabbit hole and when I emerged, this 7 Wick Dough Bowl Candle was in my cart.  The fragrance is called Apple Cranberry and it is heavenly.  I thought it on a tray welcoming my guests was a wonderful addition.  This candle fragranced our entire house, even from upstairs!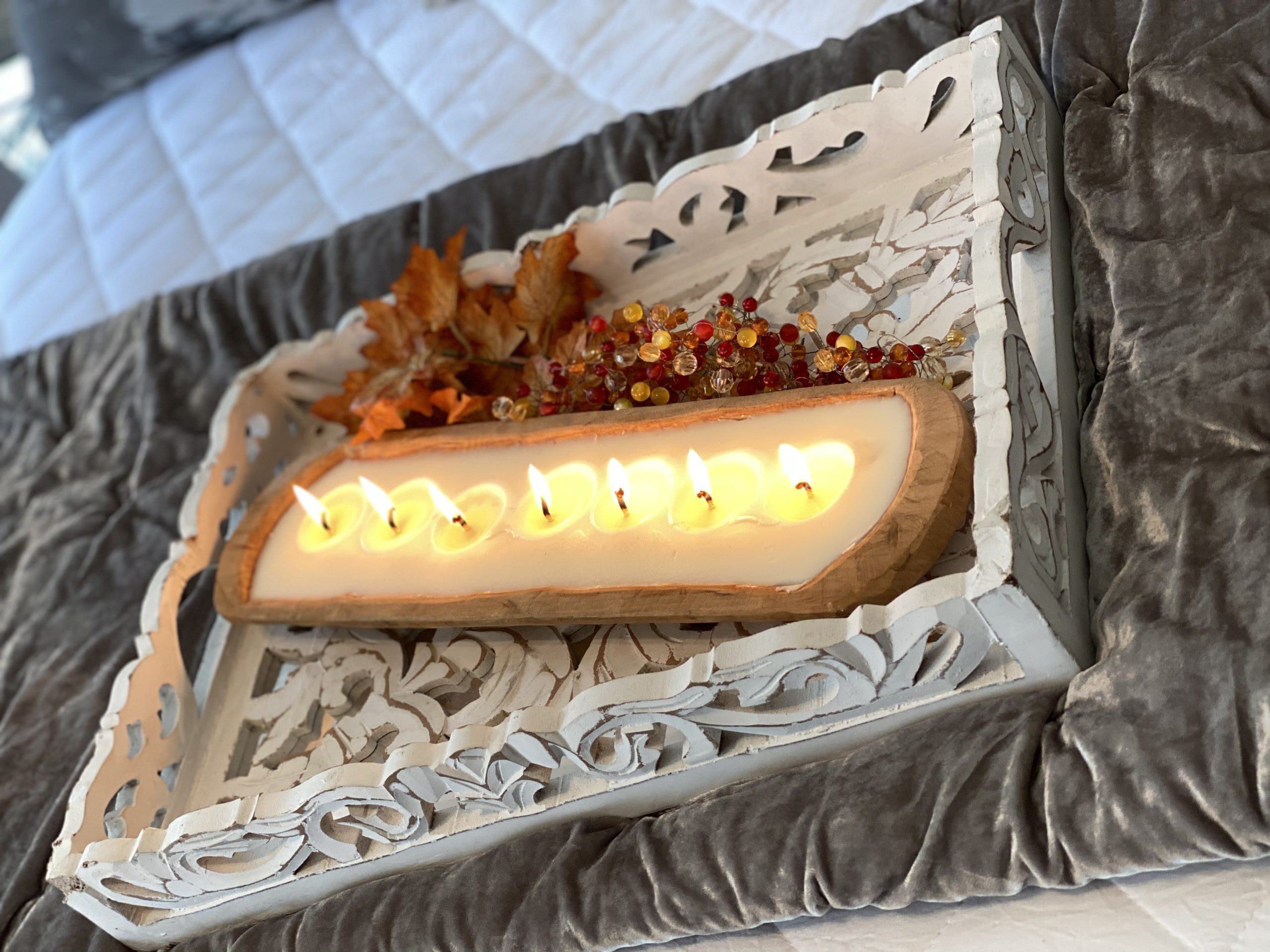 The room doesn't scream Halloween or FALL COLORS when you walk in, but I do think it is a subtle way to welcome fall to our guests.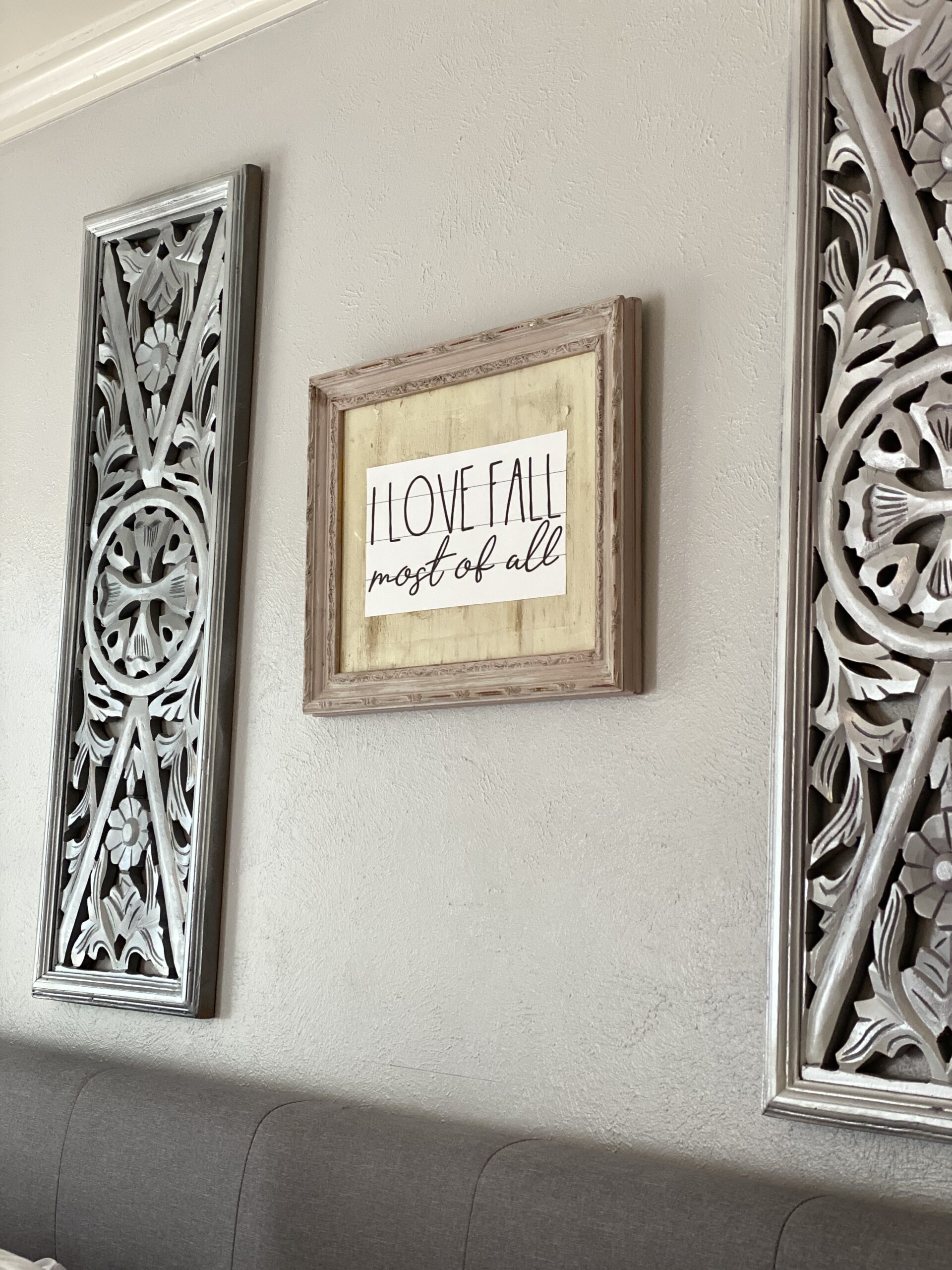 Thanks for dropping by!  Please take a moment to visit the blog posts below of these wonderful, talented bloggers, each sharing fabulous fall ideas for your bedrooms!
 More Fall Bedroom Decor Ideas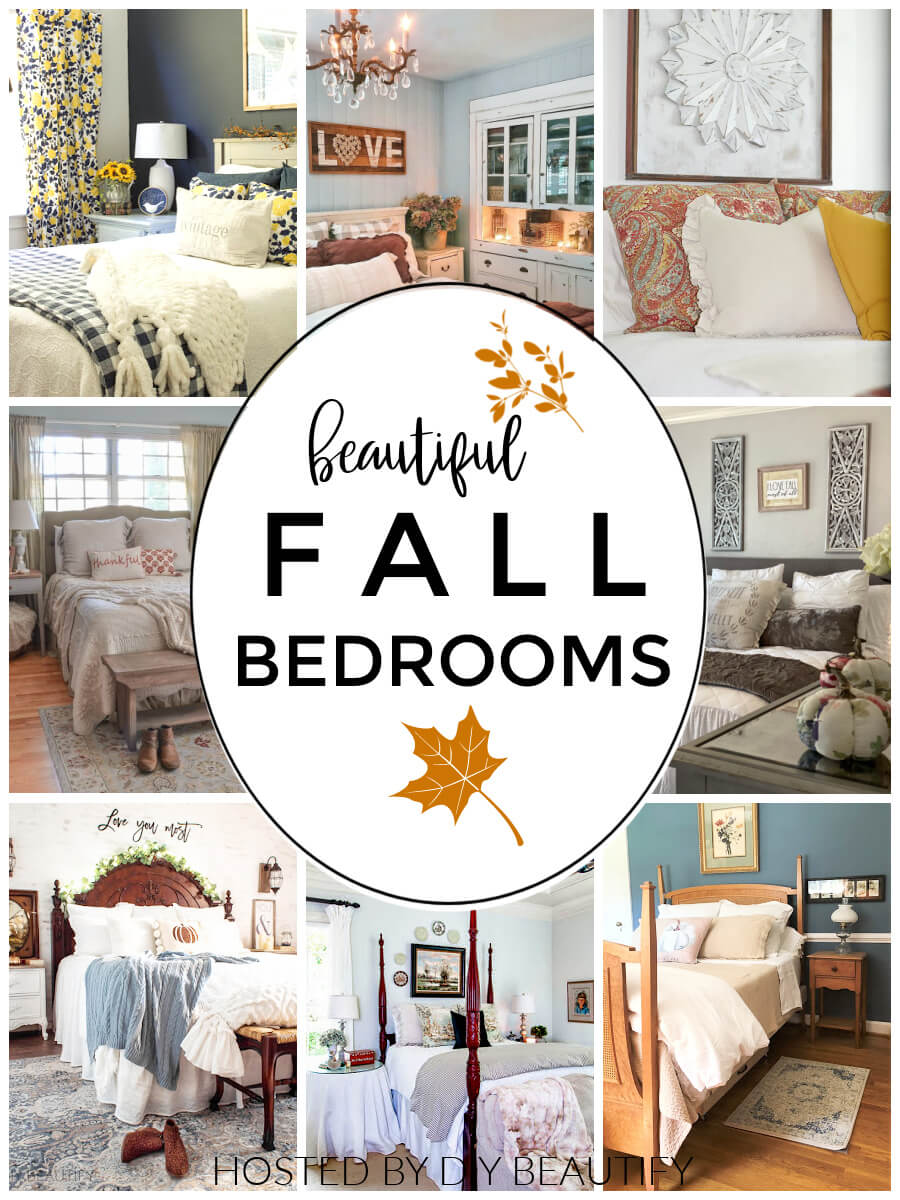 "Then he said to his disciples, "The harvest is plentiful, but the laborers are few;
therefore pray earnestly to the Lord of the harvest to send out laborers into his harvest."
Matthew 9:37-38