One of the many things that I brought back from my mom's house was a nativity set. It was nothing fancy, just a plastic Mary, Joseph, and Baby Jesus. But again, it was my mom's, so I brought it home. The last few years since my Mom passed, this set has gone in our front yard during the Christmas season.
Building a Stable for our Vintage Outdoor Nativity Set
Last year, I mentioned to my husband that I wanted to build a stable for them. So, as November approached, I reminded him of this request. After he was on board with the idea, I began searching Craigslist for free "fence pickets." My idea was to use old fence pickets to build it so it would look old and similar to what we think the original one looked like. Craigslist came through for me, my husband picked up the panels and on a beautiful fall November day in our Central Texas town, we were ready to begin construction.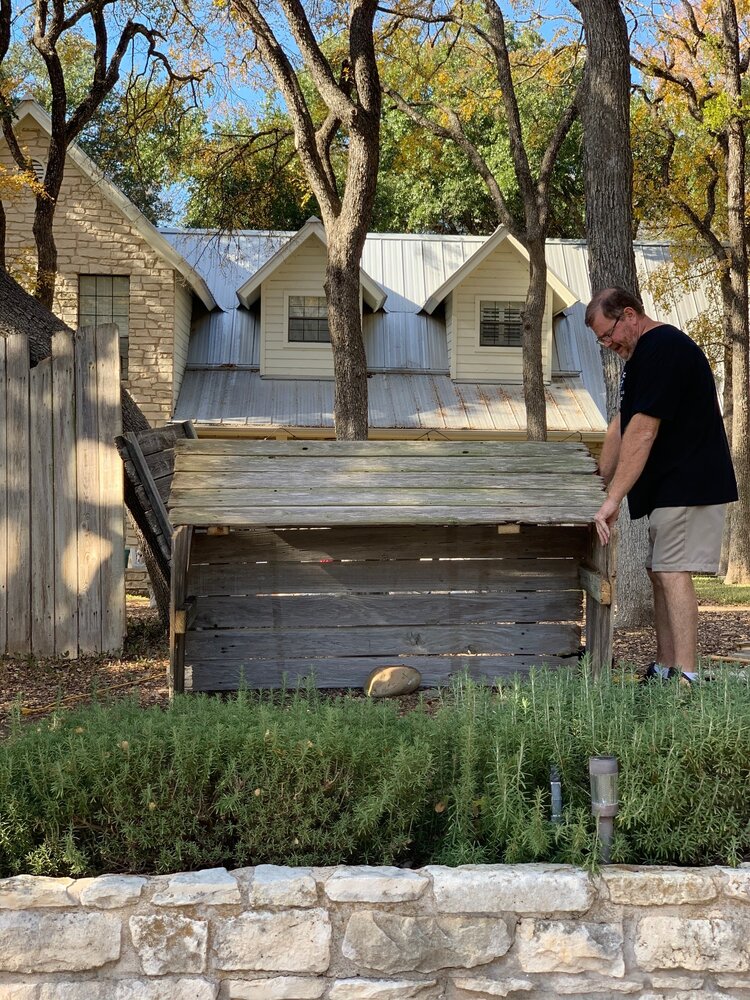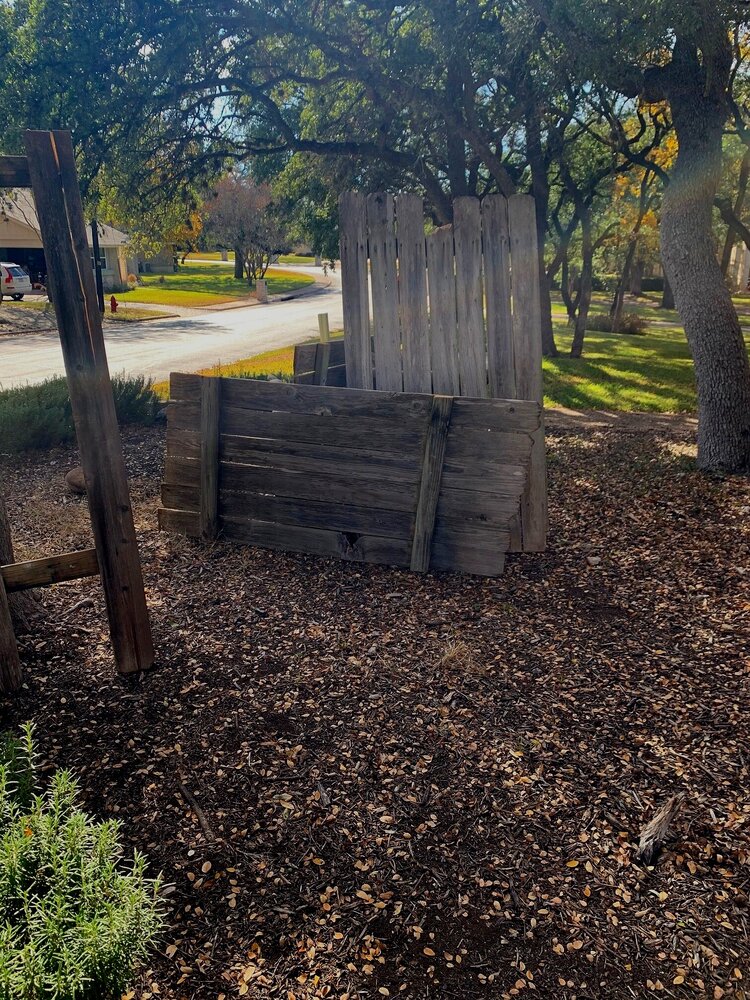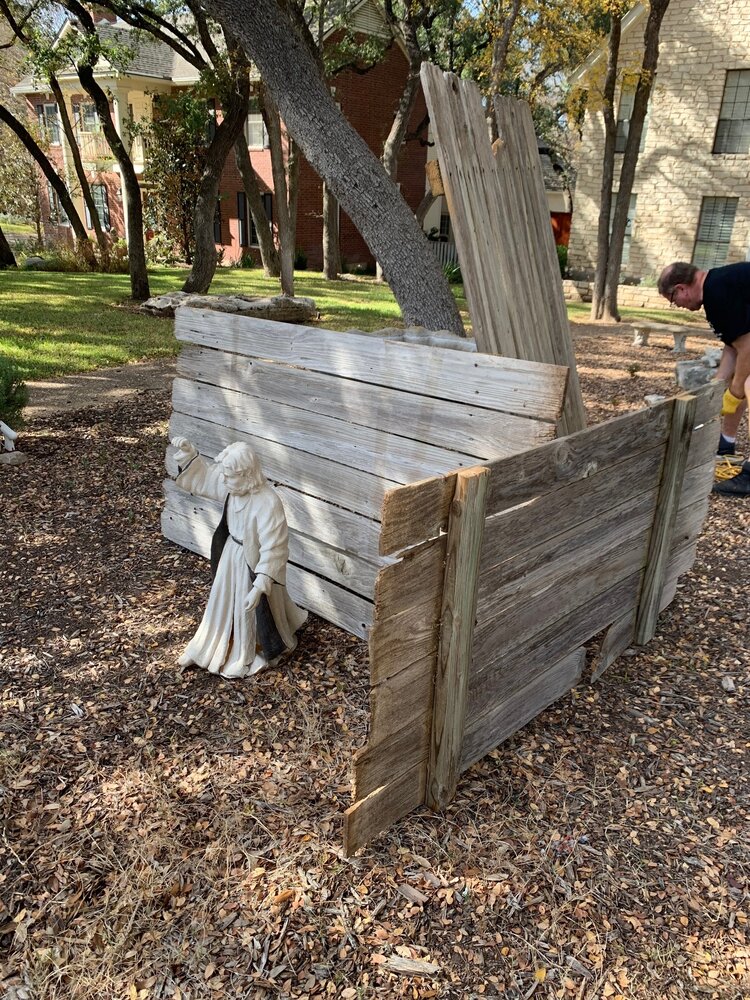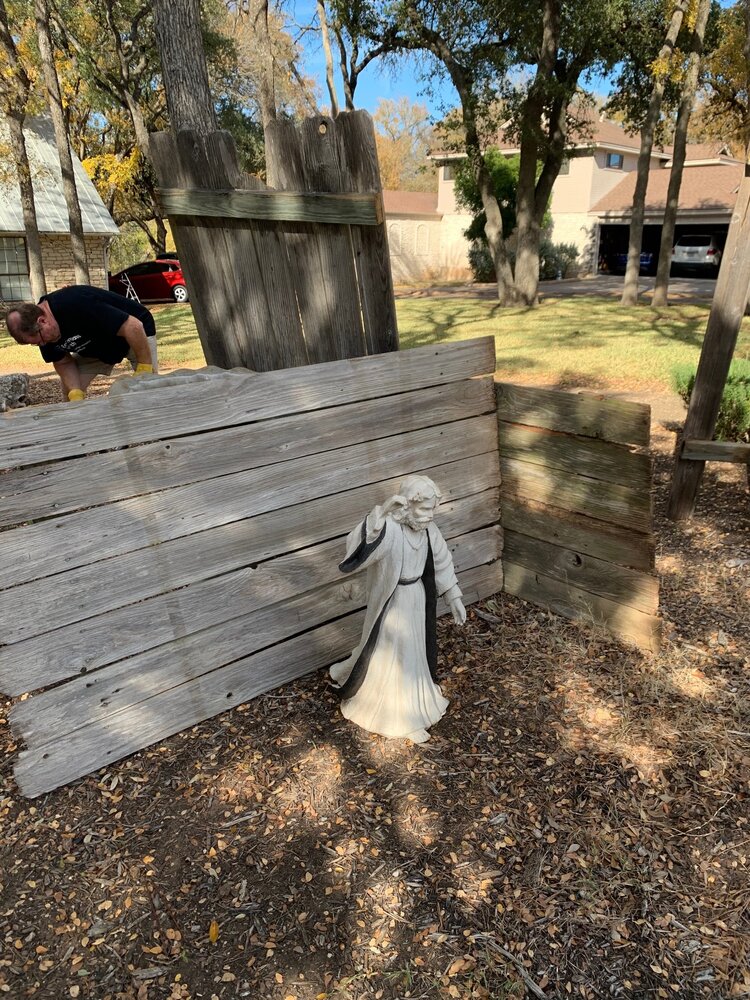 Building our Outdoor Wooden Nativity Stable
After a short debate of what it should look like, we decided to take the easy route and do a flat, slanted roof vs. an arched one. My husband is such a trooper – he rolls with the punches on all of my impromptu, sometimes over the top, projects and crazy ideas. He is continually reminding me verbally that I did not marry a "handy guy."
It only took about an hour of sawing, measuring, re-positioning, and a bit of rigging, but we finished our stable for my mom's nativity set. There was a gold star that went with this set that we had always placed on a tree nearby. I decided to actually attach it to the stable and shine a spotlight on it.
My Mom's Vintage Metal Believe Sign
And then – hey, why not put an old rusty "Believe" sign on the other side? The Believe sign was another wonderful treasure from my mom's house. She displayed it in her front yard for decades because she and my father did BELIEVE.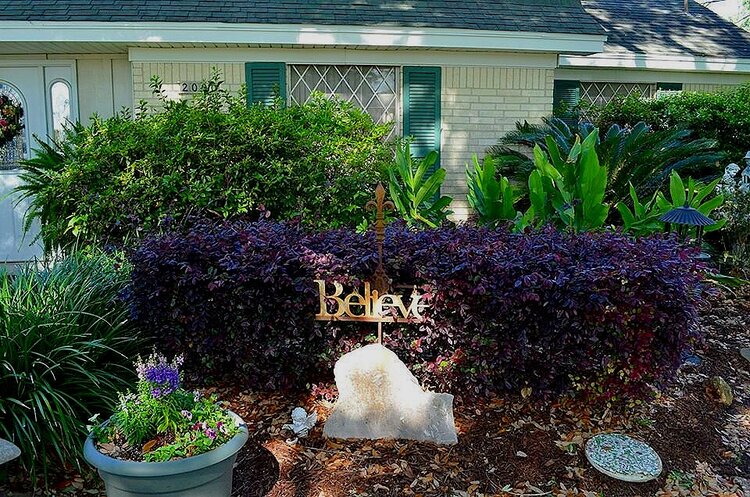 After we finished building it, my husband and I stepped back and agreed that it was a bit rickety, but then again, the original stable where Mary and Joseph stayed was most likely pretty old and rickety as well. We didn't have sheep or cow figurines to include, but I did have 2 baby deer so they were deemed our livestock in this stable.
The Mishap with the Joseph Figurine
As we were placing the figurines inside our newly constructed stable, Joseph fell over and cracked straight down the front of his robe and his hand snapped off. I don't know why but I became extremely emotional. Maybe it was because it was my mom's nativity set or perhaps it was because we had worked hard at building the stable and really didn't want to go out and purchase another set to put in our newly constructed old stable now sitting in the middle of our front yard. I'm not sure what the cause of my emotion was, but I desperately wanted to fix this, somehow.
Faith & Gorilla Glue
My mind switched or redirected (which it does frequently these days) and I thought – GORILLA GLUE!!! ("GG"). GG will fix ANYTHING! I rushed to the garage and grabbed our trusty bottle of this wondrous substance and began working on Joseph. In minutes I saw that he was fixable and everything would work out fine.

With Christmas carols blaring from Alexa on the front porch and while waiting for the GG to dry on Joseph, I began thinking about the man, Joseph – Jesus' earthly father. What an amazing man of faith he must have been, right? I mean, before that angel came down and visited him, can you IMAGINE what was going through his mind? THAT … my friends, is a man of faith.
And that got me thinking more, if GG will fix just about anything I have around the house that is broken, FAITH (I mean, Joseph's kind of faith), HAS to be able to fix other things in our lives, right? We need to have FAITH that our heavenly father has our back and things will work out for each and every one of us.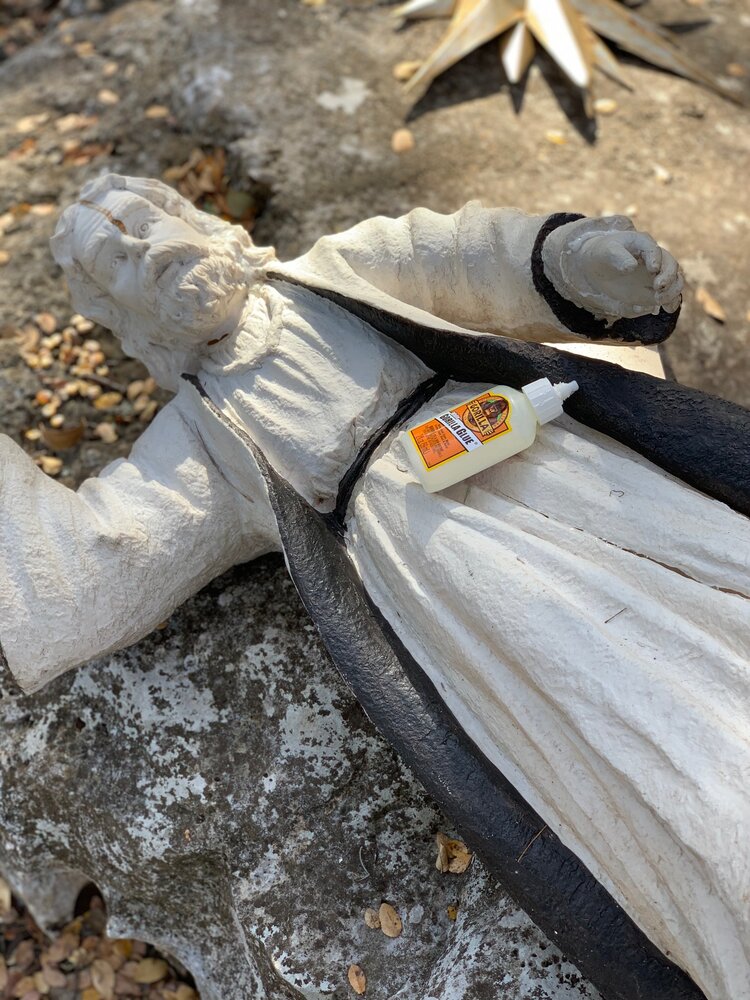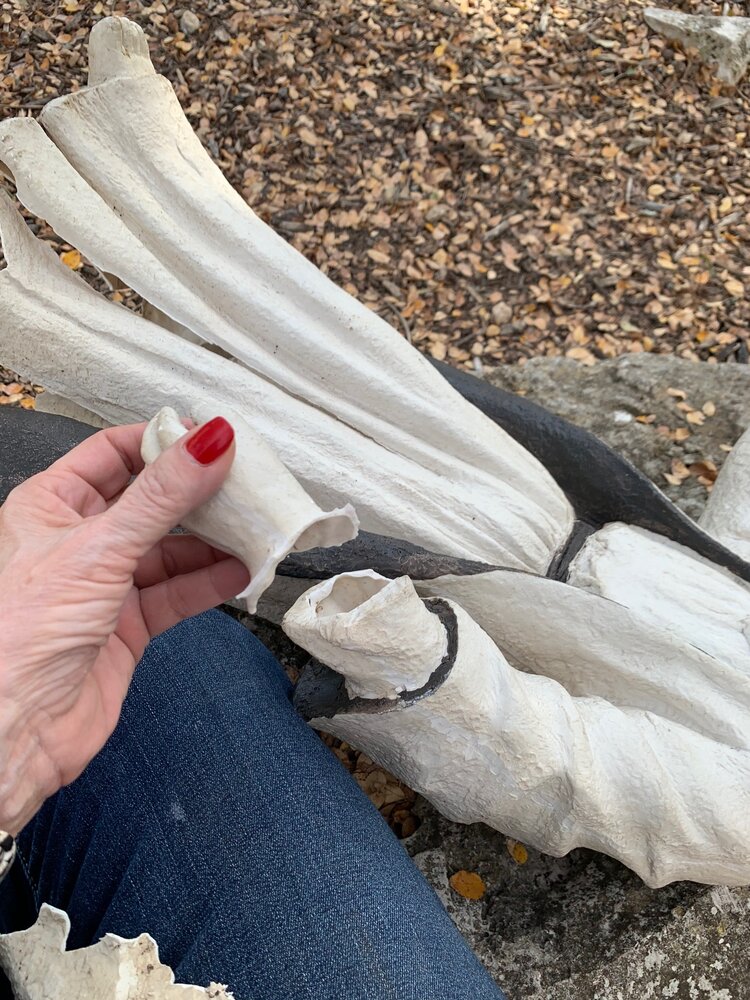 So on this Christmas Eve, I send out faithful holiday wishes and blessings to everyone reading this. Remember, almost everything can be fixed, whether it be with GG or faith in our ever-loving heavenly father! Merry Christmas!