I love a variety of vintage, antique, and thrifted Christmas tree decor around my home! The Christmas season is the most joyous time of year for me, as I am sure it is for about 97% of the population. I can never remember not going hog-wild in decorating my home for Christmas. My mom did that so I'm sure that's where I got it, but I have a ridiculous amount of Christmas décor! Each and every year I say I'm going to "pare down" and ultimately never do. I find myself DRAWN to the after-Christmas sales and when it's 75% or more off, you just HAVE to get it, right?
The idea to my husband of having more than one Christmas tree was mind-boggling. About the third year we were together, he succumbed to the fact that it WAS going to happen again each year, saw the joy that I had, and jumped on board. He now even takes pictures of ALL the trees and shows them proudly to his co-workers.
I thought I would take some pictures of our trees for the blog and also so that this soon to be 61-year-old brain would remember them next year when I'm setting up, LOL.
Christmas Tree No. 1
This tree is what I guess you would call our "main" tree. It's located in our living room and for the past couple of years I've decorated it in a style of "vintage with a little farmhouse sprinkled on top." You can see it live on my Instagram stories in my Christmas highlights.
I am a year-round succulent enthusiast and last year, I found some FABULOUS faux glittered succulents from HEB (our wonderful grocery store chain here in Texas). Last year I had them in an arrangement but this year I decided to shake it up a little and put them in the tree. I love the shimmer they give and it is something, well, a little unexpected to see on a Christmas tree.
So the main tree has "vintage-looking" ornaments, actual antique ornaments from my mom's treasures, red berry picks, black, and white buffalo check ribbon, cotton stems from Magnolia, and of course, my sparkly succulents.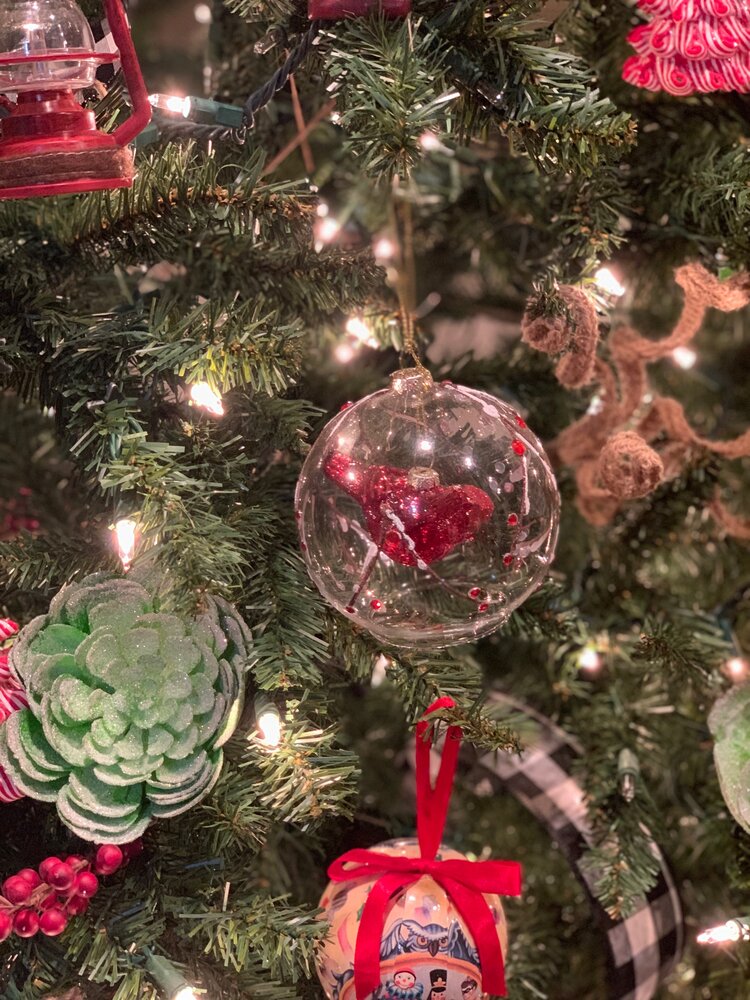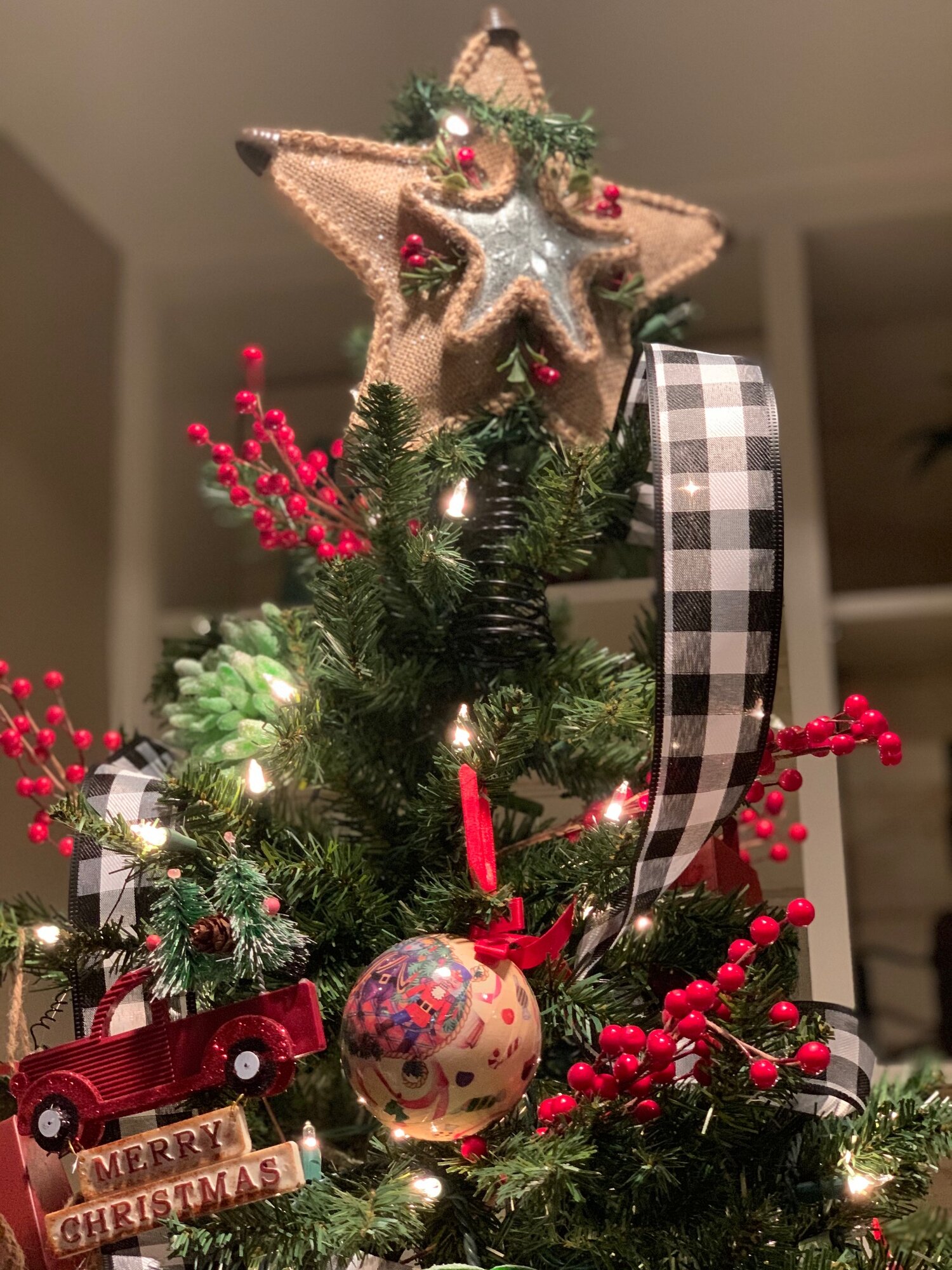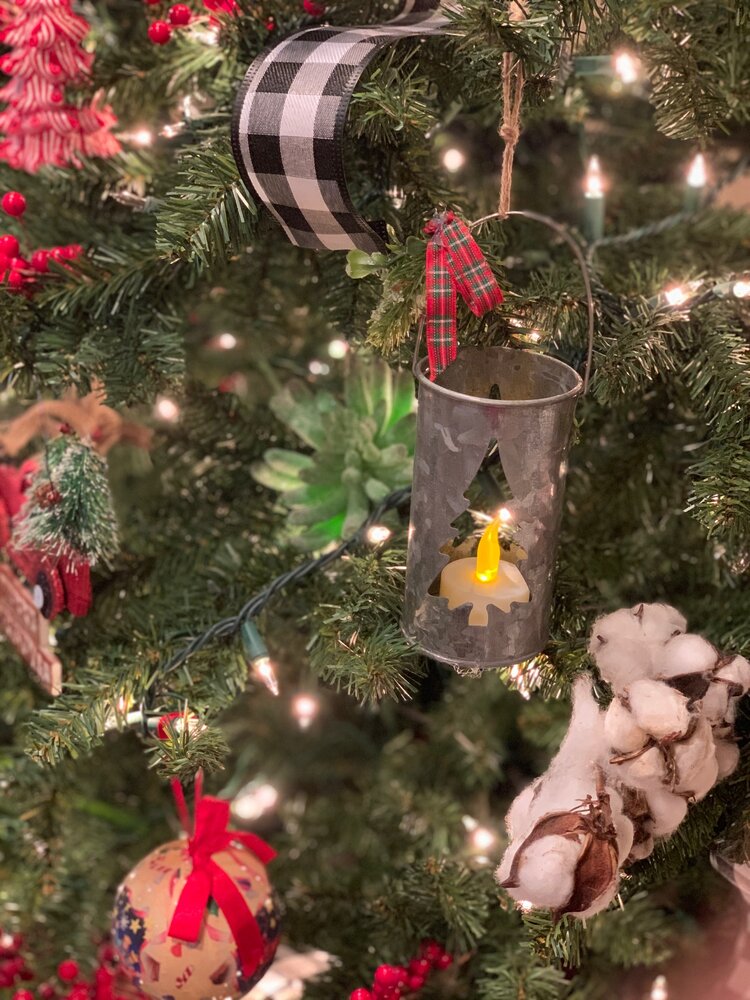 Christmas Tree No. 2
This tree is in our master bedroom. We got this faux tree from Hobby Lobby two years ago in an after-Christmas sale. It has cute red berries and a light flocking and is on the tall, slim side. When we unboxed it last year, it wouldn't fit in the living room (too tall) so we took it to the bedroom, which had a higher ceiling. I decorated it with red and gold ornaments this year and it is beautiful at night next to the windows.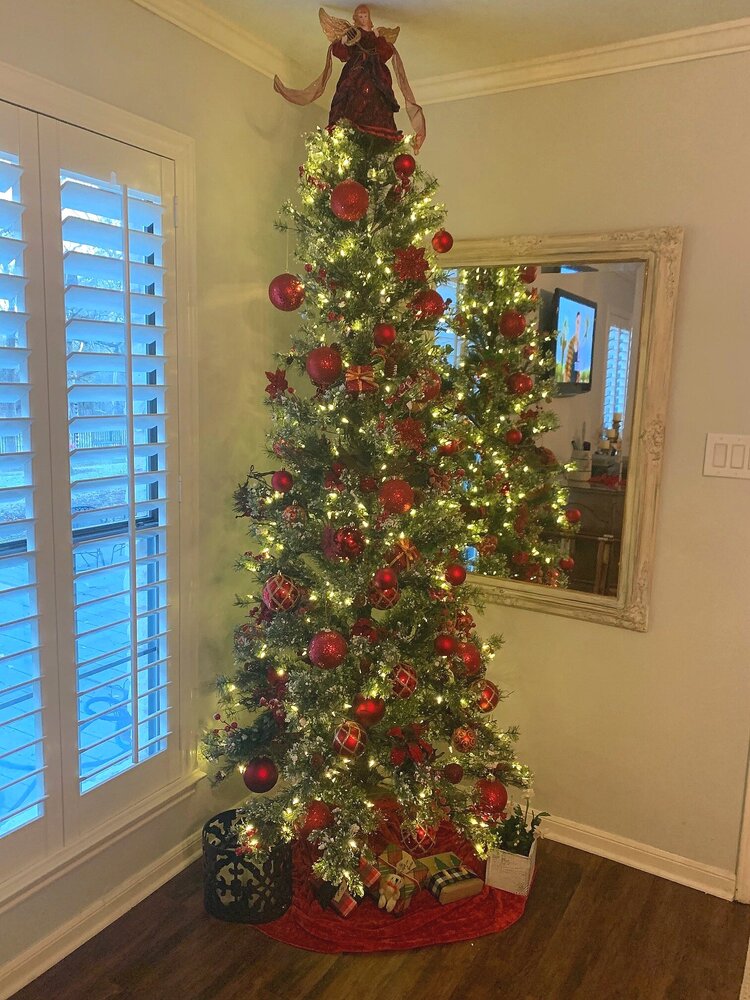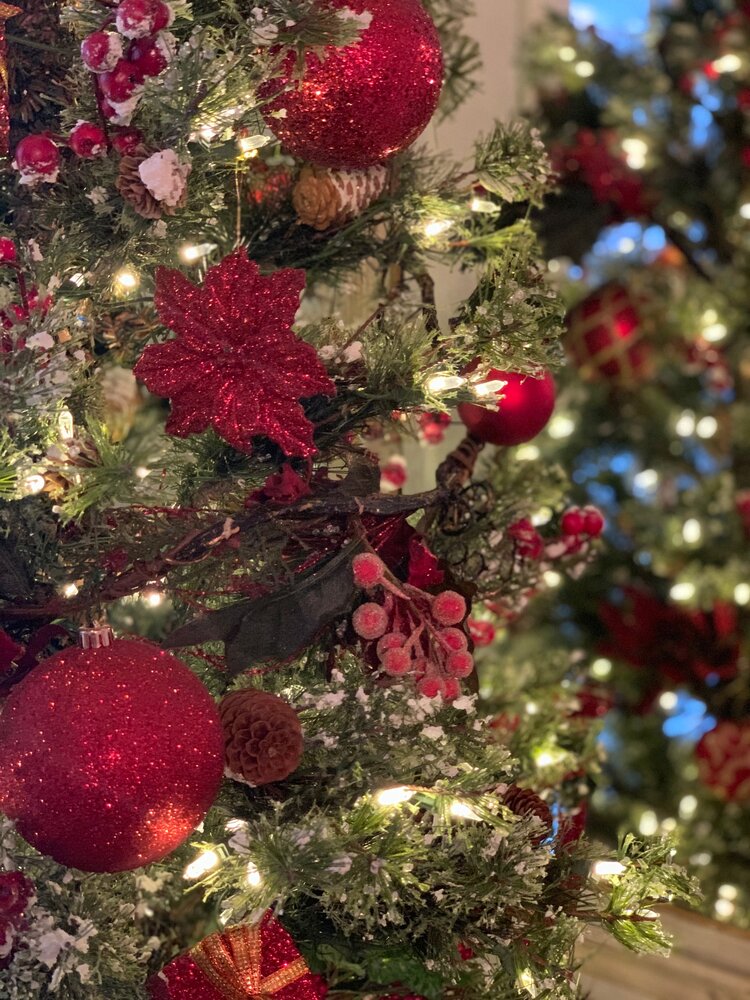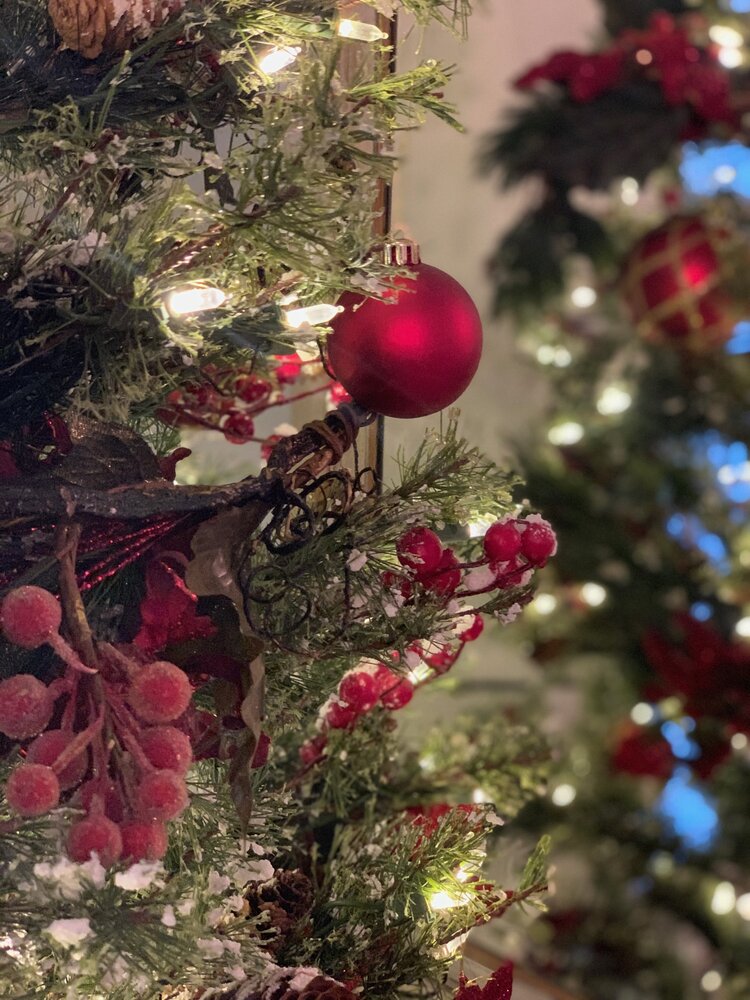 Christmas Tree No. 3
This is our antique room tree. My antique room is a tribute to my mom. After my mom passed a few years ago, I brought this room of furniture back to our house and set it up pretty much as she had it in her home. Although I loved individual pieces of this grouping, this mega-antique-ee look wasn't really my style, but it was my mom's and I wasn't about to sell or donate it.
When I unpacked her many boxes of Christmas decorations, some were old, vintage, frilly, almost Shabby Chic looking ornaments. At that moment, I decided we needed an antique tree to go in our antique room and I felt a white tree would go best with this soft feminine pallet. So off to Walmart I went to get a faux white tree.
There are definitely some new things mixed in, those Walmart $1.48 picks are hard to resist, but it has a pink and burgundy theme to match the room. I also purchased 2 gold pencil trees to go on the end tables surrounding the antique couch. I guess that would technically be Christmas Trees 4 & 5, but I'll lump them all into one room. That couch that they surround was my grandmother's from the 60's or early 70's, in perfect condition, no rips or tears, just a little faded in color from its original pink.
This room and this tree remind me of my mom, Joyce Marie, and my grandmother, so what a wonderful memory!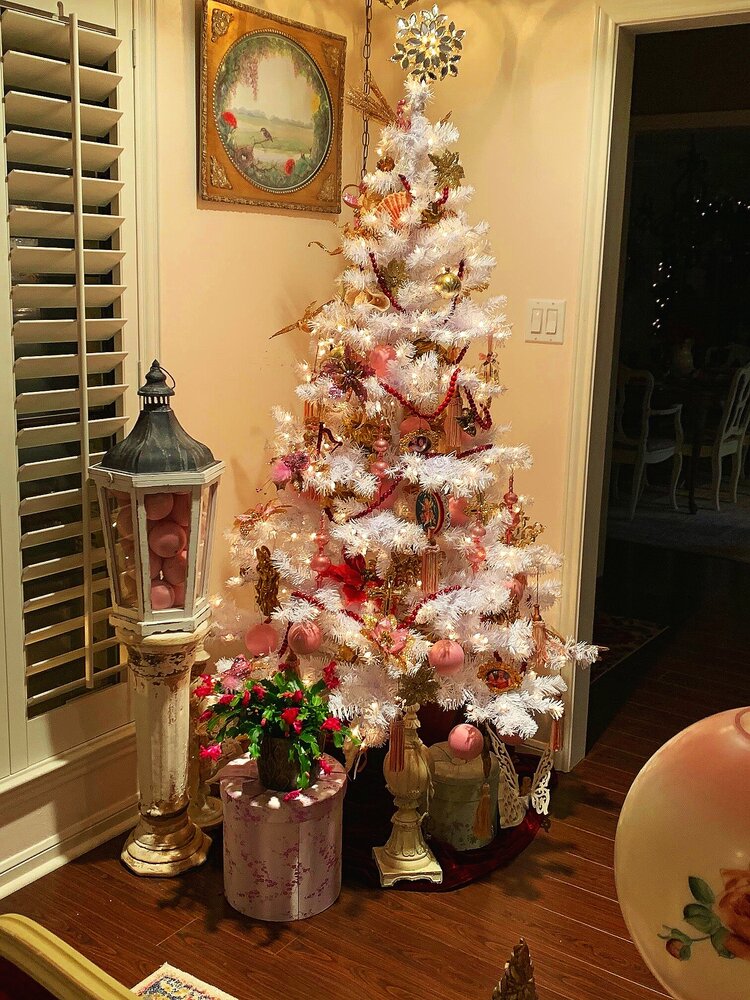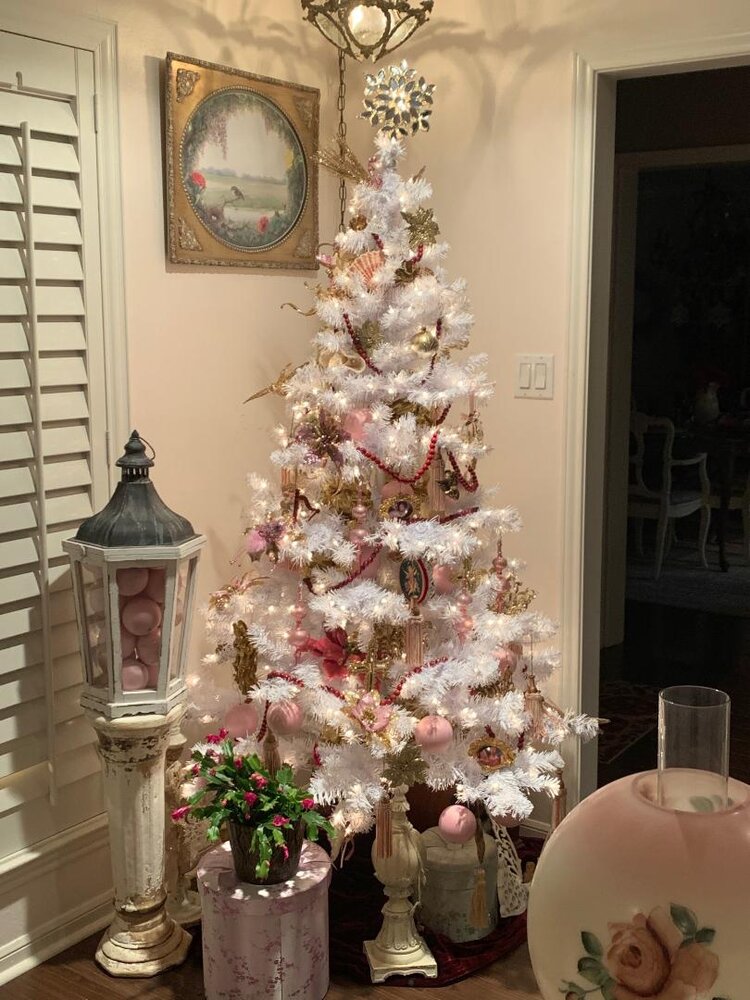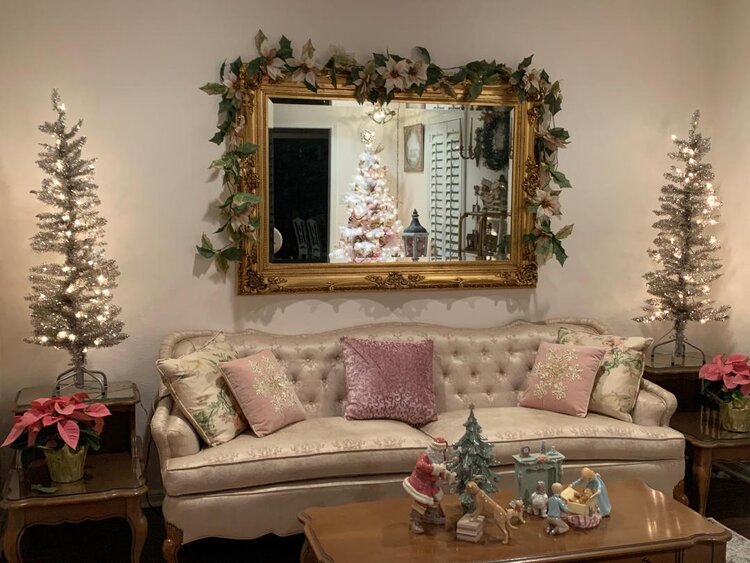 Christmas Tree No. 4
This little Target faux tree found himself a new home in an old vintage crock this year. He is decorated with vintage-looking ornaments I found at again, an after-Christmas sale at a local store here in Central Texas. I love the homey look of this little guy and although he's not a full-size tree, he gets a spot on the list!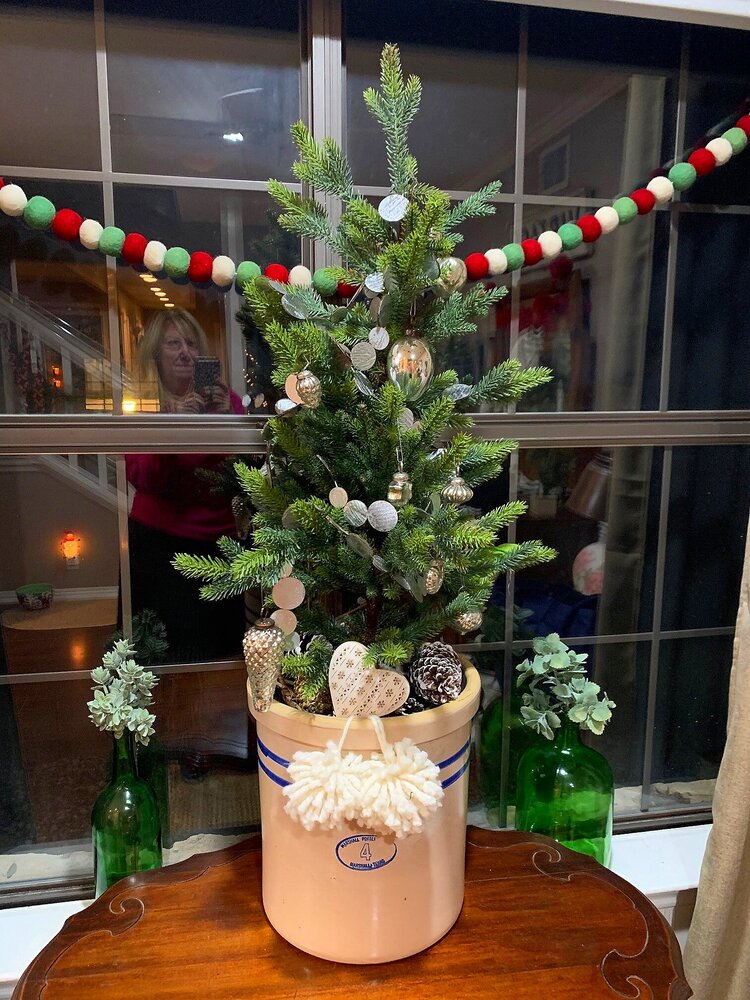 Christmas Tree No. 5
We have French doors just off our living room that lead to the deck of our back yard. I put an old tree out there each year with just red plastic ornaments on it and the look of it from our living room and hallway is dreamy as when you look out at night you see the reflection of our inside tree in the glass of the French door.
It just makes you feel festive, not fancy, just greenery, lights and red ornaments, and being outside quite a few leaves and acorns as well. Our house is on a lot with about 25 huge oak trees so leaves and acorns are a part of our falls and winters here yearly. As frustrating as leaves are when we track them in the house, they look perfectly normal on this "outside tree."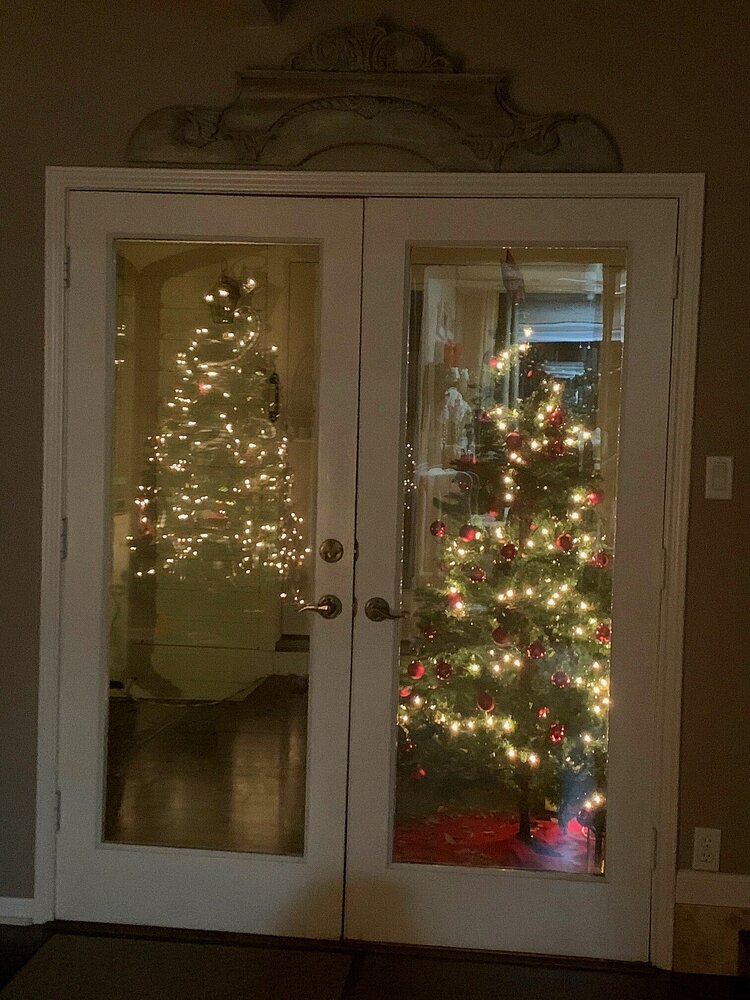 OK, so those are the "big" trees, and that's not really too many, right? Lots of little trees scattered ALL around our home, but they don't rank a blog post. I attempt to have a little Christmas in every room of our house to remind us of this blessed season. There is a reason for this season after all, right?